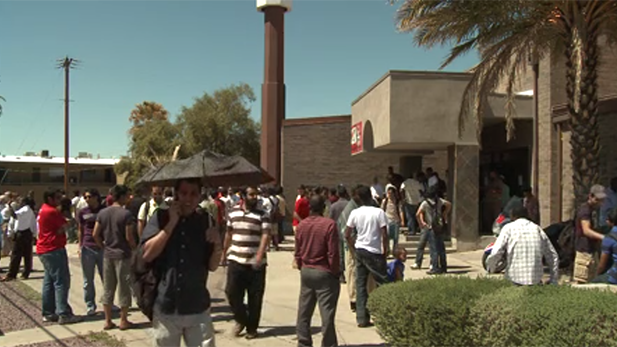 People mill about on a Friday outside of the Islamic Center of Tucson, 2011.

AZPM Staff
Muslims fast from dawn to sunset during the holy month of Ramadan, which begins Saturday. That means no daytime water for the observant during the hottest month of the year in Tucson.
Muslims take it in stride and see it as part of their faith, one of the five pillars of Islam.
"They were fasting when Islam was founded, and they were also living in really extreme desert heat but without a lot of modern facilitates that make life easier," said Sameed Irfan, a Tucsonan preparing for Ramadan.
Irfan said the fast is just part of Ramadan, and it has a significance beyond simply not taking food or drink.
"You look at the concept of fasting. Food is what nourishes your physical body, but fasting is what nourishes your spirit, essentially," he said. "The point of giving up food - something that is really primitive and shared universally by all of humanity, -it is essentially an attempt to unseat the dictator that we all have. This carnal dictator."
Muslims break their fast each night with a meal with friends and family, Irfan said, and that is an integral part of the holy month.
Ramadan will end June 24.