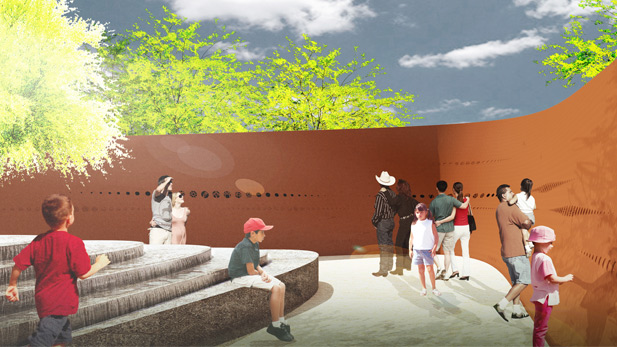 A rendering of the January 8th Memorial.

Tucson's January 8th Memorial Foundation
After state legislators dropped funding for a memorial commemorating a 2011 mass shooting in Tucson, the foundation working on it has launched a GoFundMe campaign with a goal of $1.5 million.
The January 8 Memorial, to be built outside the old Pima County courthouse, will honor the victims of the shooting rampage, which left six dead and 13 injured, including Congresswoman Gabrielle Giffords.
Crystal Kasnoff, director of the January 8th Memorial Foundation, said she was disappointed lawmakers chose not to contribute to the memorial in their budget for next year.
"However, we do understand that there are several issues that are of importance to the state right now, including things like education and roads."
She said she feels a renewed sense of support in the community for the project.
"We know many people across the United States and the world were affected by this tragedy, and we feel that we have the support and will have the support to raise the money to get us to the next level."
So far the foundation has raised $1 million of the total $5 million construction costs. Kasnoff said an anonymous donor has pledged to match the first $10,000 raised through the GoFundMe campaign.
Learn more at the foundation's fundraising website.