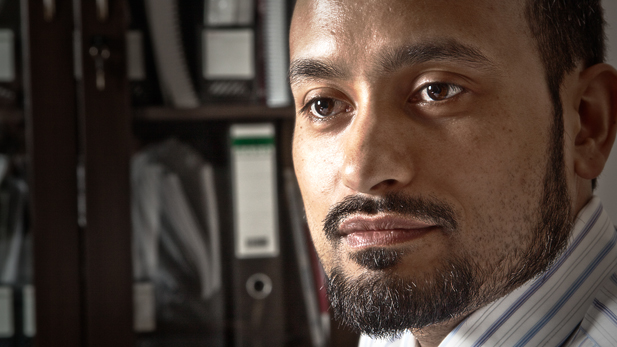 Jason Curtis
By Britain Eakin, Reporter Intern, Arizona Public Media
Some young Muslims in the U.S. feel afraid to be identified with their religion, says a psychologist who works with Muslim youth.
Omar Mahmood, a clinical psychologist and adviser for the Muslim Youth of North America, works with young Muslims to help them become comfortable and confident with their Islamic identities. It can be difficult for some young Muslims to reconcile their religious identities with being American, he says.
"Stuff they see in the media kind of tells them maybe that something is wrong with them, or that because they're Muslim they're somehow singled out," Mahmood says. "Many might feel that being a good Muslim or being a spiritual, religious Muslim is somehow contradictory to being a productive and contributing member of American society."
He says he strives to help young Muslims reconcile their identity conflicts.
"I think we need to kind of bridge that and help young Muslims understand that they need to learn more about their faith, but they also need to learn more about the American cultural context that they're in," says Mahmood.
To get young Muslims more interested and engaged with their Islamic identities, Mahmood says it's essential to help them learn about the richness and vibrancy of their spiritual tradition. However, he also sees a need to help them with the usual growing pains.
"A lot of the struggles and psychological issues that are challenging for Muslim youth are the same and very similar challenges that any American youth might have. Adolescence and young adulthood is a tumultuous time in development, for anyone," he says.
Ali Sherbiny, a Tucson resident who studies Chinese medicine, attended a recent lecture with Mahmood. Sherbiny was born into a Muslim family in the U.S. and recalls that there were many people around the Prophet Mohammed who struggled with things like addiction, anger and depression. However, those issues were never really discussed in his family, he says.
"Everything was about being on a presentable face, and that it was not appropriate to share your anger. And it was not appropriate to allow others to see your sadness, because you shouldn't feel that way. God made things so that you should feel happy," Sherbiny says.
The balance between religious teachings and everyday life can be difficult, Sherbiny adds.
"On the one hand there is this peace that we need to learn, to be more accepting of the will of God. And by the same token, we can't just bulldoze over our emotions and say everything is okay when it's not," Sherbiny says.
Mahmood says he struggles as a psychologist to create more awareness of mental health issues in the American-Muslim community and the need to address them. Many Muslims feel that if they're struggling with mental health issues that it makes them a bad Muslim, he says.
"There's certain human struggles that every human being could potentially end up challenged with," he says. "It doesn't mean that you have a weak sense of faith or a weak reliance upon God because you're struggling with these things."