When the sun rises on Easter Sunday, Sanctuary Cove will be ready.
The Cove—a unique complex at the foot of Safford Peak that includes a chapel, outdoor amphitheater, labyrinth and trails—has welcomed hundreds of worshipers every Easter Sunday morning for the past 56 years.
They huddle on the stone benches as the sun's first rays cut through the cool air, willing to shiver for an Easter service unlike any other—one held among saguaros and open to every faith.
"Some folks come for years," says Anne Bunker, a longtime caretaker of Sanctuary Cove. "We always see familiar faces."
Bunker's was one of those familiar faces for almost half the sanctuary's history. She served as its caretaker from 1985 to 2010. That 25-year commitment changed her life, and it began with a simple walk across the street.
Bunker and her first husband had just moved to Arizona from Milan, Italy, where they had danced professionally. Bunker was pregnant, and dreamed of raising her child in the desert.
The couple rented a small casita in a then-remote and scarcely populated stretch of the Tucson Mountains. On the second morning after moving in, Bunker went out for a walk and discovered Sanctuary Cove across the street.
"I just felt that at some point my bones had been buried here," she says. "That's the only way I can describe it. It was home."
Bunker's home had begun as Elmer Staggs' dream. Staggs, a World War I veteran, came to Arizona in 1917 and homesteaded hundreds of acres at the base of Safford Peak.
Staggs dreamed of creating "a still place in a turning world," a place where people could retreat from their hectic lives to take time for meditation or prayer.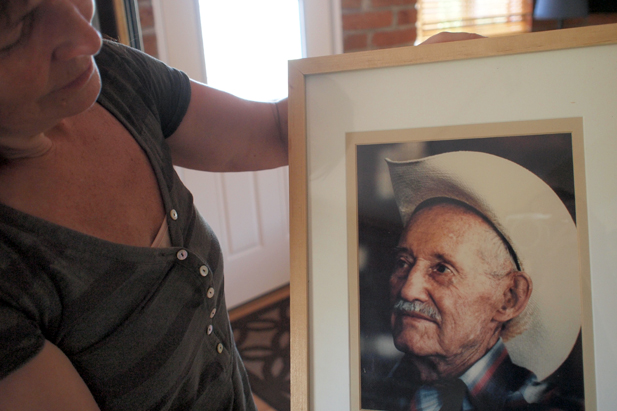 Sanctuary Cove's founder, Elmer Staggs (right, in portrait), became a friend and mentor to the Cove's caretakers.

Gisela Telis
In 1960, he and a small group of friends built the All Creeds Chapel, the centerpiece of Sanctuary Cove, out of stone culled from the surrounding hills. He opened it to worshipers of all races and creeds.
Bunker remembers Staggs as a very tall, thin, strong man whose spirituality ran deep.
"Elmer was a little bit stern until you got to know him," Bunker recalls. "And yet, if you went to him for counseling, he was very gentle."
Bunker met Staggs when she befriended Deanne and Rick Finnan, Sanctuary Cove's caretakers, shortly after discovering the place. She and Deanne, who was also expecting, had bonded instantly.
When the time came for the Finnans to leave, they suggested to Staggs that Bunker and her husband take their place.
For the next 25 years, Bunker's days centered on the sun. Sunrise meant the gates needed opening. There were trails to tend, garbage cans to check, invasive plants to pull—everything in the rough-hewn chapel and on the 80 acres that surround it needed her attention before sunset, when the gates would close again.
"It's a place where, like on a ranch, you get into a rhythm with the land and the seasons," says Bunker. "If you do, it's not hard to maintain."
As the seasons came and went, Sanctuary Cove's rhythm stayed the same. But the city around it changed profoundly. The wide-open valley visible from the chapel's door has filled with housing developments; Continental Ranch ends only blocks away.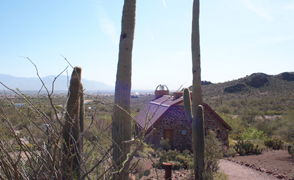 Tucson's development and growth have reached the doorstep of once-remote Sanctuary Cove.

Gisela Telis
"It's been a big change since Elmer's death in 1985," Bunker says. "He knew this was coming, and he knew we had to be prepared and set policies to maintain the Cove the way it is."
"On the last afternoon of his life," she says, "he took my hand and said, 'You have to watch out for the water. Because there won't be any in this valley.'"
As the city grows, Sanctuary Cove is doing what it can to properly care for the land, planting only native vegetation and using water and power sparingly. That's one of the lessons of the place, says Bunker.
"It made me more aware of what the desert is, what qualities of the desert deserve care and respect," she says. "It helped my family to keep balance ... even my children learned a respect for the natural world."
Now Bunker is taking the lessons she learned in Arizona to a new chapter of her life—in Hawaii.
Bunker and her current husband, artist Chuck Koesters, are spending part of each year on the Big Island, where Bunker teaches dance at the University of Hawaii.
"There, we eat right off our land, we have chickens, we have no water problems," says Bunker. "But I think living here prepared us for living on Hawaii ... the Cove taught me to live in the moment, to be grateful for every moment we have."
Bunker and Koesters gave up their caretakerhood to split their time this way; Bunker's ex-husband, David Guest, and his wife Kristie are currently the onsite caretakers.
But no one who has felt close to Sanctuary Cove can just let it go.
"Oh, we'll always watch over it," says Bunker. "It's still home."
--
Sanctuary Cove's 56th annual Easter sunrise service will be held on Sunday, April 8th starting at 6 a.m., on the sanctuary grounds at 8001 N. Scenic Drive in Tucson. The service is open to the public.