TP speaks to Diane Dittemore, the lead curator of Arizona State Museum's "Basketry Treasured" which celebrates Native American baskets by exhibiting hundreds of pieces from different Nations such as the Apache, Hope and O'odham. The exhibition will run from 28 April 2012 until 1 June 2013.

Diane Dittemore - Lead Exhibit Curator, Arizona State Museum

(VIDEO: AZPM)
The largest collection of Native American basketry and woven articles in the Southwest will go on display at the Arizona State Museum in Tucson next month.
The "Basketry Treasured" exhibit is scheduled to open April 28 with a sample of 500 pieces from a collection of more than 25,000 at the museum.

Some of the articles have been obtained from Native American tribes while others existed in private collections, including one by a prominent political figure during Arizona's early years.
Diane Dittemore, lead curator of the exhibit, says the display can help educate the public about ancient cultures and more recent history.
"We wanted to be able to introduce the public to this great collection and the same time celebrate our centennial," Dittemore says. "One of the first major collections of basketry we got was from our first Arizona governor George W.P. Hunt."
The museum is at1013 E. University Blvd. on the University of Arizona campus.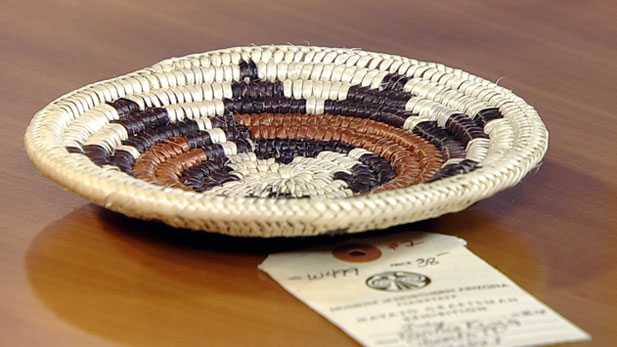 Lead Exhibit Curator of the Arizona State Museum Diane Dittemore shows us Native American baskets and talks about the hundreds of baskets from Apache, Hope, O'odham tribes and more that the museum will be exhibiting from April of this year until June next year.

AZPM