The Islamic Center of Tucson's Weekend School serves nearly 200 Muslim children, helping the city's Muslim children develop a strong character and Islamic identity, and reaching out in humanitarian efforts. (VIDEO: AZPM)
It's Sunday morning and 200 hundred kids from more than 20 countries are hurrying into the Islamic Center of Tucson, racing to get inside before class starts. The staff for the Weekend School, which is housed within the Islamic Center, is expecting an energetic, emotional and unpredictable day. It always is.
"It can be hectic," says a smiling Kamel Didan, a Tunisian immigrant and the school's director. "That's the diversity of this community in general."
The Weekend School - whose students hail from Russia, South Africa and a dozen places in between - teaches the city's Muslim children the Quran, Arabic and Islamic studies. The goal is to help them develop their religious identity.

Aside from spirituality, the school emphasizes the importance of integrating and giving back to Southern Arizona via community involvement. Student projects include collecting goods for the food bank, participating in the upcoming Race for the Cure and raising money for the surgery of a child with a cleft lip.
"Those are things that make you feel very good, being a human first and also being a Muslim," Didan says. "You feel like now you're part of where you're at."
They also teach the kids how to deal with the more controversial issues for Muslim Americans. Like equality among boys and girls.
With a dark red hijab (Islamic headdress) covering her hair and much of her forehead, student Sahara Kasimu explains why she chose to wear the veil.
"It makes me feel beautiful and confident," she says. "There's a part of me that just come out."
She attends San Miguel, a Catholic high school on Tucson's south side. She says she began to feel more respected after she started wearing the hijab, and many of her Christian friends were supportive.
Didan, the father of three girls, emphasizes to the students that if Muslims are treating women unequally, they aren't learning it from Islam.
"There's no such thing at all. Forget about what culture says and what people bring with them from back home," he says. "Some of my sisters wear the hijab, some don't. And that's OK. What really matters, which is way beyond this, is that when you interact, you have to do it in such a way that is just and fair."
Kasimu says she wants to turn her affinity for her scarf into a career. After she graduates from high school, she wants to design clothes for Muslim women.
"I used to watch America's Next Top Model a lot," she says. "Sometimes we do feel like we have to be boring and wear boring clothes because you have to be modest. But I feel like you can be stylish and be modest at the same time."
Didan says the children also discuss how to deal with their loyalty to America being perpetually in question.
"Since 9/11, things have changed. There's no running away from that," he says. "The best thing that happened to me in my life is to be in this country. I read a great deal about what made this country great. The principles of justice, being fair and the pursuit of happiness. And I feel that there's absolutely no conflict with that and what we're taught as Muslims."
Kasimu agrees.
"I feel that I can be an American and I can be a Muslim at the same time," she says. "I don't need to choose between the two."
And although the children only meet once a week, Didan says he hopes the lessons they learn stay with them long after they leave the Weekend School.

"One of the things I always remind them of is that being a good Muslim means being good to everybody," he says. "When they grow up and they become part of this society, I want them to carry that message along with them."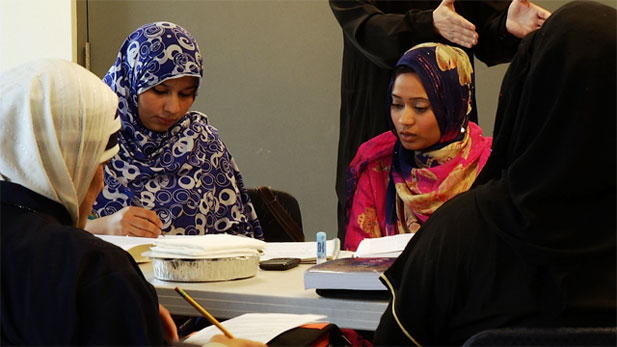 The Islamic Center of Tucson's Weekend School helps Muslim children develop character and identity.

AZPM