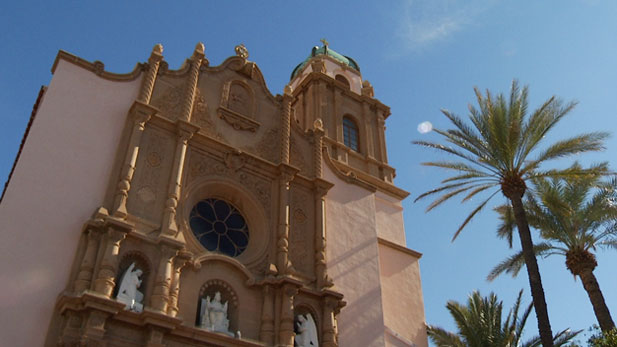 Since its completion in 1940, the Benedictine Monastery has served as a place to seek peace in the heart of Tucson.

AZPM
The Benedictine Sisters of Perpetual Adoration have been in Tucson since 1935.

They are a monastic community that lives and works at the historic Roy Place-designed monastery on Country Club Road near Speedway Boulevard.

But while the city all around the monastery has changed over the decades, life within its walls has in many ways stayed the same. For the 30 sisters, the days are full of prayer and work. The community is currently involved in making vestments and altar bread, running a popcorn business, and producing newsletters, podcasts and blogs.

Sister Joan Ridley says the residents consider themselves an integral part of the community at large.

"As a person, I'm extremely happy to be part of this life, part of this community of sisters, and part of the broader community of Tucson," Ridley says. "We attract people to this lifestyle because it is a life of meaning, and it gives joy--I really can say that about this life for me, and it's a grace and a gift."

In 1935, Mother Dolorosa Mergen received an invitation from Bishop Daniel Gercke of Tucson, Arizona to found a convent in his diocese. The bishop hoped that a community with a dedication to adoration of the Lord in the Blessed Sacrament would be a means of reparation for the persecution rampant in neighboring Mexico. In fact the completed chapel of the new foundation was to be dedicated to Christ the King in memory of the last cry of the martyred Fr. Pro.It was also thought that the dry climate of the southwest might help a number of sisters who suffered from tuberculosis. The sisters first occupied the Steinfeld home at 300 North Main Street. Construction of the permanent monastery began in 1939 and the sisters were able to move in by December 1940. The building was designed by Roy Place, the architect of many prominent buildings in Tucson. The fledgling monastery was in the heart of the city which made it more accessible to people. Business men, professional people, Mexican and English, they came to the chapel, where one may find peace, as one visitor expressed it. Over the years local groups of men and women helped keep adoration with the sisters: Knights of the Blessed Sacrament, Sentinels of the Blessed Sacrament and the Eucharistic Guard. (VIDEO: AZPM)