Sunday, Jan. 8, 2012 marks the first anniversary of the day six people were killed and 13 others injured in a shooting at U.S. Rep. Gabrielle Giffords' Congress on Your Corner event.
The morning of the first anniversary of the shooting was crisp and bright, just as it was a year ago. Southern Arizonans commemorated the day by ringing bells at 10:11 a.m., the time the shooting started a year ago.
A crowd of people gathered to ring hand-held bells at the Safeway at West Ina and North Oracle roads, where the shooting happened.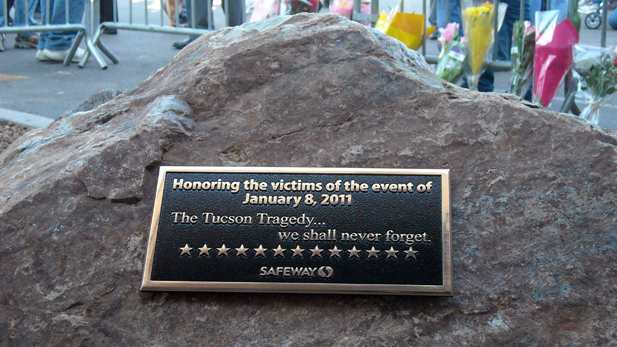 A new memorial, quietly erected in the days before the tragedy's anniversary, marks the place where six died and 13 more were wounded.

Christopher Conover
Several people who were there this year were also there Jan. 8, 2011, including Northwest Fire Assistant Chief Albert Pesquiera. He was one of the first responders that day.
"This is our neighborhood, this is our Safeway, this is our Walgreens," he said. "We just want to pay our respects, pay our respects for all the deceased, their families, and the entire community of Tucson."
Erin Buchanan laid flowers at Safeway's new memorial, a rock bearing a simple plaque commemorating the tragedy.
"We just came to remember and celebrate what did happen," said Buchanan, who has family members who work at the store.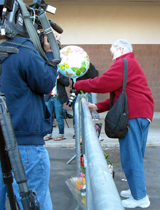 At the Safeway, a mourner ties a balloon to a railing in remembrance as reporters look on. (PHOTO: Christopher Conover)
At Congregation Chaverim at 5901 E. Second Street, Giffords' place of worship, dozens of other members of the congregation gathered to commemorate the anniversary.
Rabbi Stephanie Aaron led the event. Members walked out of the building in procession to a sunny spot of grass, singing in Hebrew. They blew shofar horns and rang handbells at 10:11 a.m. in a symbolic practice, Aaron said.
"We're calling ourselves to the community, back to the community, to our Tucson, to the way we want our town to be," she said.
At 10:08, Zoe Holtzman, a young member of the congregation, read a poem she wrote last year about the community.
"My Tucson is a web of love and compassion, their Tucson is a tangle of hate and mourning," Holtzman read. "My Tucson is a place so warm that kids run barefoot in December. Their Tucson is a place where nobody dares venture outside."
Tucson's remembrance of January 8, 2011 will continue throughout the day with gatherings, talks and vigils. Follow the events here.