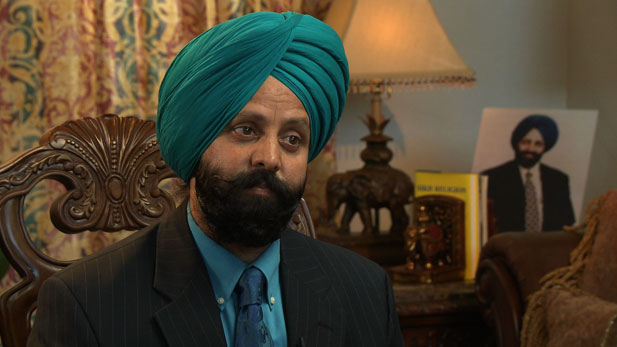 Rana Singh Sodhi, whose brother was killed when wearing the Sikh turban, says he still wears it for his religion.

AZPM
Contemporary generations of Americans will remember Sept. 11, 2001 in the same way our oldest living generation recalls Dec. 6, 1941.
9/11, another "day that will live in infamy," is still fresh in mind and heart. Several Arizonans whose lives were intertwined with the events of that day and their aftermath speak with Arizona Week about how life has changed for them, about tolerance and about the uncertainty in our world.
Rana Singh Sodhi, a Mesa restaurateur whose brother Balbir was murdered at his Mesa gasoline station four days after 9/11 when he was mistaken for being Muslim, tells Arizona Week in an interview that he lives with the memory of his brother by working to educate others about different religions and people.
And Singh Sodhi says he doesn't want to live in fear because his Sikh religion requires that he wear a turban and a beard. The U.S. affords religious freedom, and that is why he is here.
"I take off my turban for a little while -- I'm safe? No," Sodhi says. "There are hate crime victims who do not have a turban. But their skin color: How do you change your skin color?"
Maqsood Ahmad, chair of the Board of Trustees of the Islamic Center of Tucson, says national issues, including media portrayals of Muslims as terrorists, don't seem to exist in Tucson.
"The Tucson community is a very, very tolerant and very forgiving community," Ahmad tells Arizona Week. "As a matter of fact, in Tucson we haven't had a single episode of any significance after 9/11. Thanks to all the religious community and their leaders who came forward.
" ... they volunteered their time to protect the (Islamic) center during the height of this whole issue in the very beginning."
Samuel Cohon, senior rabbi at Tucson's Temple Emanu-El, says in the same interview for Arizona Week that Tucson has seen positive change as a result of interfaith conversations and partnerships.
"When we met 10 years ago in the immediate aftermath of 9/11, one of the things the religious community committed to do ... was to create a religious community," Cohon says. "We didn't know each other. ... One of the things I think we've been successful at doing ... has been to create a sense of community."
John Kavanagh, an elected member of the Arizona House of Representatives who is a retired New York-New Jersey Port Authority police detective, knew officers involved in the rescue efforts at the World Trade Center, including many of the 37 Port Authority officers who died.
"I knew many of the officers, the 37 Port Authority officers, who died rescuing people that day," Kavanagh says in an Arizona Week interview. "So memories of my past associations with them come to mind."
Find more remembrances at our Tucson Remembers 9/11 hub page.
Reporter Michael Chihak further explores people's remembrances and actions since 9/11 on Arizona Week. Watch here:
Michael Chihak speaks to John Kavanagh and Rana Singh Sodhi about the aftermath of 9/11. (VIDEO: AZPM)