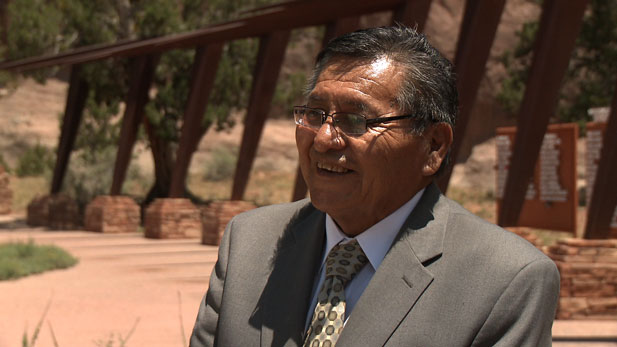 Navajo Nation President Ben Shelly says he wants good jobs for young Navajos, while they keep their culture.

AZPM
Navajo Nation President Ben Shelly says he wants job development on the reservation suitable to lure back young tribal members to put their "Western" educations to good use.
Shelly, in office since January, has put forth an ambitious economic development and job-building plan that he detailed in an interview in Window Rock for Friday's Arizona Week. His goal is to reduce the nation's 50 percent unemployment rate, which is the highest among any Arizona population, and make the Navajos more self-sufficient, weaning them from such great dependence on federal funding.
"What we're doing right now is ... coal-liquification projects ... solar manufacturing right here at Fort Defiance, making solar panels with about 450 jobs," he said, listing economic projects on which he is working.
Also on the list: oil projects, a program to allow capital investments by Navajos, a possible trade deal with China, fiber optic wiring of the reservation and a "Whispering Wind" cell phone system owned by the Navajos that honors the Code Talkers.
The driving force is "job creation, new revenue, that our younger generation can get into, which is what they learn in the Western education," he said.
Duane Beyal, a Navajo and editor of the Navajo TImes newspaper at Window Rock, told Arizona Week the most recent figures show that upwards of half the Navajo Nation's 300,000 enrolled members live off the reservation, with little in the way of economic development to lure them back. Beyal said Shelly's plans are ambitious, but at this point have only raised skepticism because there's been little action.
Shelly said his hope is to provide opportunities to attract young Navajos back home.
"Our younger generation with their Western education have taken us in that direction," Shelly said. "A lot of our younger generation have very limited traditional and cultural knowledge. Most of what they see now is on the Western side of looking at things: money and business. So we're accommodating them in certain ways."
Shelly said that while Navajo casinos -- two in existence and two being developed -- employ 99 percent Navajos, plus hundreds of construction jobs for the building work, he does not see those as the key to economic development on the reservation. Instead, the reservation's vast resources, including renewable solar and wind energies, can drive business development that provides jobs for young, educated Navajos.
But Shelly and others acknowledge barriers to economic development, including lack of infrastructure on the reservation -- roads, running water, even electricity in some places -- and the clash of the traditional culture with the dictates of modernization.
At the same time, Shelly said, retaining the Navajo language and culture is important to him, based on his own experience at a boarding school where he wasn't allowed to speak Navajo and was required to assimilate. The result, he said, was that he lost aspects of the Navajo culture.
"My wife and I got together, we had kids, wonderful kids," Shelly said. "I couldn't teach them what I didn't know. I didn't know my language, my tradition and culture."
Karen Francis-Begay, a Navajo raised on the reservation and now special adviser to the University of Arizona president for Native American affairs, said many young Navajos have similar experiences. She said they depart the reservation for an education, are pressured to assimilate and then may not be able to return when they get their degrees because the reservation has few job opportunities.
"A lot of them end up in survival mode," Francis-Begay said, also in an interview Arizona Week. "They have to pay loans and have a means of survival, so often times, almost readily, the job market that is available to them is away from home and is off the reservation."
Reporter Michael Chihak further explores the issue of economic development on the Navajo Nation on Arizona Week. Watch here:
Michael Chihak talk with Navajo Nation President Ben Shelly about their Economy and Karen Francis-Begay who is a Special advisor for American Indian Affairs to the UA President. Also Analysis from Journalists Duane Beyal of The Navajo Times and Jahna Berry of The Arizona Republic. (VIDEO: AZPM)