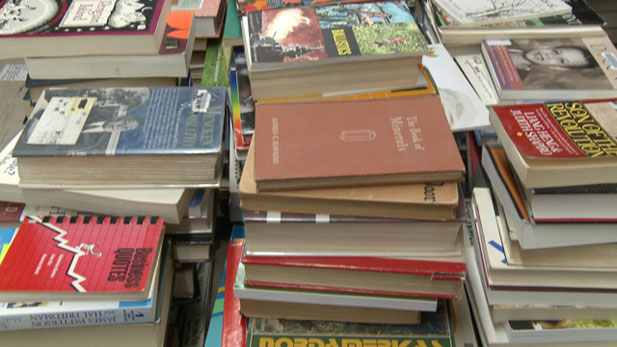 Since 1969, Friends of the Pima County Library has donated more than $1 million and countless books to the Pima County library system.

AZPM
Since 1969, Friends of the Pima County Public Library has collected more than a million dollars for the Pima County Library system, just a few dollars at a time.
The organization receives donations from the community and sells the books, CDs and DVDs for a fraction of the cost of a new copy. Friends has a warehouse in midtown Tucson. It holds occasional sales at store nearby, and it operates another store inside the main library in downtown Tucson.

The group also places carts with books that are sold on the honor system in more than a dozen branches all over Pima County.
"I love this job, it's great," says Libby Store, managing director of the group. "It's really nice to be able to work with volunteers. I love what they're doing and also to know that we're helping the community."
And it wouldn't be possible without a team of dedicated volunteers that specializes in different areas. Some are in charge of sorting and packing, others handle computers and online sales, and a few--like Gertrud Ashe--are assigned to books in languages other than English or Spanish. Ashe recently came across a donation that piqued her interest.
"The famous author Schiller, a German poet, and it was printed in 1817 and so I thought well, it's worth more than five dollars," she says. "And so I went to the online place and they checked it out and they have to give a description of the book and all that and they found out that Amazon had the exact same book and they were offering it for $200. So then this group here offered it for 180 and sold it."
And the funds over the decades have helped support multiple programs, such as the summer reading program, a Tucson writer's project, and homework help.
"The friends began in Tucson about 41 years ago, started with a patio sale on someone's patio selling books, I think they raised maybe $100 and gave that to a scholarship for a library student," says Stone.
It's come a long way from its humble beginnings, but the group says its mission remains the same: supporting and fostering a passion for books and reading for all members of the community.
Since being established in 1969, Friends of the Pima County Library has donated more than a million dollars to the library system in Pima County. Tonight we meet some of the volunteers who keep this organization alive, and see how they all take on different responsibilities to accomplish their mission. (VIDEO: AZPM)