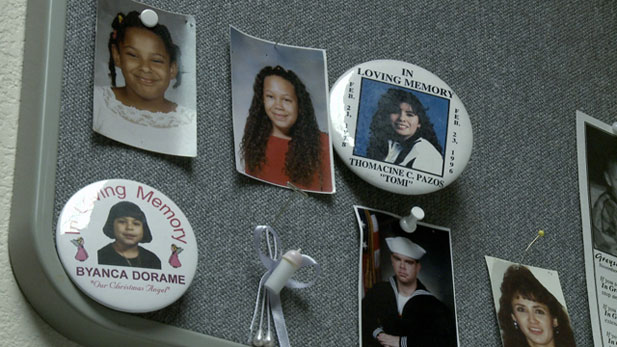 Across Southern Arizona, hundreds of unsolved murders await answers.

AZPM
Records at Homicide Survivors indicate the murder rate fluctuates unpredictably from year to year, and it seems Tucson is currently experiencing a spike in homicides. Regardless of the numbers, the arduous process of coping with the violent death of a loved one is always devastating for friends and family.

Carol Gaxiola, director of Homicide Survivors, says the most devastating situations can be found among the approximately 300 homicide cases that are currently labeled as cold.
Lila Elliott is a homicide survivor: her son Lynn Elliott was murdered on May 29, 2002. Her son's murder has never been solved, and this has added another layer of grief for her and her family.

"He had a good heart," she says. "He was a good dad."
Lila says she discovered the body of her son when she, and Lynn's daughter Brianna, went to his house, located just down the road from where she lived. She says she could never have imagined what she found there, and she's since traveled a difficult path to cope with the loss.

"You take one day at a time, one second at a time, one step at a time," she says, "and then here you are nine years later."
The trauma of a homicide reaches far through friends and family, and spans multiple generations. Lila says her greatest concern is for her grandchildren, Lynn's children.

"It's hardest for the kids," Lila says. "I know the kids need him."
Darrin and Brianna Elliott were 12 and 10 years old, respectively, when their father was murdered in 2002. The smiles in a family photo, taken days before the murder, reveal the fond memories of time spent with their father.

"My grandma noticed the smile," Brianna says when looking at the photo. "She says that's how I smile when I'm with my dad, and I don't see any other pictures where I smile like that."

Brianna and her brother Darrin have a close relationship now, and they find comfort in each other. Brianna says she's used her father's death as motivation to stay in school. She is now beginning a new job as a dental assistant.

Darrin's path as a cold-case homicide survivor has been more turbulent.

"Drugs and alcohol took me down pretty fast," he confides.

The fact that the case has remained unsolved has contributed to Darrin's self-destructive behavior and addiction, he says.

"I got really bad into heroin and I was homeless for three years," he says.
Darrin is clean and sober now, and for more than a year he's been working on rebuilding the relationships he jeopardized. His biggest lament, he says, is not being able to share his first year of sobriety with his dad.
Brianna, Darrin, and Lila say it is difficult to live with the knowledge that their loved one's murderer is still loose, and they say they would like closure. However, they know that ultimately nothing will ever bring him back.
Investigators say that the case of Lynn's murder is still open, but as of now they have no new leads.

(VIDEO: AZPM)