Bob Lindberg
When thousands of university students leave for the summer because of graduation or vacation, many will want to get rid of items like microwaves, lamps and bicycles. Now, with the help of local groups, fewer of those discarded items will end up in landfills.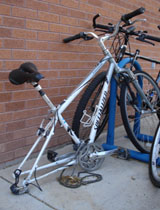 Hundreds of bicycles are abandoned on campus every year so university personnel eventually have to remove them from the bike racks. (PHOTO: Bob Lindberg)
BICAS is working with the University of Arizona on a pilot project to accept bicycles from students who don't want to take them or can't pack them with their other belongings. BICAS stands for Bicycle Inter-Community Art and Salvage, and right now one of its main projects is to gather these popular forms of transportation.

Kylie Walzak is the BICAS education and outreach co-coordinator. She says the non-profit organization, which is located in a downtown Tucson warehouse, can certainly benefit from the donations.

"We've talked to a lot of different people at the UA to ask them how can we sort of intervene in this process to prevent these bicycles from being abandoned in the first place and then get them here to BICAS, where we can turn them into working bikes or use them for parts or teach people about bikes on them," she says.
BICAS is working with Jill Ramirez, who coordinates sustainability education for about 6,000 students who live on campus. She says the recycling tradition is already in place with other items, so now she's spreading the word about bicycles.
"They are encouraged to bring down what they no longer want and it's donated to Salvation Army and the Community Food Bank," she says. "Last year we had about 29 tons of material that was donated and it's everything from storage bins to microwaves."

BICAS will be accepting donations on the north side of the Student Memorial Center on Thursday, May 5th, and again from the 9th until the 13th of May from 10 am to 5 pm. The group also welcomes bicycles all year in its warehouse at 44 West 6th Street.
The University of Arizona and BICAS, Bicycle Inter-Community Arts and Salvage, are working on a project to try to recycle bicycles abandoned by students who leave for the summer. (VIDEO: AZPM)