On the stretch of Kinney Road south of Old Tucson Studios, the saguaros spread from each side of the asphalt like a sea.
Then it crops up from among the cactus and creosote: an island of adobe with a sign that says "Cat Mountain Station."
Since its construction in the 1950s, this quirky mud and brick business center has alternately hosted a museum of Western collectibles, a feed store, and a biker bar. It fell into neglect and disrepair by the late 1990s and stayed there, until one man—captivated by its outpost feel—committed himself to bringing it back from the brink.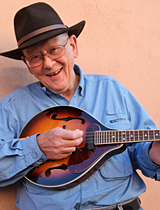 Spencer Block devoted the last years of his life to renovating the 1950s outpost now known as Cat Mountain Station. (PHOTO: Courtesy of the Block family)
Spencer Block had seen the enclave at its best and worst. Living just around the corner from the business center for nearly 40 years, he and his wife, Kerstin, had witnessed every one of its odd incarnations, from its drug-related arrests in the late '90s to the life-sized John Wayne statue that used to greet customers there in the 1960s.
"It would say, 'Howdy, little critter,' when people walked by," recalls Kerstin. "We could hear it from our backyard."
The Blocks met in 1960 at the University of Arizona, where Kerstin was studying anthropology and Spencer was majoring in English. When Kerstin had to return to her native Sweden the following year, Spencer followed her and married her there so that she could return to the U.S.
"The U.S. was a wide-open, free place" where she had always dreamed of living, Kerstin says.
It was appropriate, then, that after brief stints in Chicago and Eugene, Oregon, the pair settled down in the wide-open spaces west of the Tucson Mountains, just off Kinney Road.
They lived and raised two daughters on a 5-acre spread there while Spencer commuted to a school library in Sells and Kerstin worked in a furniture store.
Then, Kerstin lost her job and took a chance. She opened a small store near the UA where fashion aficionados could buy, sell or trade vintage clothing.

Buffalo Exchange, as Kerstin named the store, took off. Spencer quit his job a mere four months later to help her run the business, which over 35 years has bloomed into a chain that now includes 43 stores in 15 states.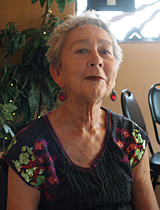 Tucson entrepreneur Kerstin Block, who founded the Buffalo Exchange chain of vintage clothing stores, carries on her husband's labor of love. (PHOTO: Gisela Telis)
So when the outpost Spencer had long admired from the Blocks' backyard went up for sale seven years ago, Buffalo Exchange's success made it possible for him to buy it.

Spencer named it "Cat Mountain Station" after a nearby peak and dove into renovating the project, pouring money and time into rebuilding the restaurant and five 500-square-foot shops that make up the center. Just a few months later, he was diagnosed with pancreatic cancer.
"He wanted to live," says Kerstin, and Cat Mountain Station gave him another reason to. "It became his baby. It kept him excited, kept him going."
Spencer would live another four and a half years, all the while caring for his adobe outpost. Cat Mountain Station drew local artists who set up shop in its stores, as well as local residents and visitors to Old Tucson Studios, the Arizona-Sonora Desert Museum, and other nearby destinations who were curious about the outpost and its abundant courtyard garden.
The Station held farmer's markets, arts and crafts fairs, and even the occasional movie night to further involve the community that surrounds it.
"This place pulls the community around here together," says artist Sharon Evans, who has run the art gallery and framing shop Studio S'Evans at the Station for four years. "We consider Kerstin and Spencer our heroes."
Near the end of his life, Spencer grew interested in astronomy, and became convinced the empty lot behind the Station should be home to a bed & breakfast equipped with its own observatory.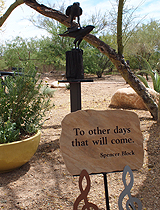 A garden and sculpture on the Cat Mountain Lodge grounds pay tribute to Spencer Block. (PHOTO: Gisela Telis)
He set about designing the place himself, but didn't live to see it completed. It opened on what would have been his birthday in 2010, with all the green features he'd hoped for, the observatory and telescopes he dreamed of, and a memorial garden honoring his memory. It has been busy ever since.
"People just love it, and that's very gratifying to me because it's something we built together and something of his that lives on," says Kerstin.
"And now that I'm on my own," she adds, "it's a place to belong."