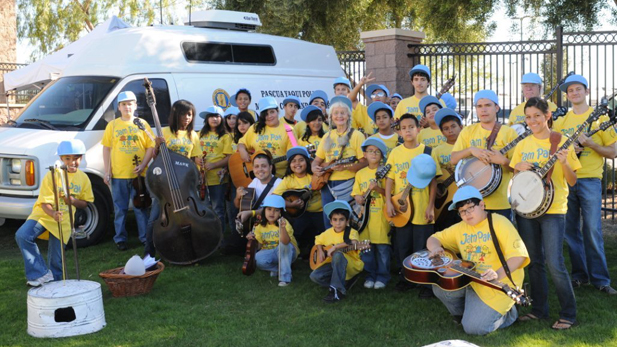 The Jam Pak Blues 'N' Grass Neighborhood Band gathers for a group photo at the 2010 Tucson Bluegrass Festival.

courtesy of Anni Beach
Three evenings a week, Anni Beach's tiny house turns into a concert hall. As many as forty children hunch over banjos, guitars and a washtub bass, wringing bluegrass music from steel strings and sending it out into the neighborhood and the night.
The Jam Pak Blues 'N' Grass Neighborhood Band sounds like 19th-century Kentucky, but its home is a low-income neighborhood in Chandler, Ariz.

Jam Pak performs "Whiskey at Breakfast" at the 2010 Tucson Bluegrass Festival:
And the children of Jam Pak—most of whose parents are Latino, African or Asian immigrants, or Native American—don't have ancestors who played old time music or ties to Appalachia. Yet they return and practice night after night, lured by their love for the music.
"I've got tattoos and piercings, and I'm pretty sure I showed up to a bluegrass festival with blue hair once," says 22-year-old Elisia Simmons, who has played with Jam Pak for 14 years. "I think Jam Pak's a reminder that we're all different, but we all love the same things."
*
The band began one day in April 1994, when Anni Beach substitute-taught a class in her neighborhood school and brought along her mandolin. The lifelong educator—an impish woman in long white braids—had a habit of holding sing-alongs in the classroom. That evening, two second-graders from her class knocked on her door and asked if they could sing with her again.
"We sat on the front yard and played harmonica and sang 'This Land is Your Land,'" Beach recalls. "And something just told me there was a need for this."
Beach had spent a lifetime casting about for a mission, and now one had quite literally landed on her doorstep.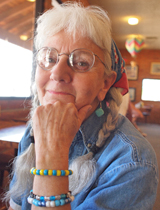 Lifelong educator Anni Beach says she found her purpose in the Jam Pak Band. (PHOTO: Gisela Telis)
Raised in a musical family in Vancouver, Wash., Anni Beach had studied piano as a child but was too nervous about performing to carry her training further. At 19, she set out for Japan to work in rural agriculture and, after a chance visit to a mandolin concert, became obsessed with mandolins.
Her parents gave her a mandolin so she could learn to play, but she wouldn't pick it up again until she was 49 years old.
By then, she'd raised a daughter on her own, discovered a passion for teaching, and spent much of her life as a teacher and supervisor in the Navajo Reservation boarding school system. She'd also met her match: Vincent Beach, a Jamaican immigrant with a wry sense of humor who had served in the U.S. Air Force as a military bandsman for 22 years. It was Vincent who encouraged her to return to music.
"We promised each other that he would learn cello, and I would learn mandolin," she says. "I found a teacher who was a bluegrass player, and that was an epiphany. I could do bluegrass. I couldn't do it well, but I could do it."
*
Anni was right—the kids in her community needed music in their lives. Word spread quickly, and more and more children showed up at the Beach home.

The Beaches secured a donation of canjos, three-stringed instruments made from Cougar Gold cheddar cans, and mentoring from Howard and Susan Anderson, two coaches who were well known in the bluegrass community and happened to live in Phoenix.
"A lot of these kids, they're not from rich families—they're from families that are right on the edge of poverty," says Howard Anderson. "But they have the potential to do great things, and this shows them they can do great things. We were just so taken with what the Beaches were doing."
But not everyone was taken with the idea. Four years after the first knock on the door, Jam Pak began performing in music festivals as a full-fledged band. The fact that they didn't fit the bluegrass "mold" there raised some resistance.
"Bluegrass had been very much a lily-white community," says Susan Anderson. Jam Pak has expanded that community's tolerance, she says, as well as her own. Watching the Jam Pak kids struggle with their immigration status, cope with parents in jail or navigate an educational system that no one in their family has experienced has broadened her viewpoint, she says.
"I think I have more consideration for the human race now," she admits, "no matter their ethnicity."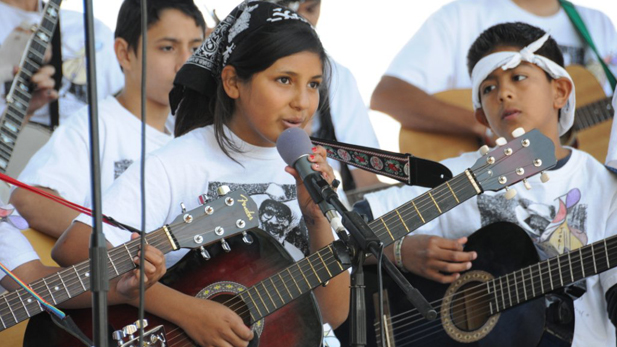 Jam Pak's Nayely Mendoza solos in "Your Love is Like a Flower" at the 2010 Benson Bluegrass Festival.

Linda Lou Lamb
*
As the bluegrass community warmed to the idea of Jam Pak, and as the band improved, donations and invitations started to roll in. Equipped with banjos, guitars, fiddles and other instruments provided by the bluegrass community, the band traveled to rodeos and festivals in the Beaches' motorhome, performing for crowds all over the state.
In between gigs, they filled the colorful Beach home, practicing in every room in the house or spilling out into the yard. Older kids taught younger kids; every birthday was celebrated with cake and music; everyone stopped for food breaks when Anni made dinner or baked, and no one got away with being rude or impatient.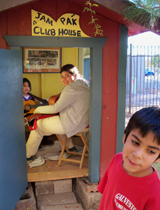 At the Beach home in Chandler, Jam Pak veterans teach younger kids to play. (PHOTO: courtesy of Anni Beach)
"It's just a good place to be—everyone's nice to each other and not fighting," says 19-year-old Francisco Briseño, the band's lead banjo player. "So when I would go home, I would talk to my family that way too. That's what I learned in the band: to be loving and caring to other people."
That lesson met its greatest test when Vincent was diagnosed with progressive supranuclear palsy, a rare brain disorder. The Jam Pak kids helped care for him, playing for him and talking to him although his ability to move and respond was impaired. They were there, singing his favorite bluegrass tunes, when he died in February 2010.
Now, says Anni, "the band kids tell me, 'We'll take care of you when you get old.'"
But 67-year-old Anni isn't feeling old yet, in large part thanks to the band. "This is my family and the fulfillment of my life," she says. "This is my cause."
So, in the meantime, Anni continues to take care of her bluegrass brood. The thrice-weekly practices and jams go on, and Anni and the band perform at festivals and other events nearly every weekend. They're already slated for the Benson Bluegrass Festival April 29th, and the Tucson Bluegrass Festival in October.
There are even some second-generation Jam Pak kids in the ranks, learning from Anni and the Andersons as their parents did.
Among them is Elisia Simmons' 3-year-old daughter, who "just loves Jam Pak," says Simmons. She counts Anni as one of her best friends, and hopes the band can be just as influential a presence in her own daughter's childhood.
"I'd like music to have an important place in her life," she says. "I'd like her to know the importance of being part of something bigger. And that you don't have to be great—you just have to get up there and do it."
The Jam Pak Band and bluegrass recording artist Thomas Porter perform "Simple Box of Pine," a song Porter wrote in honor of Vincent Beach: