As Black History Month comes to a close and Women's History Month begins, AZPM explores how one African-American woman is recording and sharing her community's history—and finding her voice along the way.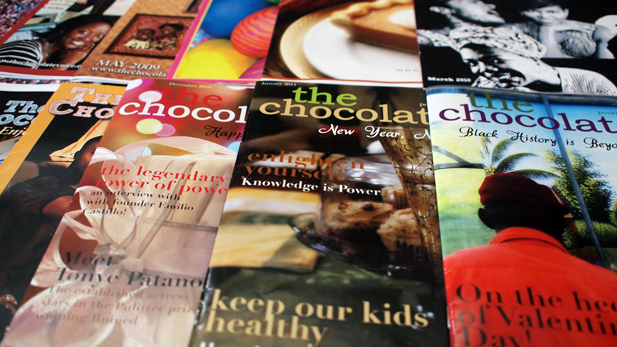 "The Chocolate Voice is simple and small--you can get through it," says publisher Gwen Pierce.

Gisela Telis
It started out as homework. Gwen Pierce thought her mother wasn't getting out enough, wasn't enjoying or appreciating the vibrancy of the Tucson African-American community of which she was part. So she sent her mother out on assignment. Visit some local Black-owned businesses, Pierce said, and find out what they're doing.
In the corner of Tucson Pierce knew best, such businesses weren't hard to find. Mr. K's BBQ, which sent plumes of mouthwatering smoke along South Park Avenue, served up African-American history displays alongside dishes of cornbread and ribs; just down the street, Pierce's own father ran the Hopkins Barbershop, where much of south Tucson's Black community came for fellowship as well as haircuts. And less than two blocks away, Trinity Temple carried on the tradition of the Colored Methodist Episcopal Church.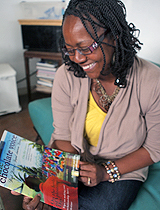 Gwen Pierce started her now-national magazine as a way to reconnect with her roots. (PHOTO: Gisela Telis)
But Pierce had grown disconnected from these landmarks of her childhood. After attending San Diego State University, she had made that California community her home.
"My parents and grandmother live here [in Tucson], so I was coming back and forth all the time," she says. "But I wanted to see what people in my hometown were doing."
Mother and daughter soon discovered there were many stories lurking quietly in their community, untold. And they decided they would tell those stories.
Pierce, a onetime journalism major, had experience interviewing and writing; her daughter, though still a teenager, expertly handled the design and layout. Together, the family assembled a small magazine showcasing the stories of Tucson's African-American community, and left it where they thought readers might enjoy it: at Black-led churches, at the Dunbar School and cultural center, in a nearby Bookman's. They called it The Chocolate Voice.
"I didn't know how far it was going to go," Pierce recalls, shaking her head. When subscribers started calling that first month, she realized she'd stumbled upon something the community needed.
The Chocolate Voice has since gone from a handful of local subscribers to hundreds across the country, and it has placed Pierce in a proud tradition of publications that cater to Arizona's--and the nation's--Black readers.
Arizona's foremost Black newspaper, the Arizona Informant, started off with loftier goals.

Founder Cloves Campbell Sr., Arizona's first Black state senator, "was getting frustrated because there was interesting legislation he wanted to talk about, and none of the major newspapers would cover it," says his son, Cloves Campbell Jr., who now serves as the paper's co-publisher and chairman (and, until recently, as a state legislator).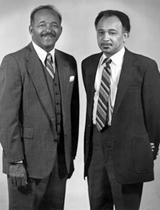 Brothers Cloves C. Campbell, Sr., and Dr. Charles R. Campbell founded the Phoenix-based Arizona Informant. (PHOTO: Courtesy of the Arizona Informant)
In 1971, Campbell Sr. purchased the paper for $1 from a disillusioned former publisher and built it slowly to its present readership of 110,000, with 19,500 paid subscribers.

Campbell Jr. got involved in his father's mission while still a kid, working as a newspaper boy and later, in high school, taking photos for local stories.

"Then I tried to play professional football for a while," he says, before coming home to his family and the paper in 1987. The gig "is fun--it's given me an opportunity to see what kinds of stories are important to the African-American community."
"Ninety-eight percent of the stories you read here, you won't find anywhere else," he says.
Despite the two publications' differences, both The Chocolate Voice and the Arizona Informant share a similar role in the Black community, says Geta LeSeur-Brown, a University of Arizona professor of Africana studies and literary scholar.

"Everybody has their stories, and people pass on traditions through these papers," she says. "There's a richness there that needs to be preserved."
For Gwen Pierce, the passion to preserve untold stories has only grown stronger. Her magazine's rising profile has whetted her appetite--and broadened her reach. Her interviews now include leading artists and entertainers, and the subjects of her stories range far outside the Tucson city limits.
"People like to see others in their community doing positive things. They think, 'If that person can do this, I can do it too,'" she says. "And that's a good thing, not just for Tucson but for anyone. For the world."