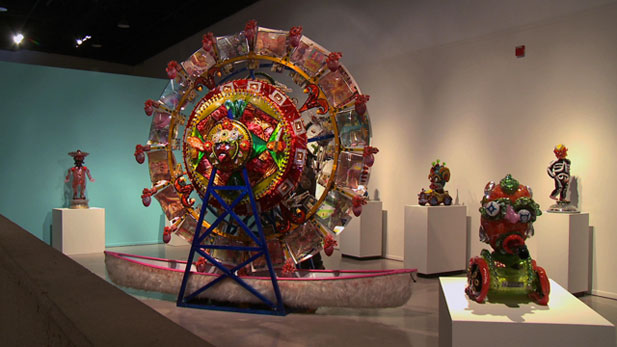 The "Borderlandia: Cultural Topographies" exhibit at the Tucson Museum of Art explores some of the unique themes of U.S./Mexico interactions.

AZPM
The border between Mexico and the U.S. is a meeting place for two cultures, and it can be a contentious space filled with tension. But it can also be a source of humor and beauty, as well as a fertile source for artistic inspiration.
Einar de la Torre is a glass and mixed media artist who feels comfortable at the border. He and his brother Jamex say this meeting place of two distinct cultures creates a hybridized landscape that is much more than a debate about immigration.
"There's a lot more going on in Mexico than that," Einar says. The border "is a semipermeable membrane and we have access to it," he points out, so "we play the insider/outsider status of it."

Einar says his perspective as an artist dividing his time between two countries allows him to see each culture through the lens of the other, while also knowing it from within.

Jamex de la Torre says that their work is "not quiet," and they feel it's their duty to comment on the conditions that they see around them.
Borderlandia: Cultural Topographies will be on exhibit at the Tucson Museum of Art through June 12.
"Borderlandia: Cultural Topographies" is the title of a new exhibit at the Tucson Museum of Art that explores some of the unique themes of US/Mexico interactions. (VIDEO: AZPM)