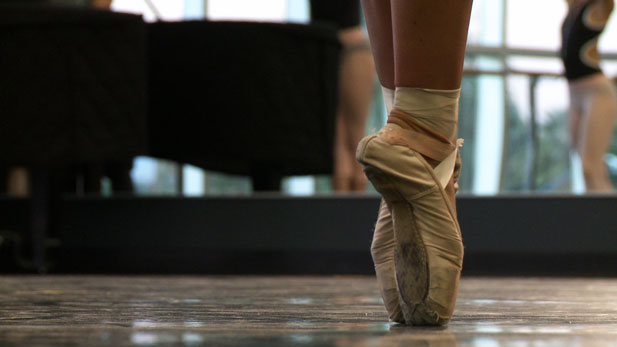 An in-depth look at the University of Arizona Dance program.

AZPM
The University of Arizona School of Dance is one of only a few colleges approved by the George Balanchine Trust to perform the master choreographer's ballet.

Melissa Lowe, professor at UA School of Dance and former professional dancer, is currently leading rehearsals of the Balanchine-choreographed Allegro Brillante. She says the ballet, choreographed to music by Tchaikovsky, is a demanding work that can be compared to "running a small marathon."

In addition to the core dance curriculum and rehearsal for the ballet, students in the UA dance program are required to take a full complement of academic courses.

Although only a sophomore, Barton Cowperthwaite is currently rehearsing as one of the principal dancers in Allegro Brillante. He says the work can be demanding but he feels it's a privilege to be able to perform in such an historically important piece.

"The piece is always getting better and better," Cowperthwaite says. "It's a process of growth and of attempting perfection, even though it's impossible. But we're going to get as close as possible."
An in-depth look at the University of Arizona Dance program. (VIDEO: AZPM)
Allegro Brillante will be performed as part of the Premium Blend showcase.