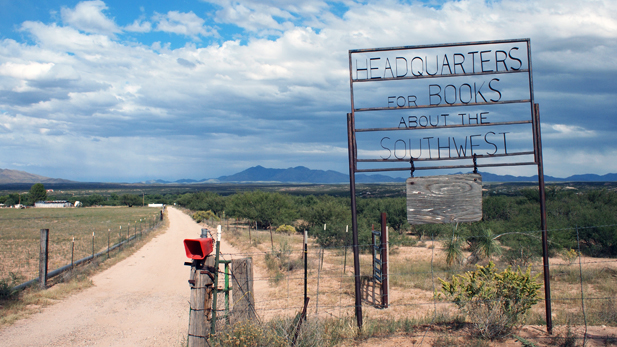 Since 1974, Benson's Singing Wind Bookstore has lured students of the Southwest well off the beaten path.

Gisela Telis
At Winifred Bundy's Singing Wind Bookshop, the wind sweeps more than it sings. With the mountains in the distance and the trees crowded along the river, there's nothing to stop it from howling through windows or beating on the door.
But the wind isn't the only visitor to Bundy's outpost. This book lover's haven sits on a ranch with no paved road or parking lot, no Web site, no advertisements—and no shortage of customers.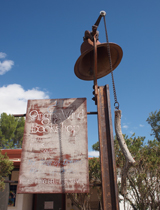 Outside the Singing Wind Bookstore, a weatherbeaten sign invites visitors to ring a bell for service. (PHOTO: Gisela Telis)
They come because they're curious, or because the rain drives them indoors, quips Bundy, who usually goes by "Winn." But mostly they come for her expansive and eclectic collection, much of which is about the Southwest.
"It's mostly subjective—whatever I like," Bundy tells visitors who embark on her bookshop tour. "Over the door is finance, and I truly believe all of that is fiction ... and here's women's experiences in the West, which aren't fiction, I promise."
"Here's Hillerman hardcover, Hillerman softcover," she says, pointing to another unlabeled shelf. "Indians in the Southwest, Indians outside the Southwest ... the Jewish Western experience—that's extremely important ... short Californians—that's the size of the books, not the people—and tall Californians ... bad men and bad ladies, shoot-'em-ups ... and the Mormons are up over the window."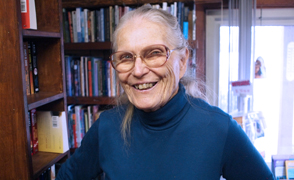 Rancher and librarian Winn Bundy built her eclectic collection--and her devoted following--over 37 years.

Gisela Telis
The bookshop and the 600 or so golden acres that surround it are a dream come true for Bundy, and a long way from her roots.
Bundy was born in Oak Park, Ill., during the Depression, which made a drifter of her father.
He took one Buick job after another, moving anywhere in the Midwest that would have him, so that Bundy had attended 22 schools by the time she finished high school.
As that rootless little girl, there were three things Bundy wanted to be. One was a librarian, another a farmer.
"My third dream was to have an ice cream parlor," she says, "but I wouldn't mix that with books."
She found a partner for her unusual dreams in Robert Bundy, an electrical engineer who was 10 years older than she but "looked so young my mother couldn't tell." Bob Bundy wanted to whisk his asthmatic new bride away to the West.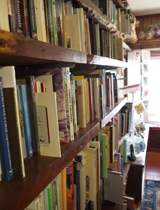 Bundy's hand-hewn mesquite shelves hold everything from treatises on American Indian rock art to Chinese literary fiction. (PHOTO: Gisela Telis)
"When we got married, that's the first thing he said—'We're not staying here where I'm freezing and you can't breathe,'" Bundy recalls.
The pair found and began to painstakingly restore the Singing Wind Ranch outside Benson in 1956. Winn Bundy completed her master's degrees in history and library science, raised children and cattle, and in 1974 set about building her bookstore.
The shelves—cut from mesquites by Bob Bundy and finished by Winn—were made by hand. A $500 bill for dog food, paid by two astronomers whose wayward German shepherds stayed with the Bundys for a year, bought the books.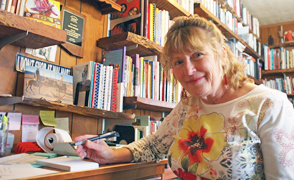 Kathy Suagee, Singing Wind's manager, has worked with Winn Bundy for just over 20 years. "I'll retire before Winn does," says Suagee.

Gisela Telis
From there, word spread and the visitors came. The collection grew to more than 10,000 volumes, and Singing Wind became a stop for tour buses and a favorite field trip site for local schools.
It also became Bundy's respite after her husband died in 1983.
"I went back to work the day after the memorial," she says. "We were like that"—she wraps her fingers tightly together—"but I felt I had to do it. And it was the best thing for me."
Now 81 years old, Bundy still bounds around her bookshop with endless energy, greeting customers with her six-year-old Dalmation-Lab mix, Chester Einstein, at her side, gamely giving her rapid-fire tour to anyone who stops by.
"The people I meet are more important than anything else," she says, tickled that the world keeps finding its way to her door. "They could be your neighbor, or a Japanese tourist. Honestly, I think I get more out of this than anyone else."


Singing Wind Bookshop will celebrate regional books at its annual Thanksgiving Fiesta, on Sunday, November 20 at 1 p.m. Call (520) 586-2425 for more information.