A Decade of Young Corridistas (book and cd)
The UofA Poetry Center is celebrating it's fiftieth year. As part of it's effort to highlight the cultural diversity of the region it's published an anthology of bilingual ballads by local high school students.

UA POETRY CENTER CORRIDO CONTEST ANTHOLOGY SAMPLES "En El Desierto de Sonora" Elizabeth Tona
"El Ángel Ilegal" Gamaliel Rábago
"Sin Título" Elías Rodríguez
Una Noche de Corridos: A Benefit Concert October 2, 7-9 pm
Proceeds benefit Poetry Center's Corrido Contest for high school students
Corridos and Poetry
azpm
Story by Luis Carrión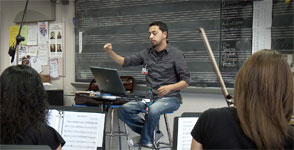 Alberto Rangel conducts performance of winning corridos during rehearsal
The corrido is a popular musical form steeped in the narrative traditions of Mexican culture. It's a musical ballad style that originated in the 1800's and was originally sung throughout the country. Now, it is considered primarily a Northern Mexico style of music, and it is often associated with border themes and stories.

The University of Arizona Poetry Center sponsors a yearly corrido contest and uses the project to foster an appreciation and understanding of creative writing. High school students from Tucson and surrounding communities are invited to submit corridos. Often, language educators use the contest as a class project and lessons are developed on poetic structure, themes, and creativity. The winning entries are set to original musical compositions and performed by the advanced mariachi group from Tucson High School, Rayos del Sol.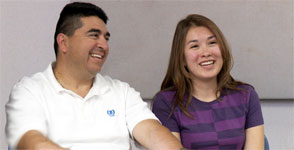 Bianca Rosales and her father react upon hearing Bianca's corrido performed for the first time
Bianca Rosales goes to Marana High School, and she submitted a winning corrido as part of a class assignment. "As long as I get and 'A', I'm happy," she says.

She not only received an 'A' for her work, she's also being honored this weekend at the UA Poetry Center for her corrido. It's titled "Recuerdos de Ti" Or "Memories of you," and it was written in honor of a family member that Bianca says played an important role in her life.
She says she was looking for something to write about when her mother suggested she write about her grandfather who had passed away a few years ago. She agreed and said that the process of writing down her thoughts and emotions came naturally. "The words just flowed onto the paper," she says, and "I was just letting everything out."
The corrido "Recuerdos de Ti" is emotional for Bianca and her family, and she recently had the opportunity to hear it for the first time during the rehearsal for the Awards ceremony scheduled at the UA Poetry Center.
Listen to the story from In-Depth Arizona :
More information about the 50th year celbration at the UA Poetry Center.