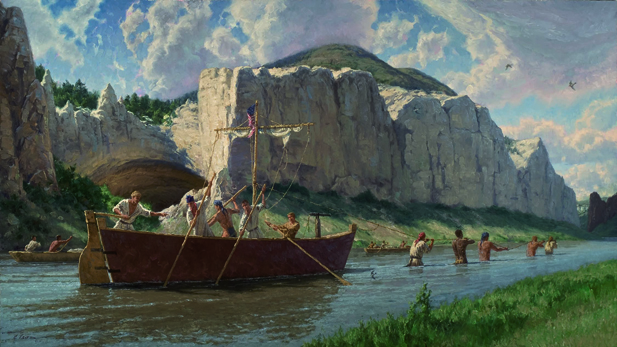 Cordelling the Red Pirogue -- White Cliffs of the Missouri, May 1805. Oil on canvas by Charles Fritz.

Tucson Museum of Art
The
Tucson Museum of Art
is currently featuring an exhibit titled
The Journey of Lewis and Clark
. It's an expansive exhibit that gives museum visitors an intimate understanding of the people and landscapes that shaped an important time in U.S. history.
"History people come because they're interested in the history, but they end up getting intrigued by the artistic aspect of it," says Charles Fritz, the Montana-based artist responsible for a large portion of the exhibit. "And people who are interested in the art come and leave with a new appreciation for the history."
The 100 oil paintings he created for this project chronicle the explorers' journals from their first sighting of the Great Falls in Missouri, to a buffalo hunt, to the Pacific Ocean and back. Fritz says he was intrigued by the fact that the Lewis and Clark Corps of Discovery team didn't include an expedition artist, and he thinks "it was a huge oversight by the progressive Thomas Jefferson."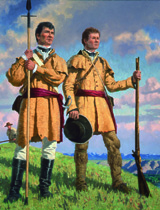 The Captains Lewis & Clark--Trusted Leaders, Loyal Friends. Oil on canvas by Charles Fritz. (PHOTO: Tucson Museum of Art)
Two hundred years after Lewis and Clark set out on their epic journey to map a waterway to the Pacific, Fritz cast himself as the expedition's artist.

He traveled the entire route, finding specific locations mentioned in the writings and painting key scenes out in the open air, always inspired by the natural environment.

On the day we visited the museum, a group of Tucson Museum of Art docents was touring the exhibit with Fritz. They were getting an intimate presentation on each of the hundred paintings on display, and personal accounts of the process used to capture the detailed scenes.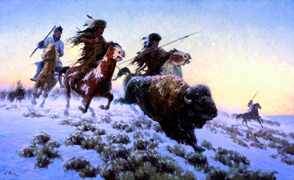 The Mandan Buffalo Hunt -- December 1804. Oil on canvas by Charles Fritz.

Tucson Museum of Art
John Carhuff is retired and now volunteers as a docent at the museum. He says that having the opportunity to learn about art, often firsthand from the artist, and then sharing that information with other patrons is a great privilege.

"It's like being invited to eat chocolate every day," he says with a laugh. "One enjoys it, and keeps doing it, but there's a certain amount of guilt associated with it."

Susie Heintz also toured the exhibit on the day we visited, and she says that her motivation to volunteer as a docent comes from the people she meets. "It is absolutely fantastic, and it's what I've always wanted to do when I grew up," she says.
Fritz says he feels the spirit of discovery found in the Lewis and Clark journals has not diminished in the 200 years since the journey took place.

"The story is huge," he says. "There is so much to be told."
The legacy of Lewis and Clark is the subject of the current exhibit at the Tucson Museum of Art. (VIDEO: AZPM)