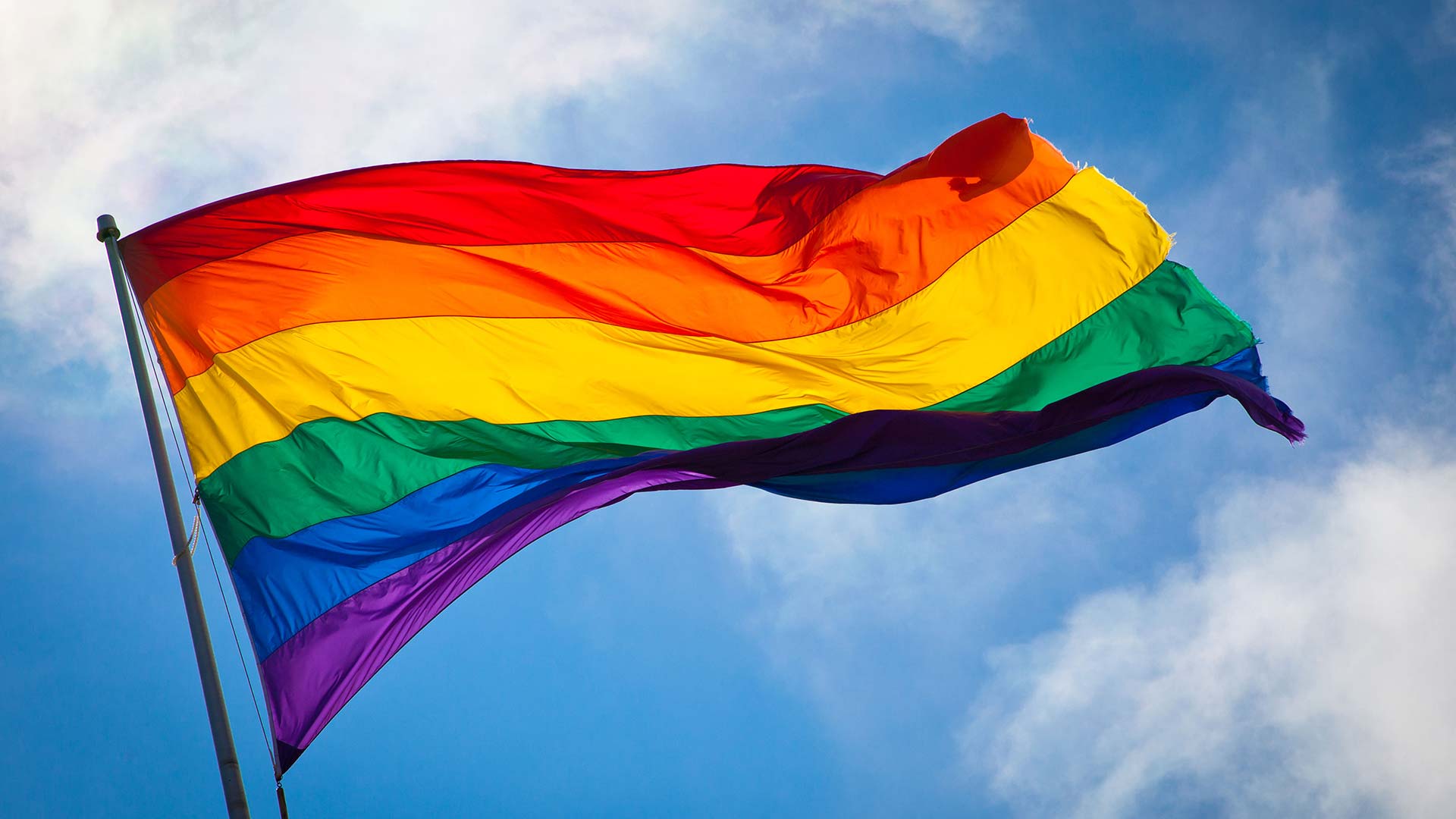 A rainbow flag.
Benson Kua via Wikimedia Commons [CC BY-SA 2.0]
En español
It starts years before they made it to the U.S.-Mexico border in October 2022 and turned themselves into authorities, in Yuma, Arizona, asking for asylum.
Reydi's story starts in his home country, Venezuela, in 2017. He had been doing political activism on and off for years. He finished his law degree and was teaching classes at the university when the Bolivarian Intelligence Service, which has an extensive record of human rights violations, detained him and some of his colleagues at the university for political reasons.
"You weren't allowed to call anyone," Reydi said in Spanish. "Obviously, people were tortured and mistreated when they would ask anything. It wasn't a police department or anything. It was a very strange place and very far from anything."
Reydi was detained for two days, and when he got out, he and some of the others decided to leave the country.
He wanted to work, and he wanted to get his law license in another country, but the Venezuelan government withheld his passport, which made starting a new life nearly impossible. In Columbia, Peru and Ecuador, he struggled to get a foothold.
Then he met his boyfriend. Reydi was hesitant to get to know someone at first after all he'd been through, but soon they started hanging out. Reydi didn't have a cell phone, so his boyfriend would just have to show up and surprise him. It felt special — a throwback to a time before cell phones and constant contact.
"He had to come by surprise," he said. "He would tell me, see you tomorrow at 4 in the afternoon. We would see each other the next day — like before, when there were no cell phones and there was that expectation of waiting for your partner, girlfriend or boyfriend, like butterflies."
He moved in with his partner, and they created a life together in Ecuador. Reydi began to heal from some of what he had endured.
One evening in 2020 they were eating out for Reydi's birthday when some men approached them and began to yell homophobic slurs. The men grabbed their chairs, hit them and told them they weren't welcome there.
After that, such attacks continued. One day, Reydi's partner picked him up at work. And while they were walking back to the car, holding hands, some men attacked them.
They went to file a complaint with the Ecuadorian prosecutor's office but they told Reydi because he wasn't in the country legally, they couldn't file one.
"After that, they later went to the house, the same people who attacked us," he said. "They went to the house. I was with my partner there. They attacked us there. They threw bottles at us, and showed up with guns."
Reydi and his partner finally decided to leave the country.
They walked three days through The Darién Gap, the stretch of land connecting North and South America that's become infamous as a treacherous migrant crossing. His partner twisted his ankle, but they kept going. They saw people in dire need. They saw a group of children, crying from hunger, and Reydi gave them some candy he had been saving.
As they made their way through Central America, they joined a group of about a dozen migrants. The night they crossed into Guatemala on a bus, someone started shooting at them. One of Reydi's group, a father from Cuba, was shot in the neck.
As they waited an hour for the ambulance, the man's wife held a shirt on the wound while Reydi comforted the 16-year-old daughter. They separated from the group but later heard the man survived.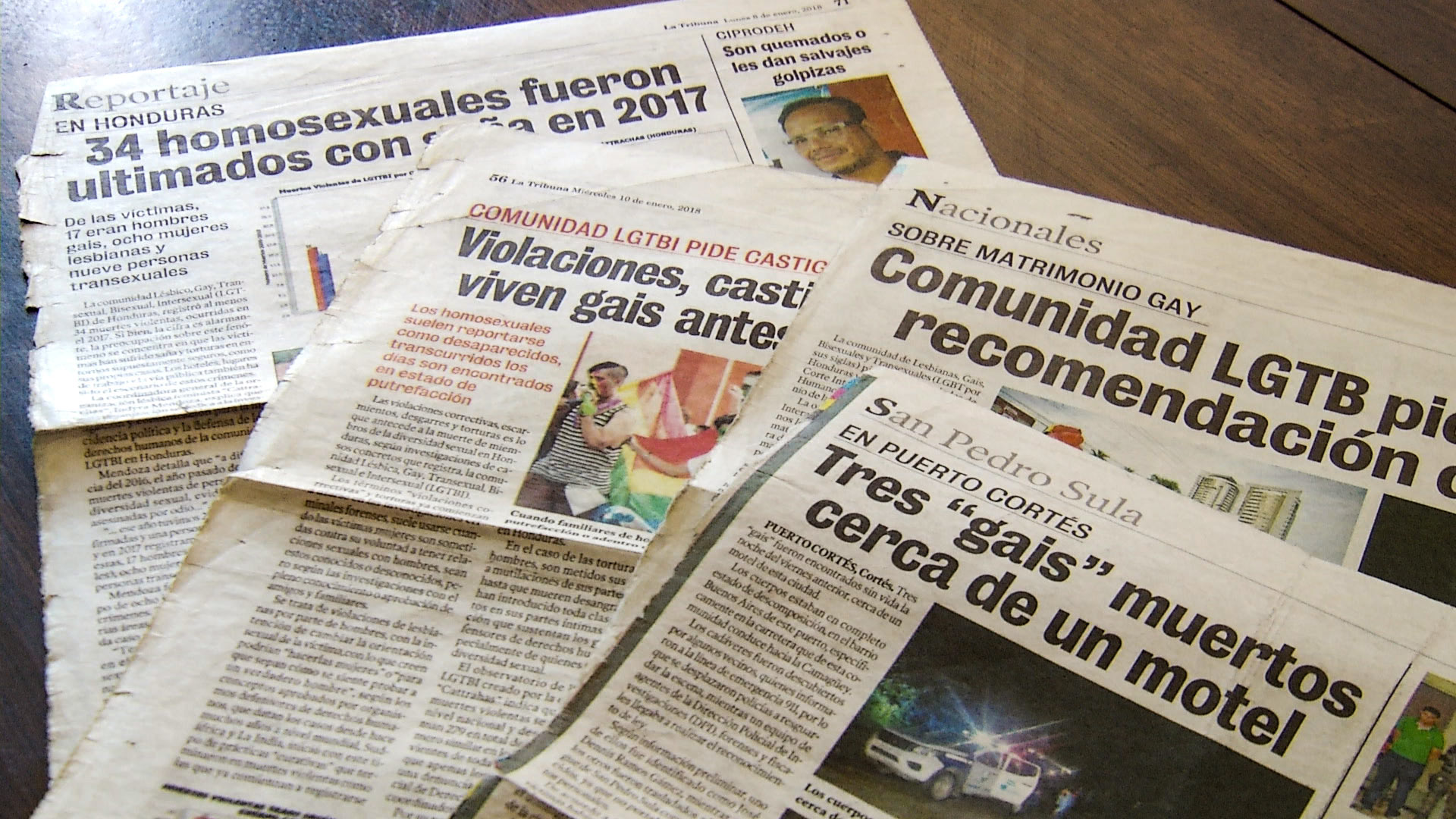 VIEW LARGER Local newspapers in Honduras display stories of violence towards the LGBTQ Community. (2018)

AZPM
They snuck into Mexico, with the help of a coyote.
"So, then we started to go through Mexico, which was hell," Reydi says. "You could say it was hell on earth."
They were detained by Mexican immigration officers and put into Estación Migratoria Siglo XXI, a migrant detention center in southern Mexico that is known to have inhuman conditions and human rights violations.
They released Reydi after a day, but kept his partner detained for four.
In the jail, the staff ridiculed gay men and called them derogatory terms. Reydi filed a complaint with an international human rights group.
The day his partner got out of Siglo XXI was Oct 12, the day President Joe Biden announced a new immigration rule that immediately expelled most Venezuelan migrants to Mexico while simultaneously creating more legal pathways for them to enter the country. To access one of those pathways, someone needed a passport and a sponsor in the U.S. Reydi had neither.
Reydi told his partner he thought he had reached the end of the line, but his boyfriend convinced him to try — he had a legitimate asylum claim.
They crossed the border in Yuma where there's an opening in the wall. There were many others crossing, and they got in line. After being processed, border officials separated them. Reydi was deported to Nogales, Sonora, and his partner was put in detention in Arizona.
After his partner spent 14 days in immigration detention, Reydi bailed him out and bought him a plane ticket to New York City.
Reydi connected with the nonprofit Kino Border Initiative in Nogales, Sonora, and they connected him with pro bono legal help through the The Florence Immigrant & Refugee Rights Project, who was able to get him into the U.S. on an asylum claim.
His partner bought him a plane ticket to New York and met him at the airport with roses.
Reydi has a hearing in his asylum case in October, nearly a year after coming into the country. He hopes they grant his case or at least give him permission to work.
In Venezuela, he was an educator and a lawyer, who practiced commercial law and has an expertise in Venezuelan law on protecting the rights of children. In New York, he makes pizza and busses tables.
His partner likes New York. For Reydi it's a bit hectic, but he likes the diversity.
"Because you learn a little more every day about each culture, each person," he said. "And you learn to respect each religion a little more because we are all the same but different at the same time."
His mom is happy he made it, but she knows that wherever he is, he will do the right thing for himself and his family.
"She knows that wherever I am, I'm going to keep going," he says.
En español
Un viaje de supervivencia y amor: Solicitante de asilo venezolano huye de la intolerancia y persevera en busca de una nueva vida en Estados Unidos.
La historia de la migración de Reydi comienza años antes de que él y su novio decidieron irse de Ecuador después de repetidos ataques homofóbicos.
Comenzó años antes de que llegaran a la frontera entre Estados Unidos y México en octubre de 2022 y se entregaron a las autoridades en Yuma, Arizona, para pedir asilo.
La historia de Reydi comienza en su país de origen, Venezuela, en 2017. Ha estado haciendo activismo político durante unos años. Terminaba la carrera de derecho y estaba dando clases en la universidad cuando el Servicio Bolivariano de Inteligencia Nacional conocido como SEBIN, que tiene un amplio historial de violaciones de derechos humanos, lo detuvo a él y a algunos de sus compañeros de la universidad por motivos políticos.
"No tenías derecho llamar a nadie," dijo. "Oviamente hubo tortura, maltrato en el momento de preguntarte las cosas. No era una oficina policial o algo. Era un lugar muy ajeno, muy muy alejado."
Reydi estuvo detenido dos días y cuando salió, él y algunos de los otros que fueron detenidos decidieron salir del país.
Quería trabajar y quería obtener su licencia de abogado en otro país. En Colombia, Perú y Ecuador, luchó por hacer una nueva vida. Pero el gobierno venezolano retuvo su pasaporte, lo que hizo casi imposible establecerse.
Entonces conoció a su novio. Al principio, Reydi dudaba en conocer a alguien después de todo lo que le había pasado, pero pronto empezaron a juntarse. Reydi no tenía celular, así que su novio solo podía pasar de sorpresa.
"Tenía de ir de sorpresa," dijo. "Me decía, nos vemos mañana a las 4 de la tarde. Nos vemos el día siguiente — como antes, que no existía el celular y tenía esa expectativa de esperar a la pareja, la novia o novio, como esas mariposas."
Se mudó con su pareja y crearon una vida juntos en Ecuador. Reydi comenzó a recuperarse de algo de lo que había sufrido.
Una noche en el año 2020 estaban cenando fuera por el cumpleaños de Reydi cuando unos hombres se les acercaron y comenzaron a gritarles insultos homofóbicos. Los hombres agarraron sus sillas, los golpearon y les dijeron que no eran bienvenidos.
Después de eso, los ataques homofóbicos continuaron. Un día, la pareja de Reydi lo recogió en el trabajo. Mientras caminaban de regreso al auto, tomados de la mano, unos hombres los atacaron.
Fueron a poner una denuncia en la fiscalía ecuatoriana pero le dijeron a Reydi que como no estaba en el país legalmente, no podía denunciarlos.
"Aparte de eso, dispues fueron hasta la casa, las mismas personas que nos agredieron," dijo. "Fueron hasta mi casa. Yo estaba con mi pareja allí. No agredieron allí. Nos tiraron botellas. Fueron con armas."
Reydi y su pareja finalmente decidieron irse del país.
Caminaron tres días a través del Tapón del Darién, el tramo de tierra que conecta América del Norte y América del Sur, el cual se ha vuelto infame como un traicionero cruce de inmigrantes. La pareja de Reydi se dobló el tobillo, pero siguieron adelante. Vieron gente en necesidad extrema. Vieron un grupo de niños llorando de hambre, y Reydi les dio unos dulces que había estado guardando.
Cruzaron por América Central y finalmente se colaron en México, con la ayuda de un coyote.
"Entonces, luego empezamos el recorrido de México que fue un infierno," dijo. "Se puede decir que fue un infierno en la tierra."
Caminaron durante un día y medio, por la noche.
Fueron detenidos por oficiales de inmigración mexicanos y puestos en la Estación Migratoria Siglo XXI, un centro de detención de migrantes en el sur de México que se sabe que tiene condiciones inhumanas y viola los derechos humanos.
Liberaron a Reydi después de un día, pero mantuvieron detenida a su pareja por cuatro días.
En la detención, los custodios trataban mal a los hombres gays y los llamaron términos despectivos. Reydi presentó una denuncia ante un grupo internacional de derechos humanos.
El día que su pareja salió de Siglo XXI fue el 12 de octubre, el día en el que el presidente Joe Biden anunció una nueva regla migratoria que expulsa rápidamente del país a la mayoría de los migrantes venezolanos a México y, al mismo tiempo, hizo más vías legales para que ingresen al país. Para poder entrar en como caso de asilo, tenía que tener un pasaporte y un patrocinador en los Estados Unidos. Reydi no los tenía.
"Yo le dije a mi pareja, yo creo que ya lo último," dijo. "Ya prácticamente no puedo ingresar. Pero Reydi, no, tú te mojas para hacer la solicitud de asilo. Yo le digo si tenemos la causa para hacer la solicitud de asilo pero mira ya, ahorita está prácticamente un bloqueo con respecto a ese tema."
Cruzaron la frontera en Yuma donde había un hoyo en la pared. Había muchos otros migrantes cruzando, y se pusieron en una fila. Después de ser procesados, los oficiales fronterizos los separaron. Reydi fue deportado a Nogales, Sonora, y su pareja fue detenida en Arizona.
Después de que su pareja pasó 14 días detenido por inmigración, Reydi pagó su fianza, y le compró un boleto de avión a la ciudad de Nueva York.
Reydi se conectó con la Iniciativa Kino para la Frontera en Nogales, Sonora, y lo conectaron con ayuda legal a través del Florence Immigrant & Refugee Rights Project, quienes le ayudaron a ingresar a Estados Unidos con una solicitud de asilo.
Su pareja le compró un boleto de avión a Nueva York y lo recibió en el aeropuerto. "Cuando llegué me recibió en el aeropuerto, con unas rosas y unas cositas, y allí nos encontramos," dijo. "Ya estaba feliz.
Reydi tiene una audiencia en su caso de asilo en octubre, casi un año después de haber llegado al país. Espera que le concedan su caso o al menos que le den permiso para trabajar.
En Venezuela, fue profesor y abogado de ejercía el derecho mercantil y tiene experiencia en la ley venezolana sobre la protección de los derechos de los niños. En Nueva York, hace pizzas y limpia mesas en un restaurante.
A su pareja le gusta Nueva York. A Reydi, le parece un poco agitado, pero le gusta la diversidad.
"Bueno, porque aprendes un poco cada día más de cada cultura, cada persona," dijo. "Y aprendes respetar un poco más cada religión porque todos somos igual pero diferente a la vez."
Su mamá está feliz de que lo haya logrado, pero sabe que donde sea que esté, él hará lo mejor para él y a su familia.
"Ella sabe que en donde esté, voy a seguir adelante," dijo.