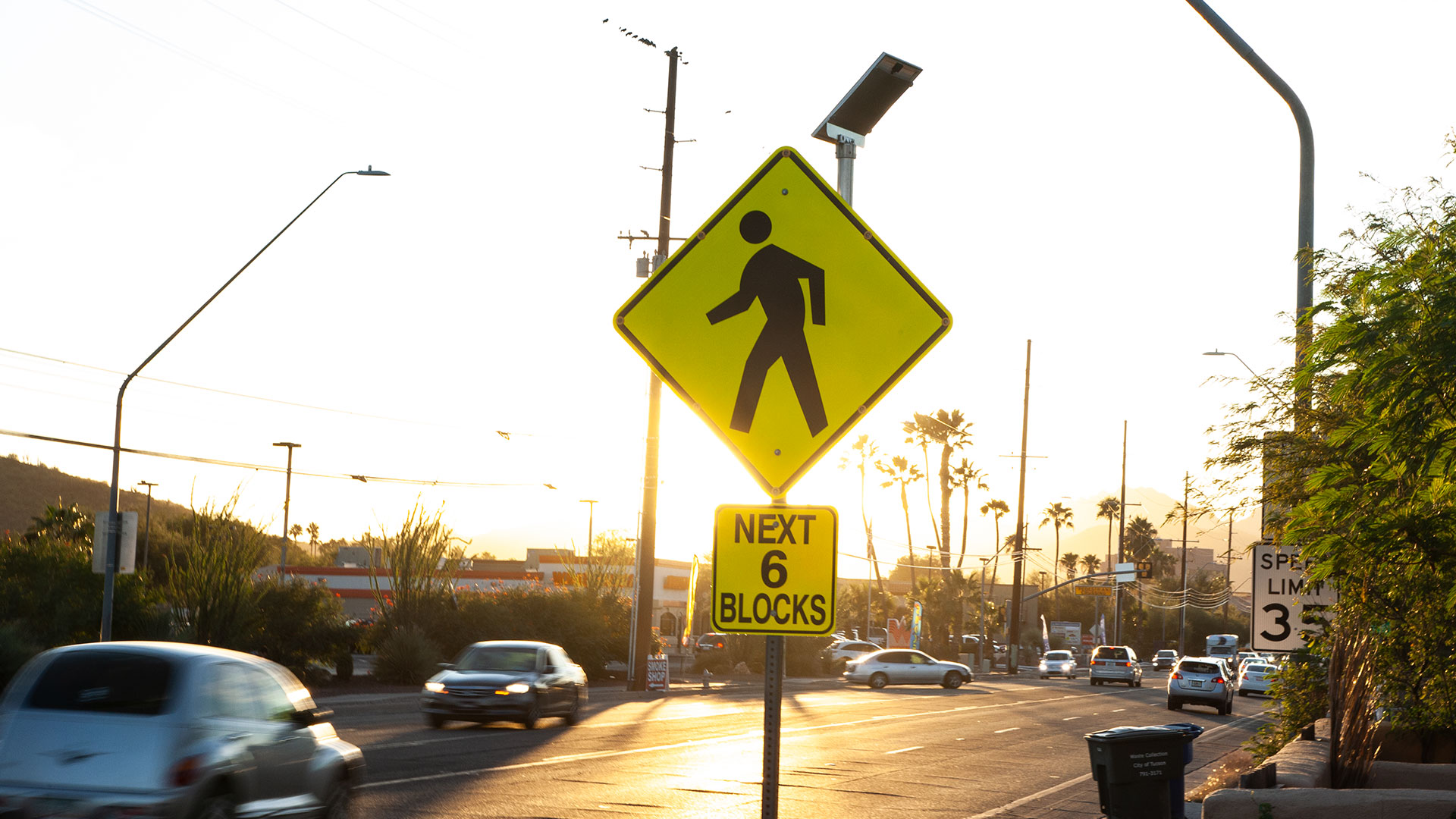 A sign warning drivers of high pedestrian traffic on West St. Mary's Road in Tucson on a late October afternoon.
Nick O'Gara/AZPM
Traffic deaths are on the rise in Tucson and pedestrians are at the highest risk for fatalities with numbers almost doubling this year.
The Tucson Police Department has received a $30,000 grant from the Arizona Governor's Office of Highway Safety to help fight higher rates of traffic deaths.
The grant funding will be used to update TPD's investigative equipment to help build stronger investigations in cases of criminal prosecution, such as software programs used to reconstruct collision scenes. Funding will also help train investigators in understanding the basics of physics and math when it comes to collision investigations as well as to interpret roadway evidence.
However, some believe funding for TPD's traffic enforcement is not enough. Evren Sönmez, the Director of Strategic Policy and Practice at Living Streets Alliance, says that the city needs to look towards redesigning its current roadways.
"We have streets that are dangerous by design and what we need to do is shift the paradigm and start looking at how we can implement a safe systems approach," she said.
Sönmez says that designs such as wide, multi lanes that mimic freeways encourage faster driving and are auto-centric. In fact, 80% of pedestrian deaths and serious injuries that happened between 2014 and 2018 were on streets with speed limits of 35+ mph, according to a City of Tucson report.
Earlier this year, Smart Growth America found that the Tucson metropolitan area has the 13th highest rate of pedestrian fatalities in the country, based on data from 2016 through 2020. Right now, Tucson traffic fatalities are up almost 20% compared to last year. Sönmez says that change does not have to be costly.
"I think there's room for more changes [that are] simple things. For example, when a street is being repaved, we can reallocate space to restripe the roadway in a way that creates more opportunities for people using different means of transportation to be able to travel more safely on that roadway."
Right now, Living Streets Alliance is continuing to work with the city to push for change through collaborative task forces, workshops and community engagement events. Sönmez hopes that by redesigning old streets, pedestrian safety will be prioritized, modernized and be more accessible.
"People will make mistakes and it's just about ensuring that those mistakes when they do happen are not deadly."