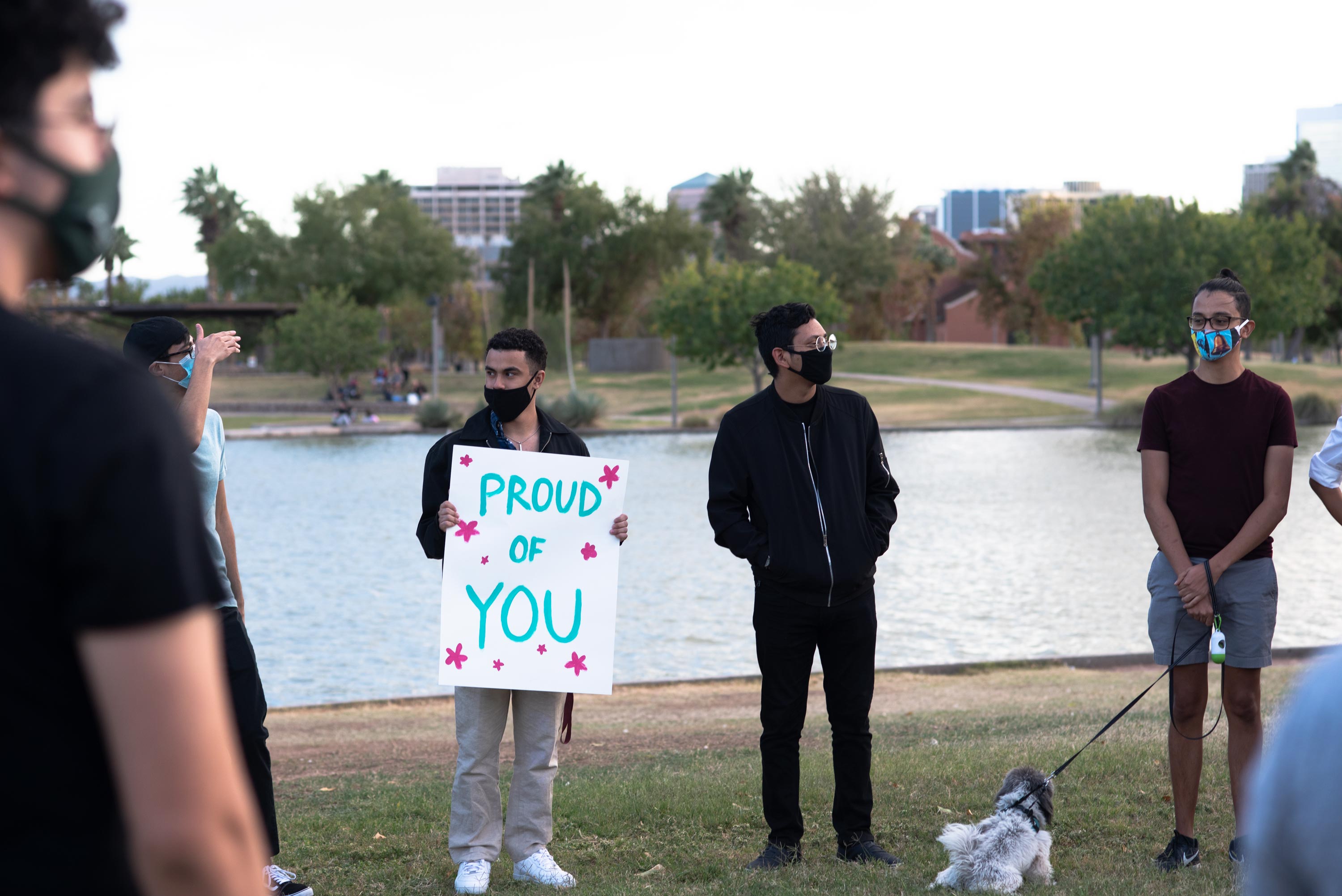 VIEW LARGER Mixed immigration status students gather in downtown Phoenix for a celebration of Joe Biden's presidential victory on Nov. 7, 2020.

Alisa Reznick/AZPM
Immigrant rights advocates in Arizona want elected officials in Washington to find another way to pass a sweeping immigration reform measure after the Parliamentarian of the U.S. Senate said it could not be included in a major budget reconciliation bill.
The measure, drafted by Congressional Democrats, aimed to provide a pathway to citizenship for millions of undocumented people like farm workers, essential workers and Dreamers brought to the U.S. as children. They'd hoped to include it in the $3.5 trillion reconciliation package proposed.
Alex Gomez is with progressive advocacy group Living United for Change in Arizona, or LUCHA.
"It was a recommendation that we don't agree with," she said. "We had a moment of upset [Sunday] night, but we are back to fighting today and ready to demand what our communities deserve," she said.
In a statement, Senate Majority Leader Chuck Schumer said Democrats would keep pushing for reform.
"We are deeply disappointed in this decision but the fight to provide lawful status for immigrants in budget reconciliation continues," he said. "We will continue fighting to pursue the best path forward to grant them the ability to obtain lawful status."
Tomas Robles with LUCHA said Latino and immigrant communities helped Democrats win elections in Arizona and nationally. Now, he said it's time for Democrats to fight for them.
"Because we didn't fight to elect a Parliamentarian. We fought so hard to elect Democratic senators," he said. "And so we will not accept Democrats using the Parliamentarian's ruling as an excuse to sit on our hands and do nothing."
LUCHA and a handful of other groups rallied outside Senator Mark Kelly's office Tuesday morning asking for his support to pass the measure. Robles and Gomez said the groups are in contact with Kelly for a meeting.
Aliento, another advocacy group supporting mixed immigration status families and recipients of the Deferred Action for Childhood Arrivals program, or DACA, began a petition signing campaign asking both Senator Kyrsten Sinema and Senator Kelly to support a pathway to citizenship for Dreamers.

"It is morally imperative for Congress to pass a permanent solution for Dreamers that includes a pathway to citizenship, it should not hold Dreamers hostage for exterior motives or other agendas," their campaign said.
Inaction is not an option, we need the Senate to ensure #Dreamers are protected from deportation. It is up to @SenatorSinema and @SenMarkKelly to ensure 65,000 Arizona Dreamers are protected from deportation.

Sign the petition:https://t.co/SKZNxYAtum

— Aliento (@AlientoAZ) September 20, 2021