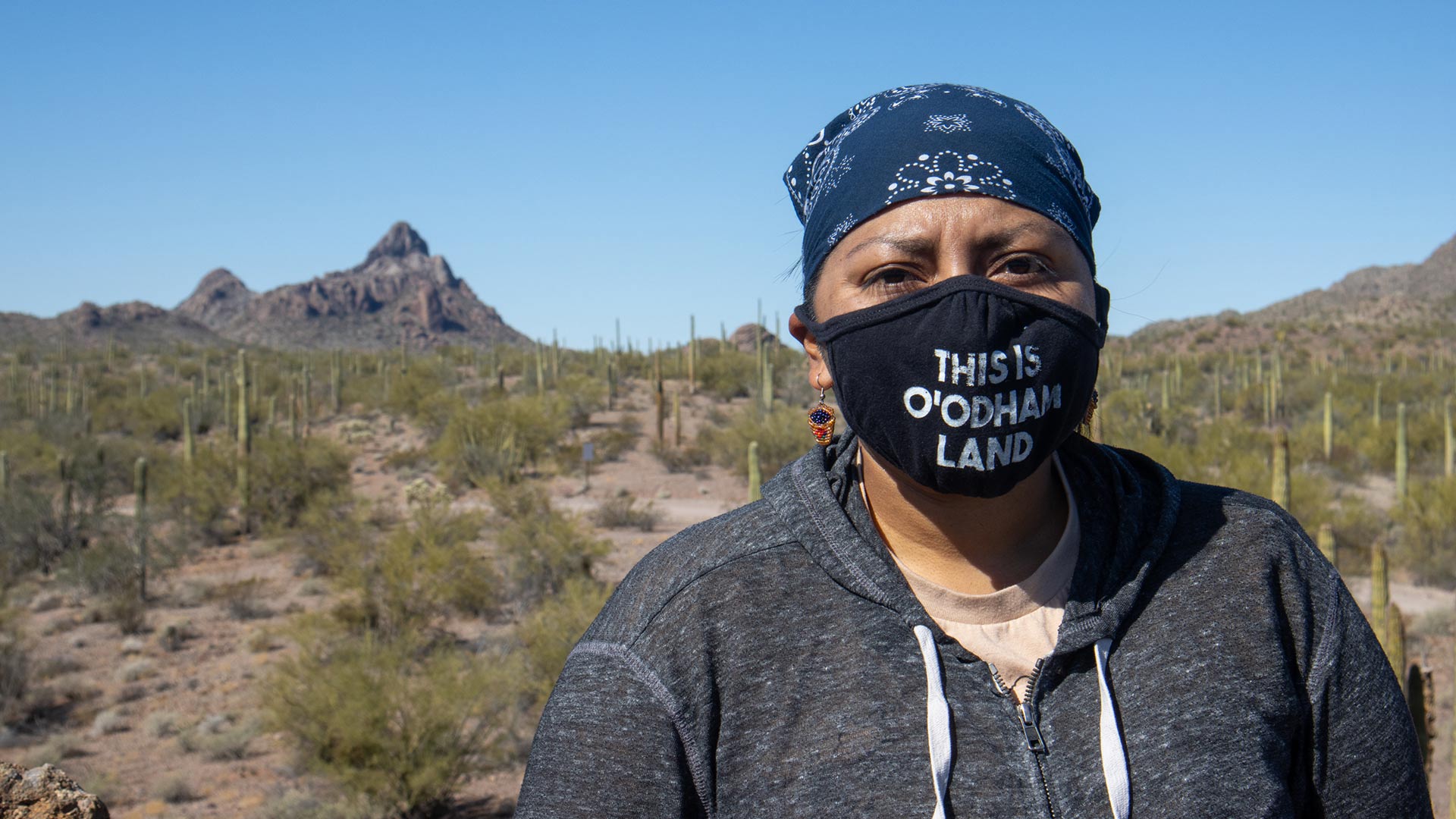 Amber Ortega
Andrew Brown/AZPM
An O'odham protester who was arrested for blocking construction equipment at a border wall work site in Organ Pipe Cactus National Monument is taking her case to trial.
Amber Ortega was arrested one morning last September at a wall construction site a few paces from Quitobaquito Spring, a sacred place and old homestead of the Hia C-ed O'odham, a tribe related to the Tohono O'odham that is not federally-recognized.
Ortega, who is both Hia C-ed O'odham and a member of the Tohono O'odham Nation, has relatives buried at the spring. She was praying there when she heard construction machinery firing up nearby.
Park service officers arrested Ortega and another O'odham protester a few hours later for physically blocking that machinery. Almost a year later, she's decided to fight those charges in court.
"It felt like there was no way of backing down, you know, regardless, because that was the whole point, to help people understand that, this has been ongoing for a long time," she said. "You know, water and land defense should not be a crime in the United States of America on Indigenous territory."
---
'A safe haven, a home'
Nestled a few paces from the U.S.-Mexico border in Organ Pipe Cactus National Monument, Quitobaquito Springs are a rare freshwater source in the middle of the Sonoran Desert. Long before the site was National Park Service land, it was a homestead to the Hia C-ed O'odham, a tribe not recognized by the U.S. government that doesn't have federally protected lands. Read more.
---
Ortega faces two federal misdemeanor changes for violating a closed order, charges that carry a maximum sentence of up to 6 months in prison and a $5000 fine.
She joined about a dozen of her supporters this week at the federal district courthouse in Tucson. Demonstrators held signs asking for Ortega's charges to be dropped. Ortega held a flowing white banner with painted black letters that read "LAND AND WATER DEFENSE IS NEVER A CRIME."
Ortega said she sees the trial as a way to help people understand the plight tribes like hers face in trying to safeguard Indigenous territory.
"I have a right as an O'odham... as an Indigenous woman... to speak on what I believe is unjust," she said. "I believe it's important for people to understand that it's still possible to go up against a giant... I'm moving forward knowing I could be found guilty... but it's important for the story to be told that it was wrong."
She was scheduled to go to trial on Monday, but the case was continued until November.
Her lawyer, Paul Gattone, said he requested the extension in order to find witnesses to speak to the cultural and religious importance of Quitobaquito to O'odham tribes in Arizona.
"The defense is that she was motivated in her actions by her religious and cultural beliefs so, we're hoping to have an expert witness who can testify to the importance of the land where she was arrested," he said.
The Trump administration built just over 450 miles of wall across the southwest border by the time he left office, including roughly 30 miles of border inside Organ Pipe Cactus National Monument. Ortega's arrest was one flashpoint in a months-long struggle against border wall construction on ancestral Indigenous land in Arizona and across border states.