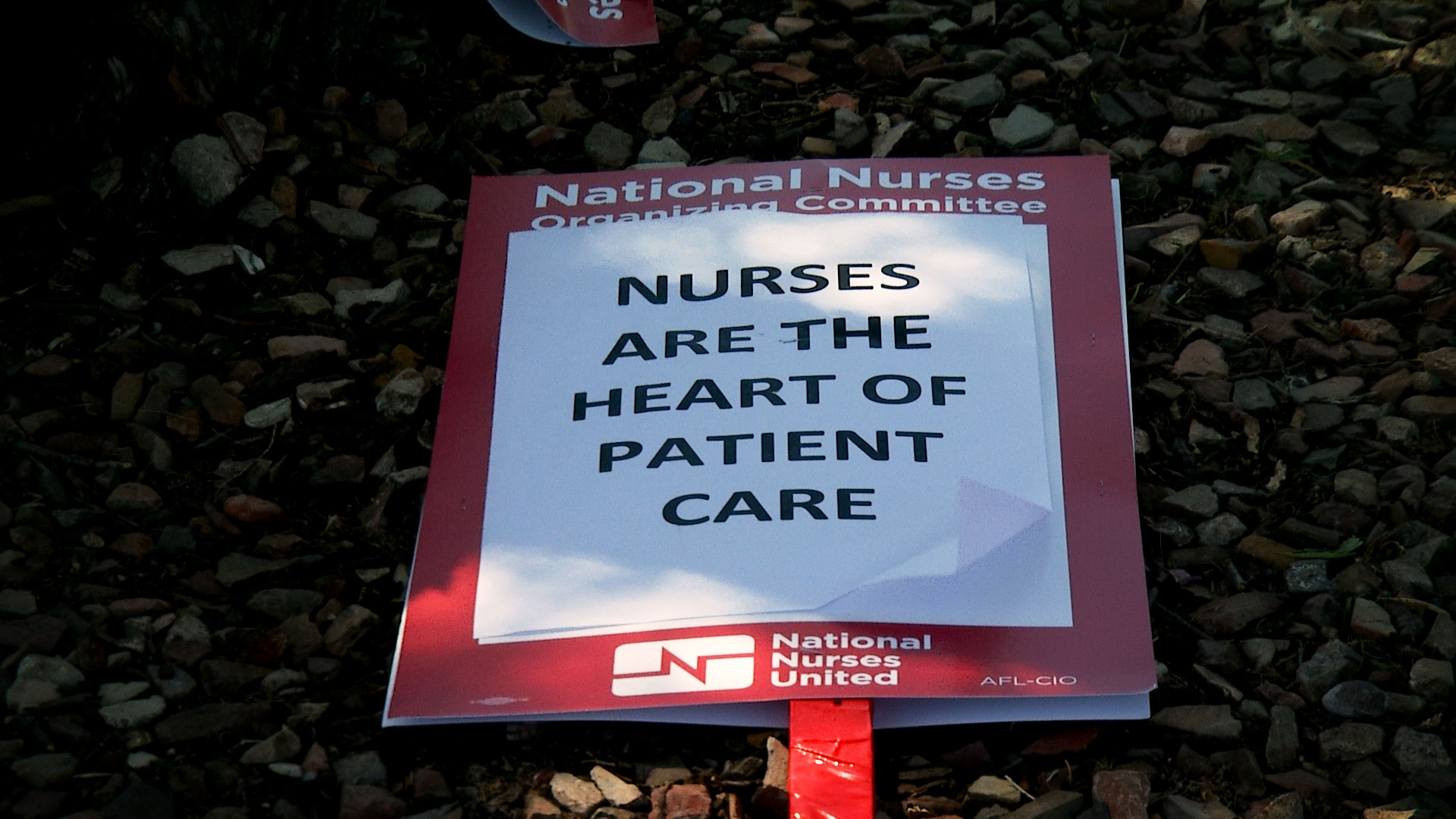 A sign used by nurses participating in a one-day strike outside St. Mary's Hospital on September 20, 2019.
AZPM Staff
Nurses from two Tucson hospitals led a car procession Tuesday to advocate for a more balanced workload.
The National Nurses United union, which includes some nurses at St. Joseph's and St. Mary's hospitals, organized what they're calling a honk-a-thon. Nurses started their procession at 8:15 a.m. at St. Mary's Hospital. They're calling on their hospitals administrators to address the increasing patient to nurse ratios that, they say, harm the quality of care they provide.
Fawn Slade is a registered nurse at Saint Joseph's who works with patients out of surgery, like those recovering from hip replacements. As more people contract COVID-19 during this surge, the more nurses, like Slade, are asked to stretch when people need to be hospitalized. Slade normally cares for five patients, but now she's caring for six.
"We're doing our best, but it really comes down to a numbers game. If I have more patients, that means I'm spending less time with each of those patients," Slade said.
According to a press release from the union, nurses are being asked to care for more people, cover more shifts and sometimes substitute in other hospital units where they don't have experience.
She said some nurses are mentally, emotionally and physically exhausted, and when nurses are spending less time with their patients, they make mistakes.
"The care is not what it should be and what we strive for it to be," she said while reflecting on the quality of care she and her fellow nurses can provide at this time.
She called on the community to wear masks, wash their hands and socially distance to reduce the number of COVID-19 cases and therefore the increasing demand placed on health care workers.