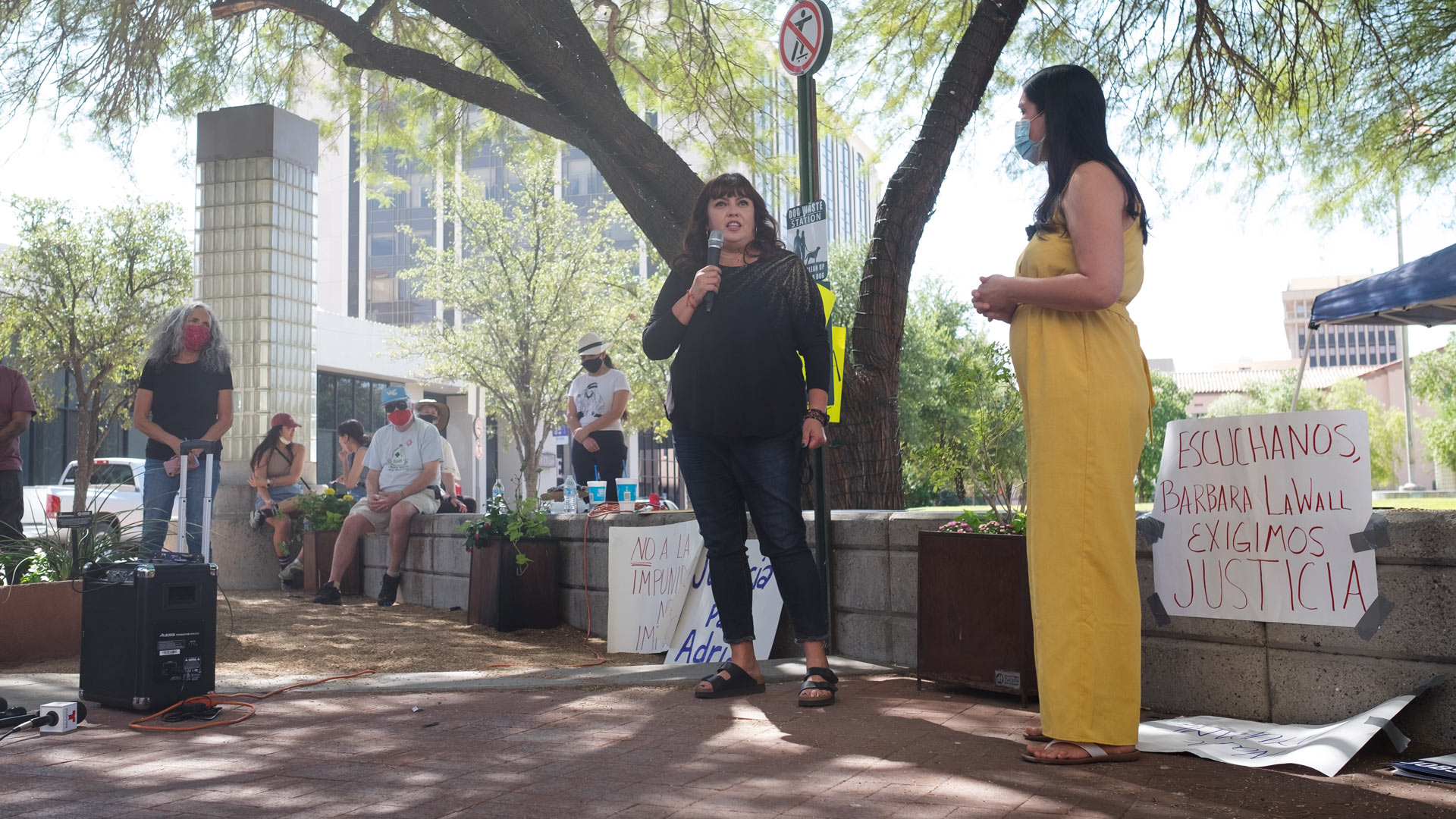 Diana Chuffe speaks to a crowd of protesters and journalists about her nephew Carlos Adrian Ingram-Lopez's April death in Tucson police custody on Sept. 24, 2020.
Alisa Reznick/AZPM
Standing in front of about two dozen media and protesters at a park in downtown Tucson, Diana Chuffe recounted a video of her nephew, Carlos Adrian Ingram-Lopez, in his final moments.
"Did the rest of you see what we saw when TPD released the video of Adrian's death?" Chuffe asked. "Because our family saw three officers — Jackson, Routledge and Starbuck — restrain Adrian with two sets of handcuffs, two blankets covering him in head to town, a spit sock, and over 600 pounds of weight on his back in the prone position for over 12 minutes."
Chuffe was part of a press conference held by the Ingram-Lopez and community supporters Thursday afternoon objecting to Pima County prosecutors' decision not to prosecute the police officers involved in Ingram-Lopez's death, all of whom have since resigned from the department.
Ingram-Lopez's death in police custody in April sparked city-wide protests and discussions about police conduct when TPD body camera footage was made public in June. The footage shows officers restraining 27-year-old Ingram-Lopez in the prone position for over ten minutes, covering his face and body with blankets and a spit hood.
Speaking to the crowd on Thursday, Chuffe said in reviewing that video, her family has had to listen to Ingram-Lopez say he can't breathe and make repeated calls for help and water.
"Our family heard Adrian cry over and over, 'nana, ayúdame,'" Chuffe continued, referencing Ingram-Lopez's repeated, calls in Spanish for his his grandmother's help. "And our family cried in despair as we slowly saw him dying."
On Monday, the Pima County Attorney's Office announced the decision not to charge the officers in a 14-page letter to Tucson Police Chief Chris Magnus. The prosecutors said officers failed to follow protocol and "at the very least" they "failed to perceive the risk of death." But they said there was "insufficient evidence to prove negligent or reckless homicide."
Ingram-Lopez's family was made aware of the decision ahead of the letter's release on Monday, five months to the day of his death on April 21. That morning, police responded to a 911 call made by Ingram-Lopez's grandmother, who said he was naked, intoxicated and "crazy" at her home.
The prosecutors' letter said officers should have called paramedics to the scene and place Ingram-Lopez in a recovery position after handcuffing him. Instead, it said, "each of the officers kept Mr. Ingram-Lopez handcuffed and lying on his stomach with emergency blankets and a spit hood over his head. They also failed to check on him after he stopped making noises."

A Pima County Medical Examiner autopsy report lists Ingram-Lopez's cause of death as inconclusive, but reports "acute cocaine intoxication and physical restraint with cardiac left ventricular hypertrophy (enlarged heart)" as a significant contributing condition.
Ingram-Lopez's family commissioned an independent autopsy from forensic pathologist and former Maricopa County medical examiner, Dr. Philip Keen, which found intoxication alone fell short explaining his death. His report found Ingram-Lopez likely died from suffocation as a result of being held down on his stomach.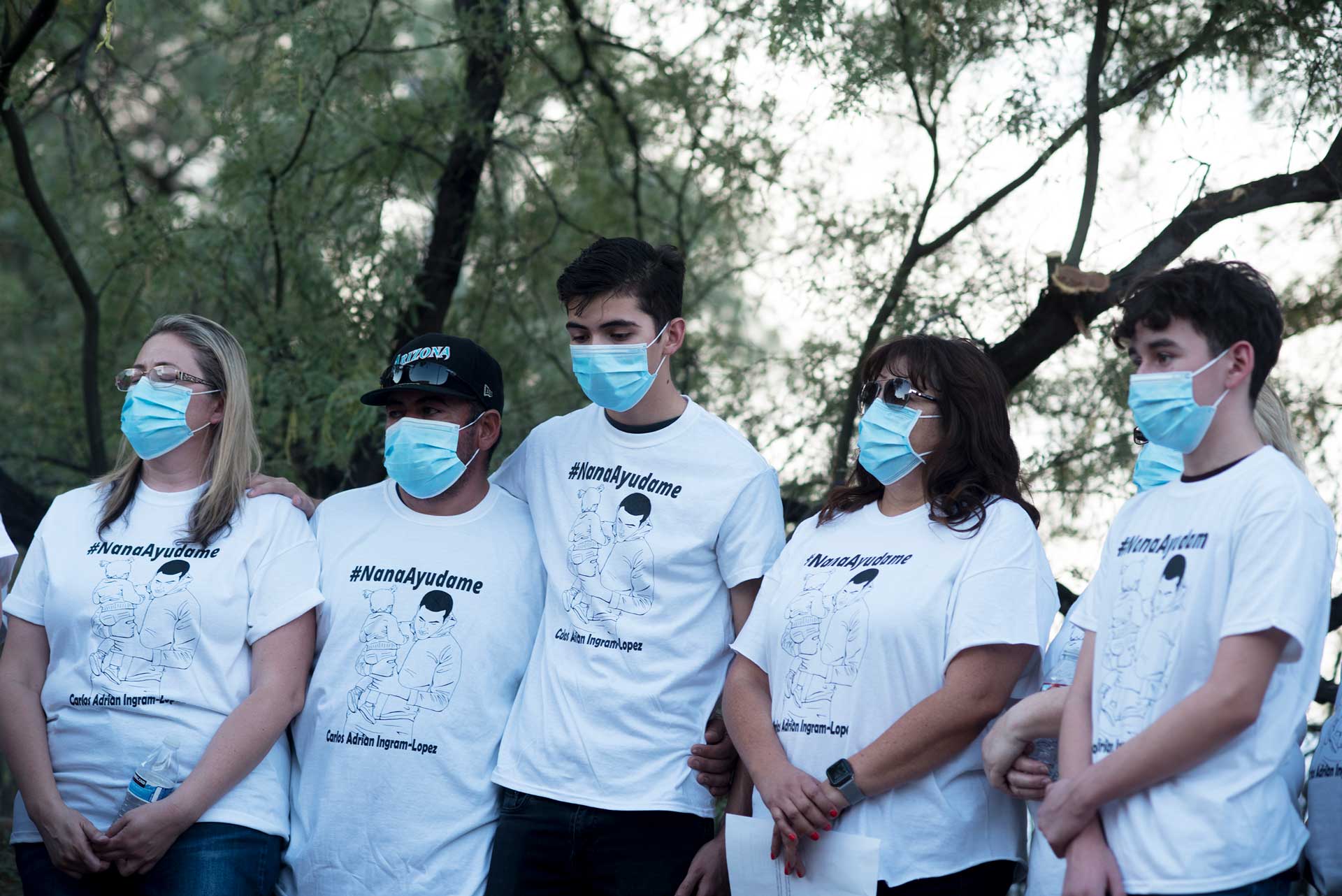 VIEW LARGER Ingram-Lopez's family members listen to speakers on the sidelines of a vigil.

Alisa Reznick / AZPM
The prosecutors said they reviewed Keen's report but did not interview him, noting he was unable to testify in any criminal case because of his involvement in a separate case alleging perjury.
Chuffe said her family is still pursuing criminal charges and wants the case to go before a grand jury. She told reporters the family wants information found in Keen's report to be considered in court.
Jessica Rodriguez, a coordinator at Tucson advocacy group Southside Worker Center and another speaker at Thursday's event, said community leaders are supporting the family to decide what's next.
"They want to make sure it goes to court, and they want to make sure they have civil liability from each one of the officers, the (Tucson Police) department and the city, because all of those institutions are responsible for the death of Carlos Adrian," she said.
After the press conference Thursday, protesters marched to the office of Pima County Attorney Barbara LaWall to deliver a petition with more than 1,000 signatures outlining those demands, but were blocked by city officials from entering the building.
Rodriguez said community supporters plan to follow up with LaWall's office to ensure the document is reviewed.
"It never went to court...it never made it that far, this is an opinion from Barbara LaWall's office," she said. "It's very dangerous knowing she is leaving office, knowing that there's enough proof on those videos to prove Carlos Adrian was killed by these three TPD officers." LaWall is retiring this fall.
This month a TPD-convened panel of experts and community members released their findings of an examination into the death Ingram-Lopez and one other man in TPD custody.
They found that 32 factors, including insufficient training, a lack of Spanish-speaking 911 dispatchers and the use of spit socks to protect officers from COVID-19 contributed to those deaths. The panel issued a series of recommendations, including having dispatchers ask about drug ingestion and other information to decide on whether a mental health professional should be called to the scene.