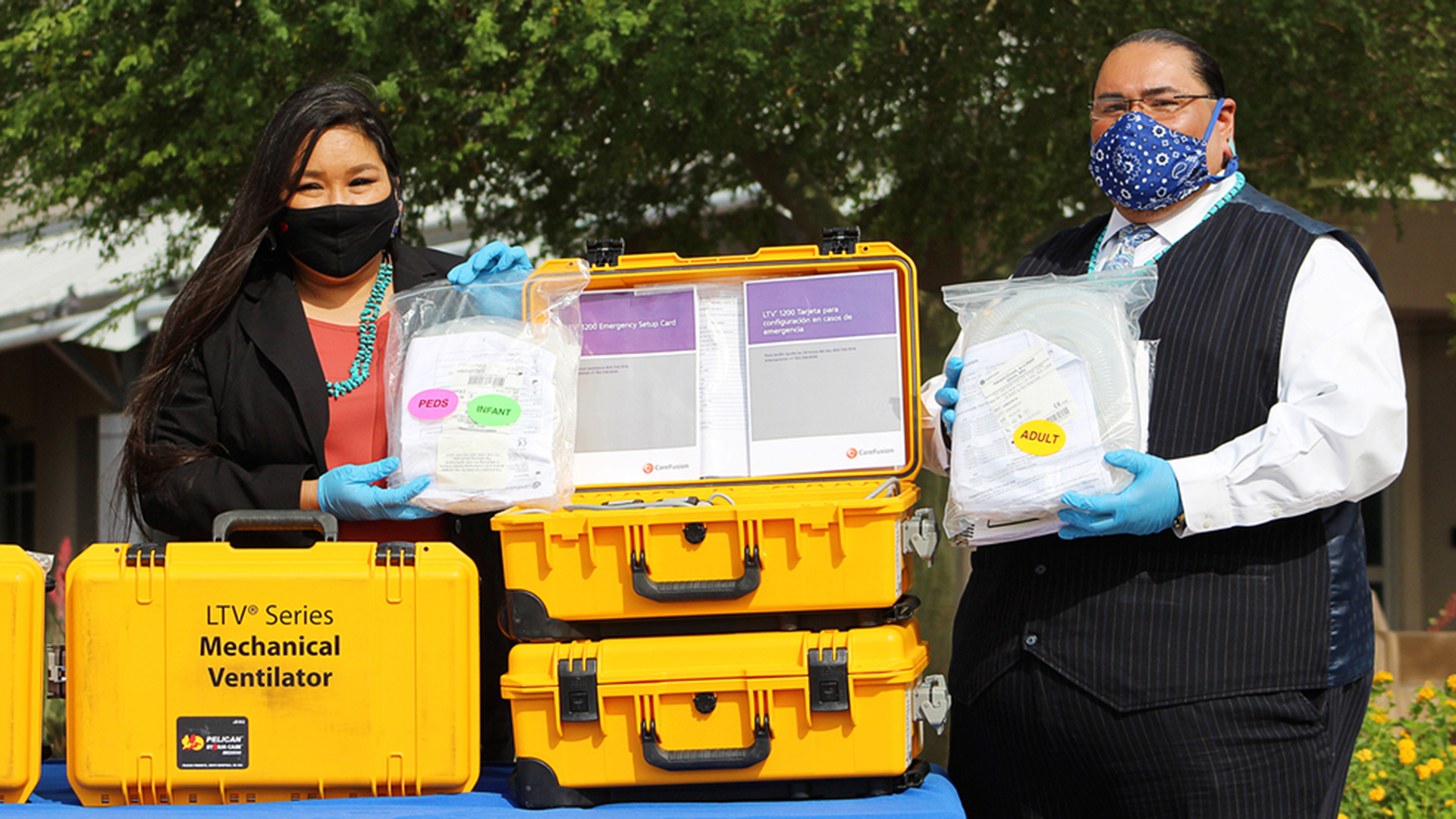 The Cocopah and Quechan Indian tribes donated ventilators they received from the Strategic National Stockpile to Yuma Regional Medical Center during the COVID-19 pandemic May 14, 2020.
Courtesy of the Cocopah Indian Tribe/Cocopah Now
The coronavirus pandemic poses a devastating threat to smaller tribes. That very real possibility is on minds of tribal and state leadership across the country. The small tribes in Yuma County say with consistent messaging and a prepared health facility they have so far avoided the worst of it.
The Quechan and Cocopah Indian tribes are in Yuma County where a surge of COVID-19 began in early June. The Arizona Republic reported during the week of June 7, 22% of tests in the county were returning positive, while 14% of tests were positive statewide. Charles Escalanti is a council member for Quechan Indian Tribe, which straddles the Arizona-California border in the Fort Yuma Reservation. In a June 19 interview, when numbers were on the rise, he said the disease could devastate the approximately 4,000 member tribe if it continued to spread.
"It's just real. It's here. It's everywhere," Escalanti said. "It's affecting us, a lot of us, here personally within our own families, even with our friends and families that are non-tribal."
According to trust and treaty obligations, it's the federal government's responsibility to provide health care to tribal members in and outside of tribal lands. The main provider for care on tribal lands is the Indian Health Service. For the members of the Quechan and the Cocopah, a tribe that has about 1,350 enrolled members, some of that health care can be found at Fort Yuma Health Center.
Unlike other Arizona tribes, the Quechan and Cocopah aren't publishing their COVID-19 data and declined to share it with AZPM. Like many places in the early days of the pandemic, Escalanti said Fort Yuma prioritized testing patients with certain symptoms, but the Quechan and Cocopah Indian tribes worked with IHS to make testing accessible to more people.
"For us, [the surge] started to be the push, 'Whatever it is you need to do, start doing it, because we need to start getting testing available, because a lot of our membership doesn't have the means to drive to Somerton, to drive to Yuma, to go to anywhere else that has testing. We should be able to provide it here,'" Escalanti said about the Quechan government's conversations with Fort Yuma Health Center.
He said that conversation started in April and he saw widespread testing kick into gear at the beginning of June.
Yuma County had 10,880 total confirmed COVID-19 cases and 254 deaths as of Friday, according to the Arizona Department of Health Services.
Cocopah Emergency Manager Michael Fila said the tribe wasn't really affected by the increase in cases throughout the county. He credited that to its hygiene education campaign and its relationship with the health center.
"We do have low numbers for tribal members that have been affected by the COVID-19, that's showing that what we're doing is really working," said Fila. "If we run into a situation, where we need to modify something or change something [the Fort Yuma staff] are very open here to listen and to work with both tribes."
Fila, who is also the chairman of the Arizona Tribal Executive Committee, said they distributed the 100 ventilators sent to Arizona tribes from the Strategic National Stockpile to hospitals aiding tribal members. Yuma Regional Medical Center received five from the Cocopah Indian Tribe and five from the Quechan Indian Tribe, because that's where local members would go if they needed to go to the ICU. Fila said the Cocopah tribal government has also delivered personal protective equipment and intubation boxes to YRMC and the Fort Yuma clinic.
Cindy Baldwin, the CEO of the Fort Yuma Health Center, said they started preparing when cases were minimal at the start of the pandemic, which put them in a strong position when cases spiked in June.
"As the surge hit us, it was unbelievable, and it was scary, but we were able to meet the need and get people tested," Baldwin said. "We were able to step up really fast for tracing. We were contacting people within the same day and within 24 hours for tracing and getting them in for testing."
She said they have tests available for people who are symptomatic and asymptomatic, plus a PCR test the clinic sends to Sonora Quest Laboratories. She said she estimates the Sonora test takes anywhere from 7 to 14 days to get their results back, but if they use the Rapid ID Now or the Cepheid analyzers, they can get results within 15 to 45 minutes.
"If you were to call and say, 'Hey, can I get a test?' We would say, 'Well, how quickly could you get here?'" Baldwin said.
She said Fort Yuma can also help those looking for a place to self-isolate or quarantine because of COVID-19. Tribal members interested in being tested for COVID-19 can call the Fort Yuma Health Center at 760-572-4711 to reserve a spot.
Baldwin said both tribal councils get daily updates with the number of tests administered and the results.
"It's nice to leave a facility with an answer — not go home and wait 14 to 20 days. 'Should I go to the store or should I die because I'm afraid to go out, and I need food,' Cocopah Emergency Manager Fila said. "People are really taking this to the extreme and you need to give them an answer, and I think right now Fort Yuma is the fastest answer that I know of."