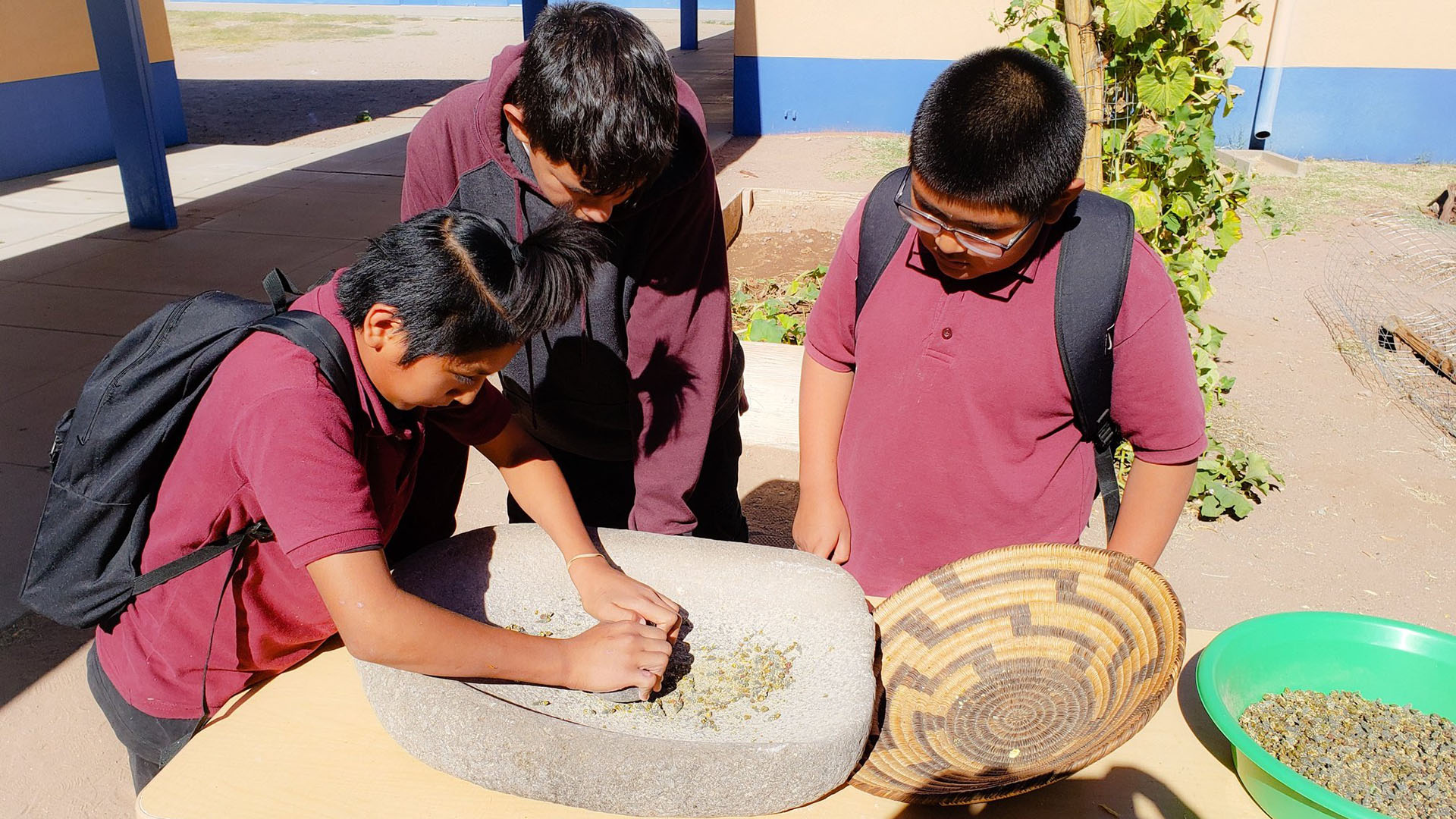 Courtesy of Baboquivari Unified School District
Baboquivari Unified School District in the Tohono O'odham Nation will begin the 2020-2021 school year online Aug. 3.
The district serves 1,100 students, approximately 350 of which live in the Sells, Arizona, where BUSD is based, but the majority of the student population lives on average 1.5 hours away from Sells in surrounding Tohono O'odham communities.
Superintendent Edna Morris said last spring when all schools began virtual classrooms, many of the students did not have reliable or any internet access at home, so the Tohono O'odham Utility Authority set up approximately 40 hot spots across the Tohono O'odham Nation that covers about 2.8 million acres, a space the size of the state of Connecticut. But she said the hot spots couldn't handle small groups of kids logging on at one location.
"If we had three students that went to a community center and tried to log on to a Google Hangout or Zoom meeting, the bandwidth just wouldn't even support three kids," Morris said. "Our only option is to make sure we have internet in each home."
She said that the utility authority is trying to help everyone get online by offering a 40% discount for all school children's families and financial support for those who qualify. Morris said BUSD is working with the utility to possibly postpone debts BUSD families have that are preventing their children from engaging in online classrooms. She said as a last resort the district will financially support families who have already asked the utility authority for help.
"If the family can call the utility authority, receive a letter from us that their child or children are going to be enrolled in our schools, and they get out to the utility authority to set up the appointment, then it is very likely [all of BUSD students will be able to connect to the internet at home]," Morris said.

She said there are very few places across the Tohono O'odham Nation where you don't have the infrastructure to connect to the internet. She guessed about 5 of the 1,100 BUSD students are in this situation.
If students cannot get access to the internet, Morris said the district bought about 200 Verizon Chromebooks with hot spots pre-installed.
Another issue, she saw last spring was low student participation. She said about 70% of students didn't submit their homework online or as a hardcopy.
"We have packets that went out that never were picked up or that were sent home and never delivered back," Morris said.

She said because of this, and other problems, like a lack of child care for working parents, she expects the kids to come back with learning gaps. She said she imagines all schools across the country are expecting the same thing.

She said for virtual classrooms to work, she needs the parents on board, and to do that the district is teaching the parents how to use the platforms their child will be using. The district is utilizing the local newspaper, The Runner, and radio station, Hewel Ni'ok Network/KHON, to get the news out that parental support is vital to the success of online learning.
This fall she said BUSD decided to record teachers' lessons for children who miss them during the day.
Morris said about 65% of BUSD parents wanted their children to be taught virtually in 2020/2021, while the teachers wanted to teach in-person. The governing board voted down a in-person and virtually learning blended plan in favor of the solely online plan June 30.
According to Governor Doug Ducey Executive Order: 2020-44, in-person classes must be delayed till Aug. 17, and districts implementing distanced learning must submit a plan to the Arizona Department of Education before the first day of classes or before Aug. 14, whichever comes first.