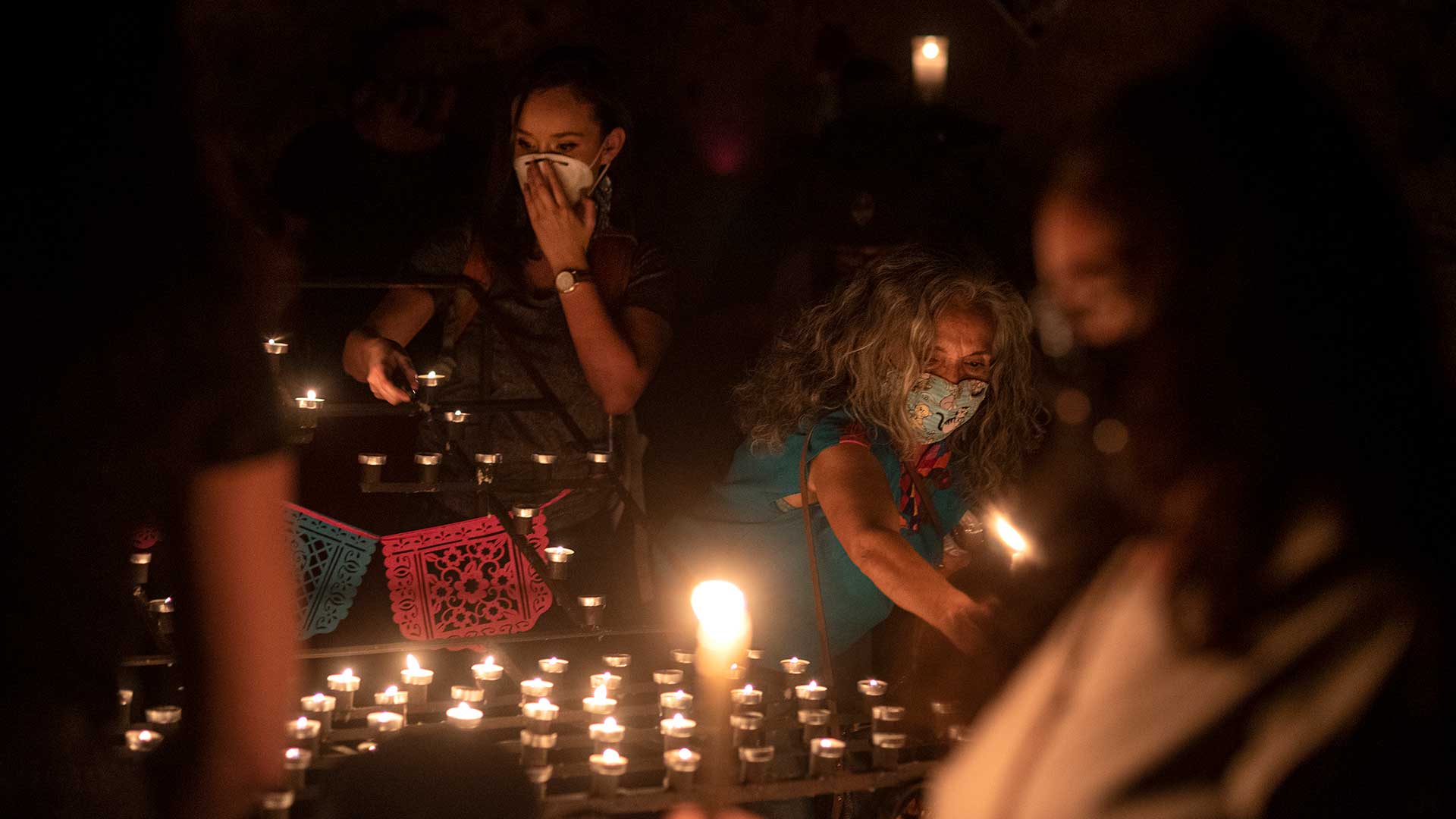 Community members and family of Carlos Adrian Ingram-Lopez light candles in his memory at the El Tiradito shrine on June 25, 2020.
Alisa Reznick / AZPM
To Tucson attorney Isabel Garcia, the El Tiradito shrine is where community members gather to pray for thousands of migrants who died crossing the desert. Speaking to a crowd at the historic shrine Thursday night, Garcia said now it would also honor Carlos Adrian Ingram-Lopez.
"I thank the family and welcome them to this sacred space," she said. "They stand in a space where we remember people."
Lopez died in Tucson police custody at the home of his grandmother, Magdalena Ingram, in April. Grueling police footage of his death was made public this week. Police were called to the house by Ingram-Lopez's grandmother, who said he was behaving erratically and could be intoxicated.
In the police video, Ingram-Lopez is on his stomach with a spit hood on his head, pleading repeatedly for water and for his grandmother. Garcia said Ingram-Lopez was in the midst of a mental health emergency, and the situation that could have ended much differently.
"On April 22, Tucson Police Department was given an opportunity to save a life, they received a call to save a life," she said. "What did they do? They showed up and took a life."
More than 200 people came to El Tiradito to pay tribute to Ingram-Lopez and hear from his family members. Ingram-Lopez's mother and aunt told the crowd they needed more answers from police. But they also said they did not want Tucson Police Chief Chris Magnus, who offered his resignation to city leaders this week, removed from his job.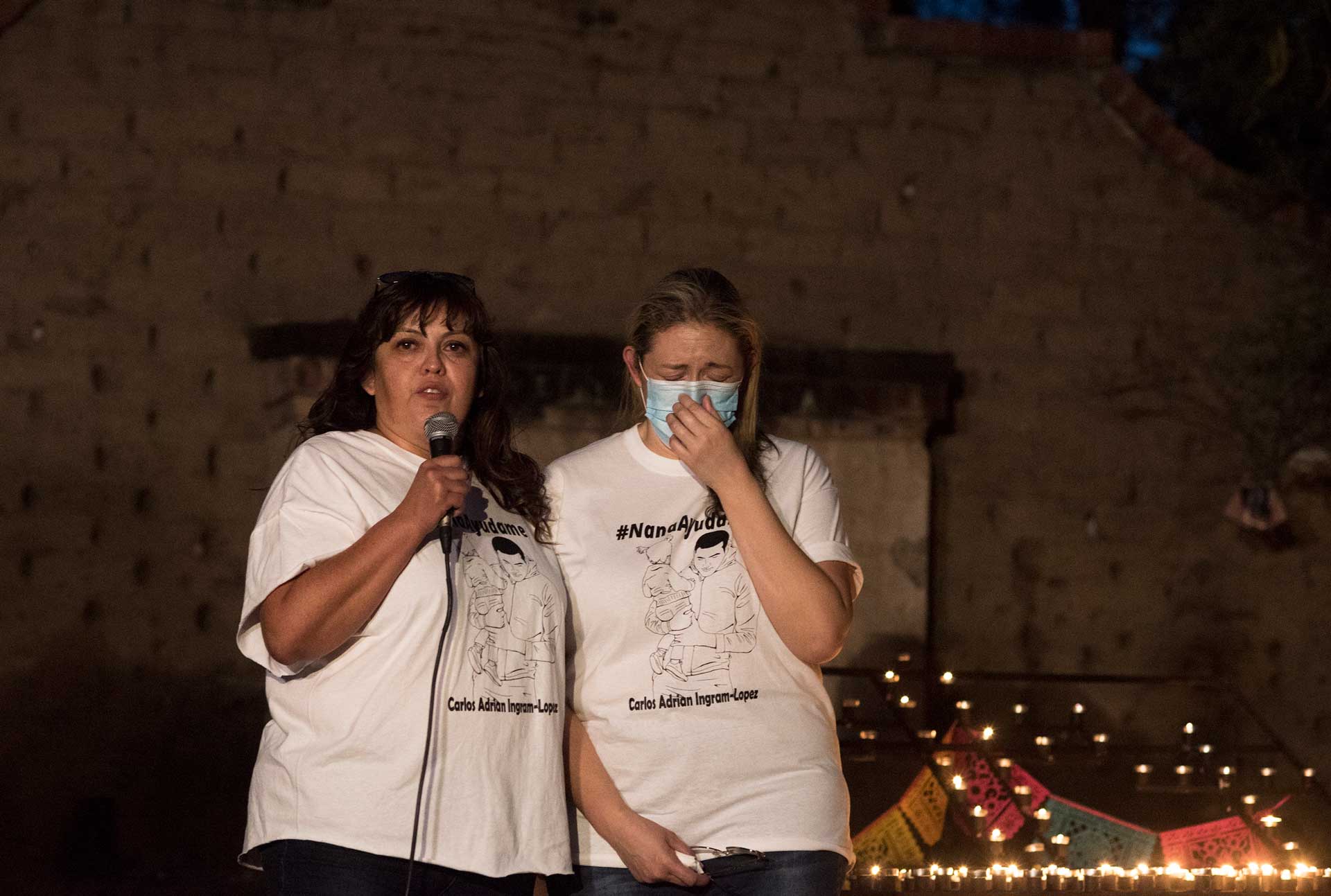 VIEW LARGER Ingram-Lopez's aunt and mother speak at the vigil, asking the community and the media to continue pressing the Tucson Police Department for answers about Lopez's death.

Alisa Reznick / AZPM
"We want him to stay on and we want him to deal with this mess that is in the Tucson Police Department," Ingram-Lopez's aunt said.

She said the family requested information on Ingram-Lopez's death immediately. But they didn't get it until pressure caused the department to turn over police footage of the incident. She asked the media and supporters to stay on course.
"Two months ago, Tucson Police Department killed our son, our grandson, our nephew, our brother and a father to a two-year-old girl," his aunt said. "Please don't forget him, and help us fight."
The crowd lit candles at the shrine in Ingram-Lopez's honor and stood silent for 14 minutes in recognition of the length of time he was restrained before dying. They also chanted, "Nana, ayúdame," Spanish for, "Grandma, or nana, help me," in honor of some of his last words.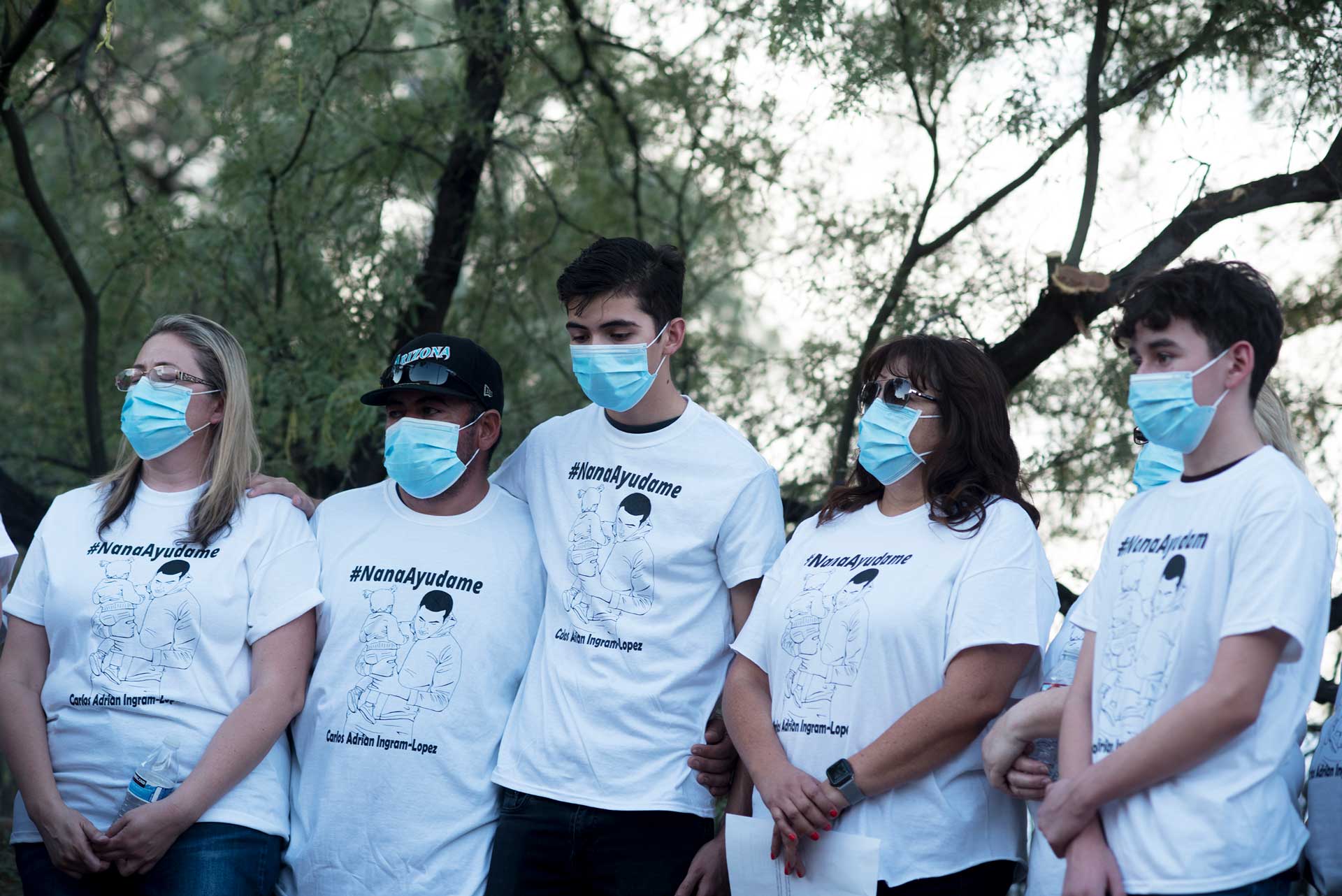 VIEW LARGER Ingram-Lopez's family members listen to speakers on the sidelines of a vigil.

Alisa Reznick / AZPM
Black Lives Matter Tucson organizer Tiera Rainey also spoke at the event. She said the Ingram-Lopez family got in touch with the organization when his death was made public this month.
"This family understands what Black Lives Matter means," she said. "This is a movement that says everyone deserves human dignity, because if someone is worthy of human dignity, they are not victims to police brutality — as a Black member of this community, we understand that this fight is our fight. It's the same fight."
Around 100 demonstrators marched to the police station after the vigil.
All three officers on scene the night of Ingram-López's death resigned from the police force before his death came to light. Tucson police official say they would otherwise have been fired. In autopsy report from the Pima County Medical Examiner, Ingram-Lopez's cause of death is inconclusive, but lists "acute cocaine intoxication and physical restraint with cardiac left ventricular hypertrophy as a significant contributing condition."
Ingram-López's family members said they were not able to communicate with police that night and are still left waiting for important answers today. They are calling for an investigation into how the death happened, and what will come next.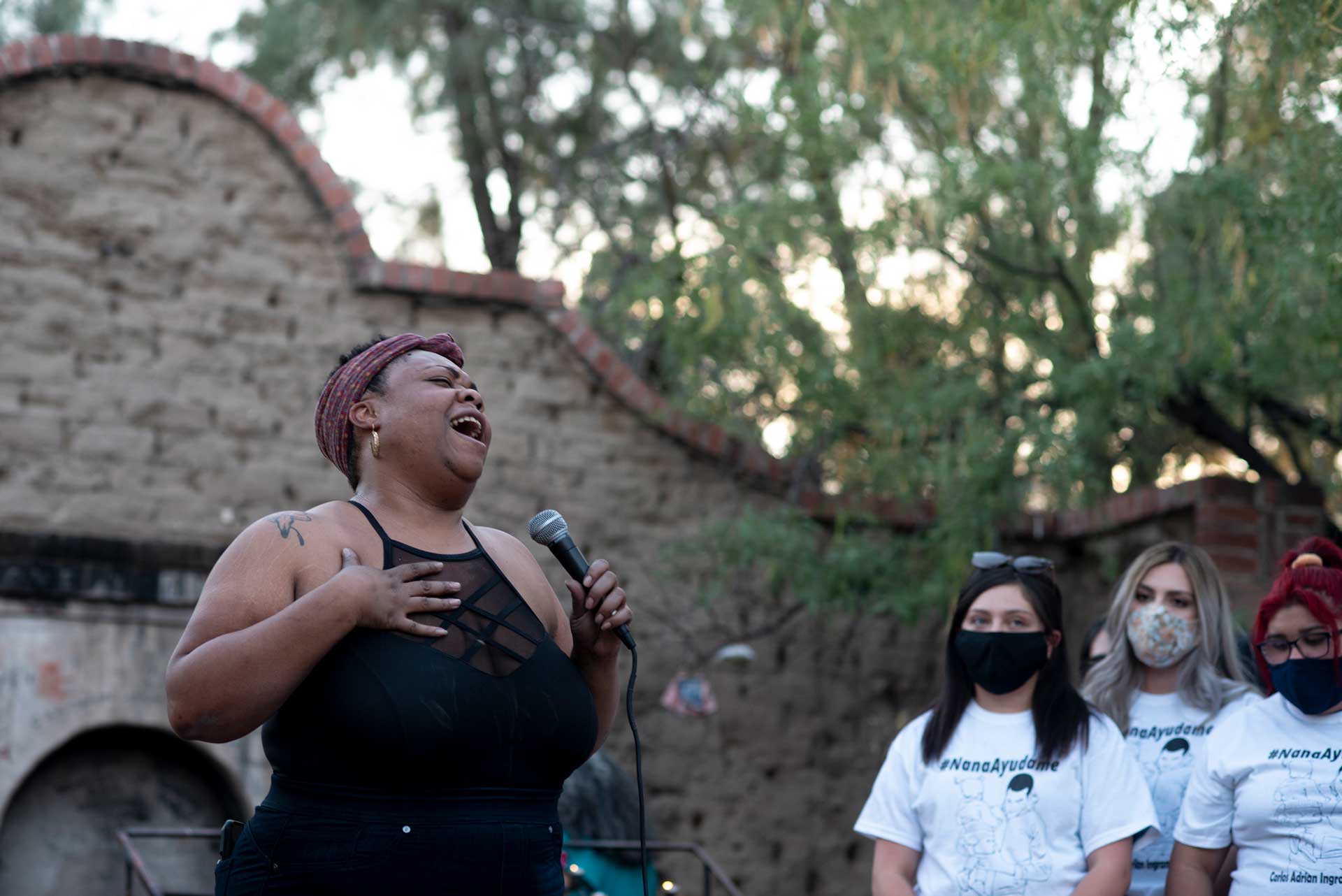 VIEW LARGER Tucson musician Najima Rainey sings to for the crowd at the El Tiradito shrine. "I want you to know you are not alone," she told Ingram-Lopez's family. "We are outraged by what happened to your son, to your brother, to your family member."

Alisa Reznick / AZPM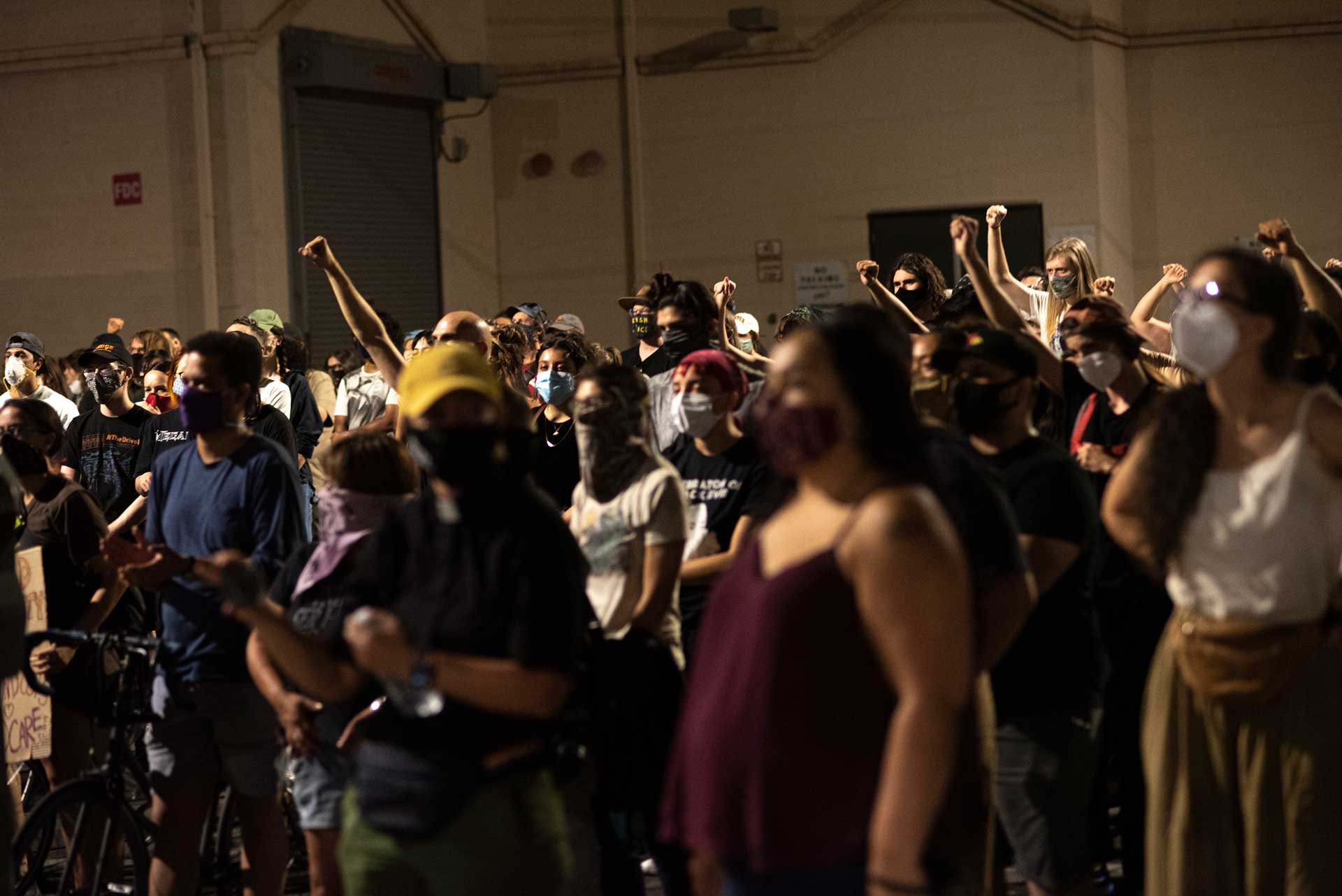 VIEW LARGER Protesters stand in front of a Tucson Police Department precinct in downtown Tucson on June 25, 2020.

Alisa Reznick / AZPM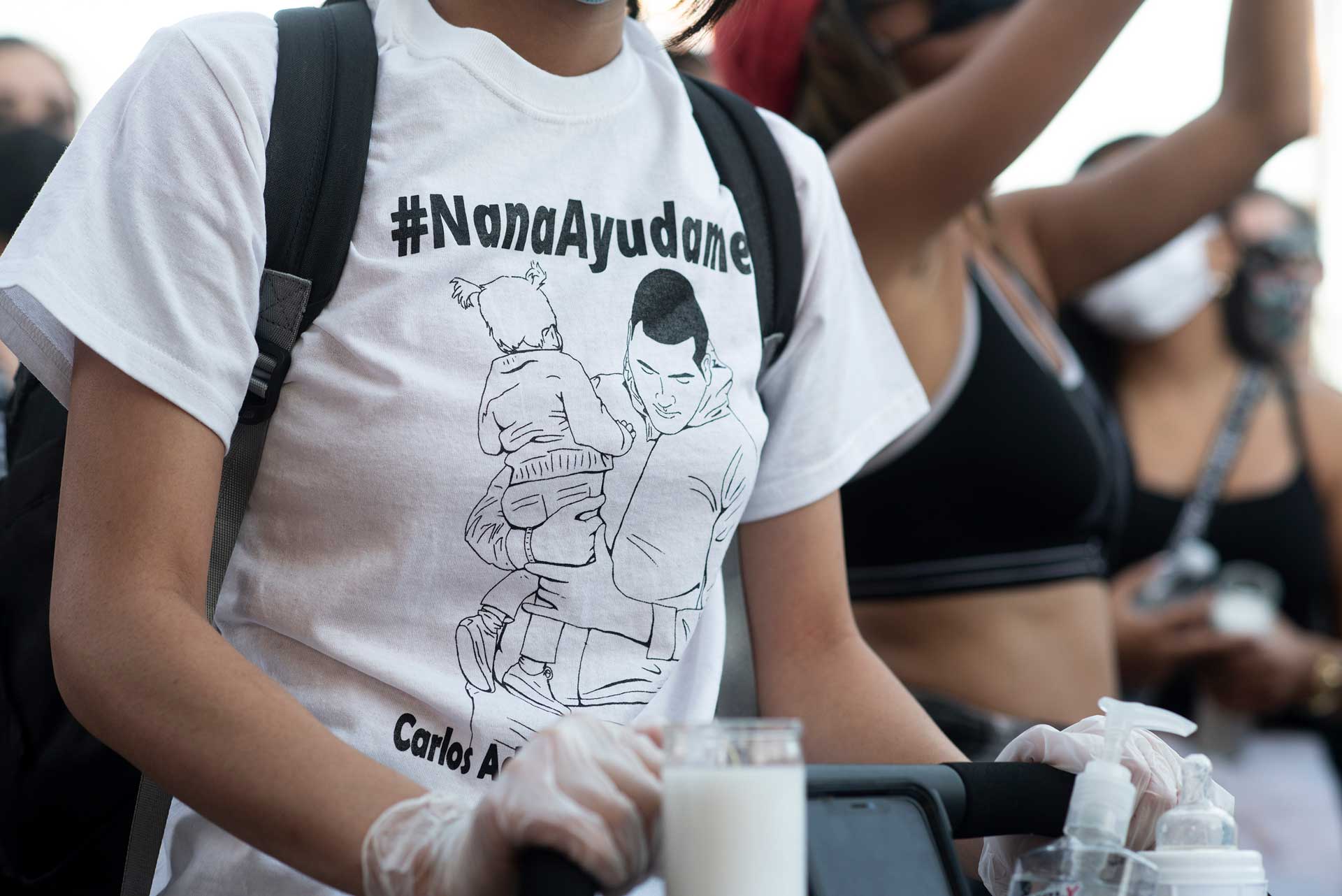 VIEW LARGER A member of Ingram-Lopez's family wears a T-shirt in his honor. Ingram-Lopez called out "Nana, ayúdame," — "help me, grandma" in Spanish — before he died in police custody in April. Community members chanted the phrase at the vigil.

Alisa Reznick / AZPM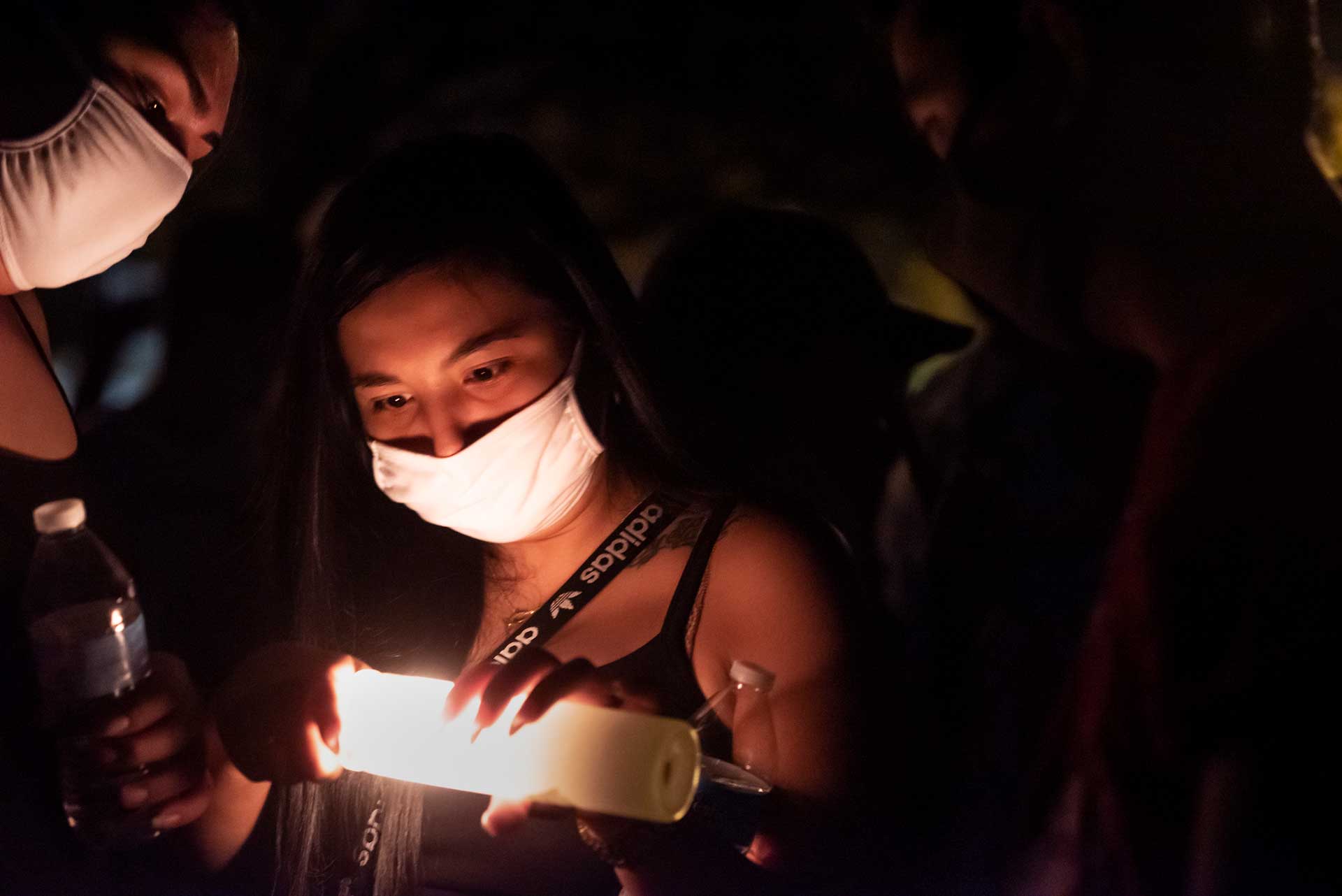 VIEW LARGER Community members lit candles for Ingram-Lopez and placed them at El Tiradito.

Alisa Reznick / AZPM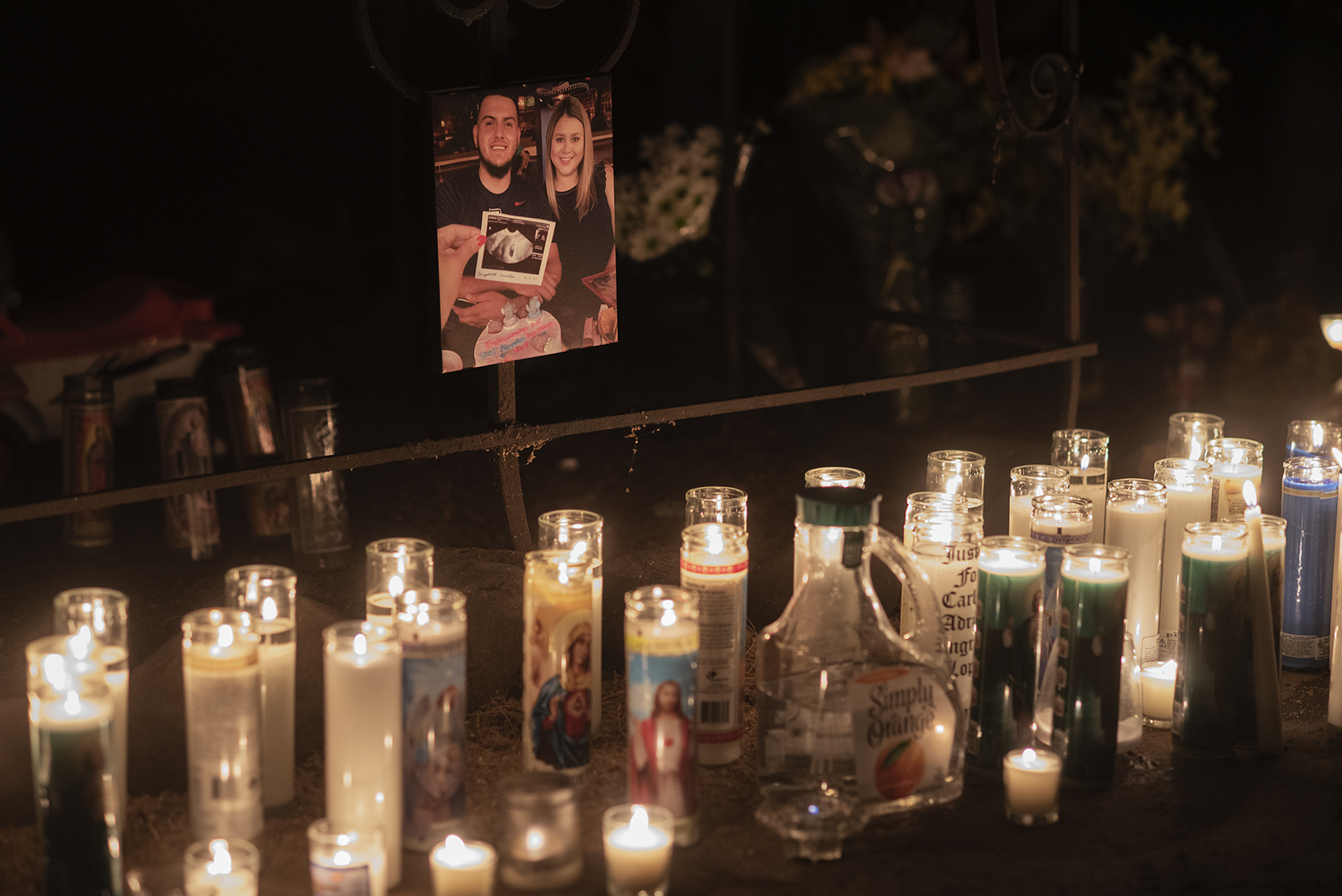 VIEW LARGER Candles encircle an image of Ingram-Lopez with his fiancé at the El Tiridito shrine.

Alisa Reznick / AZPM
---
CORRECTION: The original headline of this story and details of the autopsy report have been changed to more accurately reflect the information available at the time.