Arizona COVID-19 one-week snapshot, July 11
This map looks at the changes in reported Arizona COVID-19 data over a one-week period. Since last week, Arizona reported 25,377 new cases (27% increase), 346 more deaths (19% increase), 682 additional hospitalizations and a statewide positive diagnostic test rate of 26.9%. The state reported a daily average of 3,625.29 cases and 49.43 deaths. Choose a

layer and click on a county to learn more.
Credit: Nick O'Gara/AZPM. Sources:
ADHS
, county health departments, Census 2018 Quick Facts. *Test numbers are for reported diagnostic (PCR) tests and do not include antibody (serology) tests, unlike previous versions of this map. Positive test rate is calculated using reported case and test totals. Daily reports may not reflect recent data, the state says.
On Monday, June 22, The Arizona Department of Health Services recorded a cumulative total of 54,586 cases of COVID-19, an increase of 2,196. Three additional deaths were reported, bringing the total to 1,342. The state has seen multiple instances of single-day records of cases and hospitalizations in the weeks since the governor lifted the stay-at-home order. The most recent data said around 2,000 COVID-19 patients were in hospitals, with 1,992 on June 21. That number has been on a steady upward trend. Learn more about hospital capacity in our top story.
---
Elective medical procedures are still on in Arizona, for now
AZPM Feature
If you need urgent but non-emergency medical care — what doctors call elective surgery — there's some good news: In the midst of a pandemic, there are still some beds available. And there's bad news, too: They might not be available for very long.
Dr. Robert Trenschel, the CEO of Yuma Regional Medical Center, described his situation on a conference call Thursday sponsored by the Arizona Capitol Times. "We have a 42-bed ICU. Right now 24 patients are in the ICU. Twenty-two of those are COVID patients. Twenty-one of them are on ventilators," Trenschel said.
Gov. Doug Ducey allowed hospitals to resume elective surgeries in May so long as they don't exceed 80% capacity. Lately, some hospitals have approached, and a few have exceeded, that limit. Trenschel said business is slowly returning to their hospitals, but Trenschel says the ongoing spike in COVID-19 cases is worrying.
---
Ducey visits Bighorn Fire
AZPM
Gov. Doug Ducey visited the scene of the more than 58,000-acre Bighorn Fire north of Tucson Monday and heard a briefing from fire managers. The governor met with news media after the briefing, and said it might take the start of monsoon rains to finally put the fire out.
"The one resource we're going to need in addition to the brave women and men that you see fighting this fire is mother nature, OK? The monsoon is going to be here. We're going to have some precipitation," Ducey said.
The fire was started by a lightning strike in the Santa Catalina mountains more than two weeks ago. Several areas around Mount Lemmon and the Catalina Highway remain evacuated, but there are no reports of structures being destroyed.
See a map of the fire's perimeter and evacuation zones here. Visit the Pima County website for fire updates.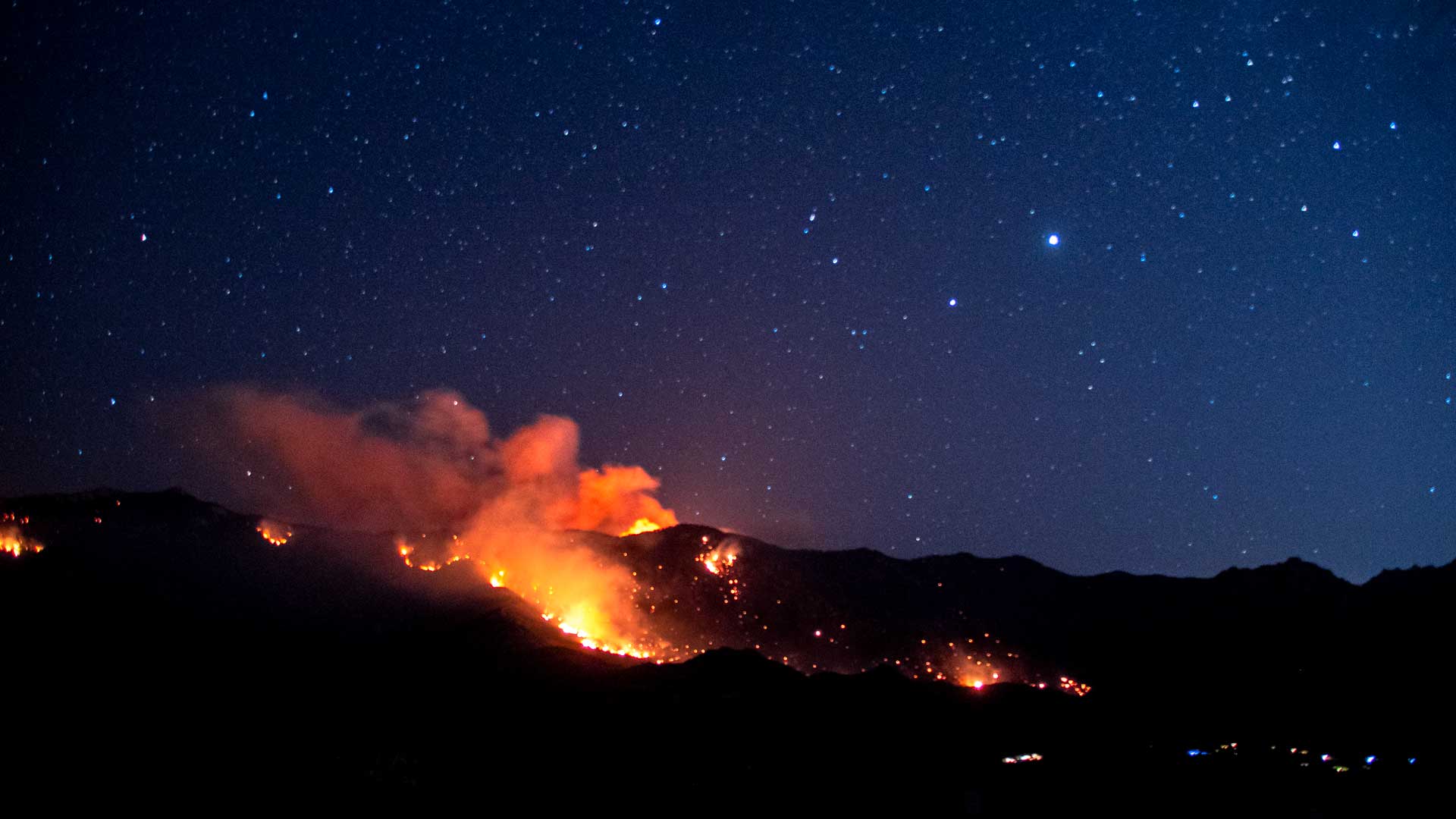 VIEW LARGER The Bighorn Fire burns near Golder Ranch on June 20, 2020

Christopher Conover/AZPM
---
Some question effectiveness of flame retardant used to fight wildfire
Arizona Daily Star
Those looking looking for smoke or flame from the Bighorn Fire burning in the Santa Catalina mountains in recent days may have noticed a flash of color from something else: red streaks of flame retardant.
By Thursday of last week, aerial crews had dumped 358,000 gallons of it throughout the mountains. Fire officials say they believe it's helping contain the blaze, but there is debate around the the effectiveness of the retardant and the amount used, which has sparked environmental concern regarding its possible impact on water and fish.
Officials say it's a useful tool among many in overall efforts to fight fires, but critics say it's expensive and studies have not shown it helps reach actual objectives.
Read more at Tucson.com
Crews make some progress on fires in Arizona
AZPM
PHOENIX — Hundreds of firefighters made some progress Monday against major wildfires across Arizona.
Crews were fighting fires in the Santa Catalina Mountains in the Coronado National Forest overlooking Tucson, in the Tonto National Forest northeast of metro Phoenix, the Apache-Sitgreaves National Forest in northeast Arizona and in the Kaibab National Forest north of the Grand Canyon. Authorities said the human-caused Bush Fire outside of metro Phoenix was 42% contained as of Monday after charring 291 square miles since it started June 13 in the Tonto National Forest.
The lightning-caused Bighorn Fire with 91 square miles burning in canyons and on ridges in the Santa Catalina Mountains hovered around 16% containment.
---
Most Arizona waterways to lose Clean Water Act protection
AZPM
The majority of Arizona's waterways will no longer be protected under the federal Clean Water Act.
On Monday the Trump administration's new Navigable Waters Protection Rule took effect everywhere except Colorado, where a federal judge halted it. The rule significantly narrows the definition of which waterways are regulated under the Clean Water Act, excluding those that only run part of the year or in response to rainfall, which are most of Arizona's streams.
Arizona state leaders support the rule change. The state Department of Environmental Quality is in the process of creating its own set of rules to cover the regulatory gap.
On Friday a federal judge in California dismissed a national lawsuit that sought to stop the law before it took effect. Environmental law firm Earthjustice has filed challenges on behalf of the Pascua Yaqui and Tohono O'odham tribes, among others.
---
Colorado water purchases stir up worries about the future of farming
Aspen Journalism, KUNC
A company is buying irrigated land in Western Colorado as an investment in the future potential value of the water. Although the company isn't doing anything illegal, its actions have rekindled deep-seated and long-held fears about water in the West — that it could hasten the death of agricultural communities' way of life and create an unregulated market for water that would drive up prices and drive out family farms.
---
Trump visiting border wall
Fronteras Desk
Before he lands in Phoenix, President Donald Trump will commemorate the completion of mile 200 of U.S.-Mexico border wall in Yuma Tuesday.
When the president lands in Arizona, he'll be shuttled away to a meeting with acting Homeland Security Secretary Chad Wolf, Border Patrol officials and local leaders in Arizona. Then the president will tour the completion of 200 miles of an ongoing wall project in San Luis.
The border project is intended to replace old landing mat platforms erected in the 1990s and newer vehicle barrier put up to stop smugglers from driving through just a decade ago.
Yuma county has surfaced as a fast-rising hotspot for the coronavirus in recent weeks.
---
More than 1,100 virus cases reported behind bars in Arizona
AP
PHOENIX — The combined total of county jail inmates, state prisoners and federal immigration detainees in Arizona who have tested positive for the coronavirus has surpassed 1,100 cases.
Authorities report 496 positive cases among inmates in county jails, 318 among state prisoners and 317 among immigration detainees. Arizona has emerged as a COVID-19 hot spot since Republican Gov. Doug Ducey lifted his stay-home orders in mid-May.

Arizona reported 2,196 additional cases for the whole state on Monday and 2,592 on Sunday.
---
Local DACA recipients eye more permanent solutions
AZPM
Policy experts and immigrant rights advocates have warned that without congressional action, the Deferred Action for Childhood Arrivals program and those who rely on it could face challenges for years to come.
The Trump administration has said it's planning another court bid against the Obama-era policy, gives work permits and temporary protection from deportation to some 650,000 immigrants brought to the U.S. as children — including around 24,000 in Arizona. Last Thursday the Supreme Court ruled in favor of continuing the program, but left room for the government to try to dismantle it again.
---
Biggest jump in COVID-19 cases for Tohono O'odham Nation
AZPM
On Monday, the Tohono O'odham Nation reported its largest spike in COVID-19 cases yet with nearly 40 new cases since last week.
A tribal leadership report states the 128 tribal members have contracted the new coronavirus and ten people had died as of Sunday. According to data, the nation's clinics have performed more than 1,200 tests and at least a quarter of those infected have been hospitalized, the majority of whom have underlying health conditions.
The update doesn't say if people testing positive live on or off the Nation, but past reports show that the majority of cases within the tribe were off the reservation.
Earlier this month, Chairman Ned Norris Junior reinstated the curfew in the communities along the Nation's borders.
---
University neighbor group opposes sale of research farmland
AP
A neighborhood association near the University of Arizona hopes to stop any future sale of farmland used for agricultural research.
The Arizona Daily Star reported the Campus Farm Neighborhood Association in Tucson is concerned about the property occupied by the university's Campus Agricultural Center. The center is a research, teaching and cooperative extension facility housing 11 departments of the College of Agriculture and Life Sciences.
Neighborhood association founder Bonnie Poulos says the group has been alarmed by university President Robert Robbins' comments about the campus farm's potential value while the pandemic threatens school finances. The university said in a statement that no decision regarding the property has been made.
Read more at Tucson.com
---
Forecasters say Arizona's budget outlook is improving
AZPM
The predicted budget shortfall for the fiscal year that begins in July could be significantly smaller than legislative analysts originally reported.
In April, the Joint Legislative Budget Committee predicted a budget shortfall of $1.1 billion due to the slowing of the economy caused by the COVID-19 pandemic. The June forecast puts the shortfall at about $700 million, but it could fall to zero.
The size of the shortfall depends on a number of virus-related factors.
---
Grand Canyon rangers rescue river runner, overheated hikers
AP
GRAND CANYON NATIONAL PARK — Officials at Grand Canyon National Park say rangers had to rescue a river runner and several hikers who were overcome by the heat last weekend.
On Saturday, Phantom Ranch rangers responded to a river runner experiencing heat illness and fatigue on a Colorado River trip. They say the river runner drank too much water, leading to hyponatremia. The park's helicopter and ambulance transported the patient to a Flagstaff hospital.
On Sunday, Indian Garden rangers responded to a hiker having heat stroke on the Bright Angel Trail. They used cooling measures before the hiker was airlifted to a Flagstaff hospital. Other incidents involved some hikers experiencing heat exhaustion on the Bright Angel and South Kaibab trails.