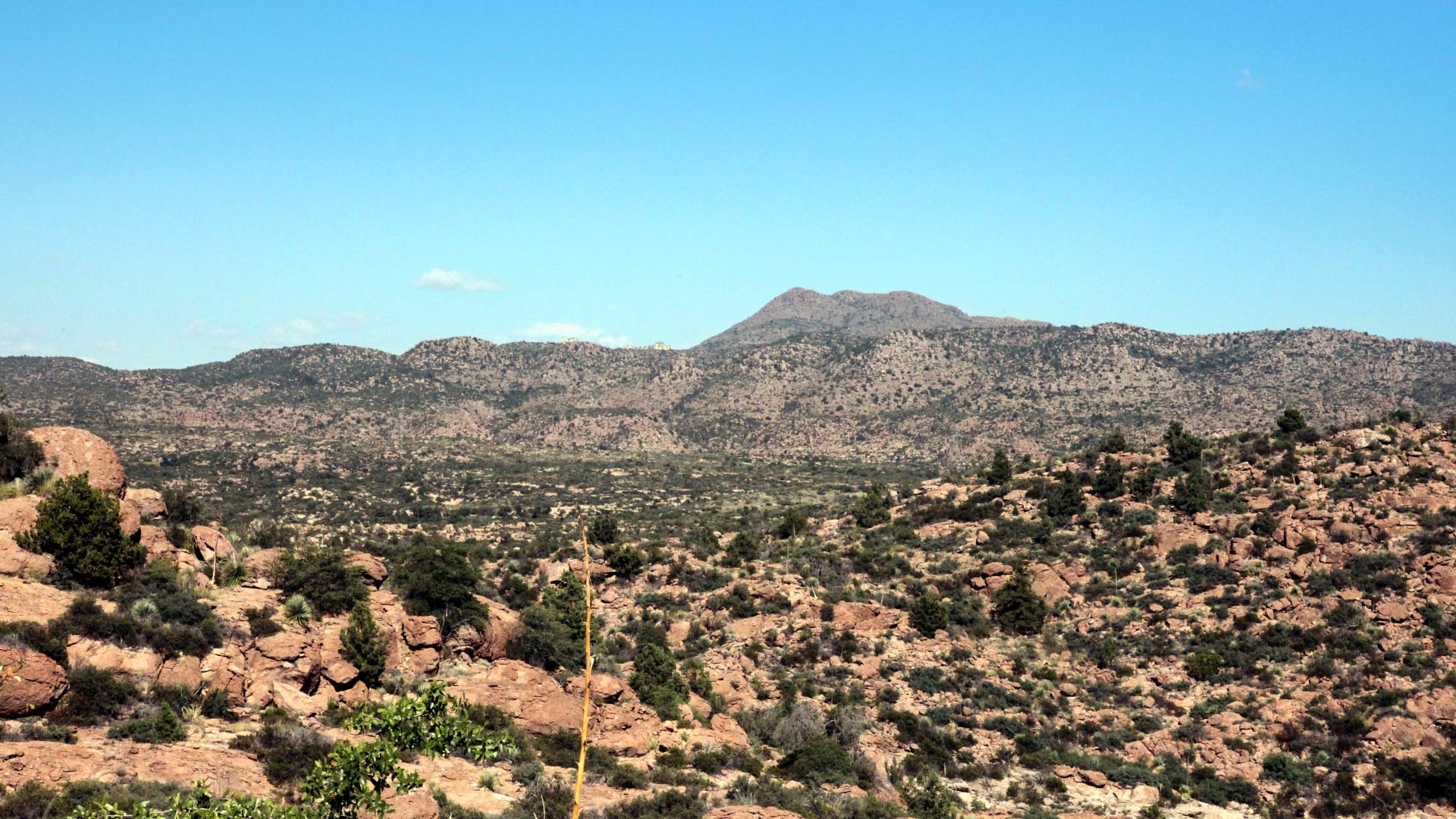 Oak Flat, east of Superior, Arizona. A company proposes to build one of the world's largest underground copper mines at this location.
AZPM
Indigenous American advocates and environmental and mining experts urged a U.S. congressional subcommittee Thursday to stop a proposed copper mine that they say would destroy a sacred Apache site near Superior.
The land swap needed to precede the mine originated in a military funding bill in 2014 that U.S. Rep. Raúl Grijalva, D-Ariz., said was described as a "must pass" piece of legislation. Buried within hundreds of pages of that bill was Section 3003, which mirrored an act former Sen. John McCain of Arizona, R-Ariz., had been trying to pass for years. Section 3003 allowed for the federal government to exchange approximately 2,422 acres of land within the Tonto National Forest, including Oak Flat, for some land owned by Resolution Copper Mining, LLC.
Former San Carlos Apache Chairman Wendsler Nosie and Naelyn Pike, his granddaughter and fellow advocate, were the first to speak to the Subcommittee for Indigenous Peoples of the United States about the cultural and environmental impacts of the mine at Oak Flat.
"Our land is not for sale," Pike said as she called on Congress to honor its treaties with Indigenous peoples and protect their rights. "My culture is not for sale. My religion is not for sale. My people and my future is not for sale."
Pike told them about her sunrise dance, a coming-of-age ceremony performed by Apache girls at Oak Flat, that she says shaped her as an Apache woman. She said by destroying Oak Flat, the mine would be destroying a place with cultural, medicinal and spiritual value that stretched back to her people's creation.
Kevin Allis is the CEO for the National Congress of American Indians and is citizen of the Forest County Potawatomi Community. He said it's the federal government's responsibility to protect Oak Flat and the traditions of Indigenous religions from being lost to a mining crater.
"If we're not paying attention to this, and if the United States isn't respecting this and recognizing the significance of what this act would do and how it would harm, and the precedence that it would set, that's significant long-term damage that cannot be repaired," said Allis. "Once this is gone, it is gone."
Steven Emerman, an expert on mining and groundwater, said Resolution Copper has underestimated the amount of water and electricity such a project would need, and he questions the proposed extent of the crater. He also said that the dam proposed to hold back the undesirable tailings from the mine would be dangerous to downstream communities when it eventually fails.
James Wells, the hydrogeologist who advises the San Carlos Apache Tribe, said Resolution Copper estimated that it would take approximately 1,000 years to replenish the aquifer after the mine closed.
"This is a vast new water demand for an area of the Southwest that is already experiencing water shortages," Well said. "The draft [Environmental Impact Statement] acknowledges that this amount of water 'could be greater than the estimated amount of physically available groundwater.'"
Grijalva, who sits on the subcommittee, and Sen. Bernie Sanders, D-Vt., introduced bills in the House and Senate this legislative session. Grijalva in a press release described the legislation as a way to reverse the land exchange and cancel the project at Oak Flat, a place cherished by several Indigenous nations.
"It is who I am and where I feel free to be Apache. It is not just the wind that hits my face or my feet hitting the ground," said Pike, the San Carlos Apache advocate. "It is the spirits who are talking through the wind to show that they are here with us, that resonates with us, and my feet waking up the earth, telling the spirits back that we are still here and we are still fighting, not ready to give up."