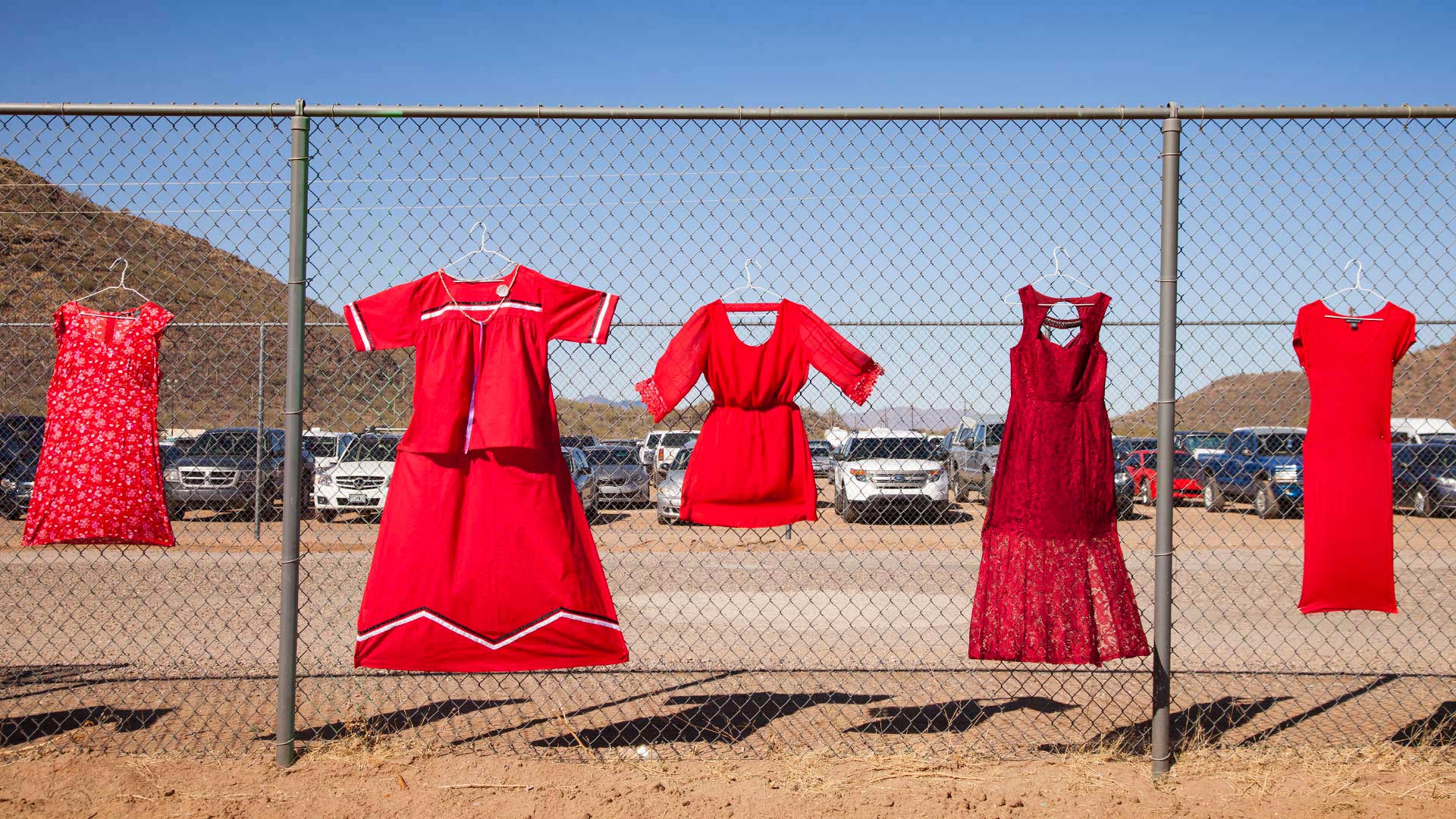 Red dresses representing missing and murdered Indigenous women, displayed at the Verna N. Enos Toka Field on the Tohono O'odham Nation, 2018.
AC Swedbergh/AZPM
The Arizona House of Representatives gave preliminary approval Thursday to a bill that would create a task force investigating why indigenous women are going missing and being murdered throughout the state.

The bill's sponsor, Representative Jennifer Jermaine says if HB 2570 becomes law, Arizona would be one of the first states to create such a task force. The group would be collecting data and tracking trends among cases of missing and murdered indigenous women in the state.

"For our indigenous population, it tells them that the state of Arizona paying attention. The state of Arizona hears their cries for help and takes this problem seriously," said Jermaine.
According to a report published by the Urban Indian Health Institute, Arizona is the third most dangerous state for Native American women in the country. The institute identified 54 missing and murdered indigenous women between 1943 and 2018. The report states that New Mexico is the most dangerous state, with 78 documented cases over those years.
The report does clarify that 80 percent of the data collected were from 2000 to 2018.
It also looked into the issue at the city level. In that same time period, it identified 31 cases in Tucson, tying it with Anchorage, Alaska, as the third most dangerous city for indigenous women in the United States. There were also 14 cases in Phoenix, seven in Flagstaff and three in Tempe.
"What is happening in Arizona to make AZ such a dangerous place for indigenous women to go missing and turn up murdered?" said Jermaine.
The Urban Indian Health Institute identified 5,712 cases in the United States in 2016 alone.
"The data is all disjointed, and what we've been able to find from police agencies across the state of Arizona and throughout the tribal nations is that nobody is tracking the same factors within the data sets," said Jermaine.
She said the task force — the committee defined in the bill — would bring officials from all 22 tribal nations in Arizona, the state, and rural and urban communities together, and get them collecting the same information on every case.
Jermaine said the idea for the bill began when the Navajo Nation started looking into missing and murdered Navajo women on its reservation.
State legislatures in other states, like New Mexico, Nebraska and Minnesota, are also reviewing bills that would create committees like this one.
The bill still needs a final vote in the House before going to the Senate and Gov. Doug Ducey.
---
Eds.: This story has been revised to show that Tucson and Anchorage have the same number of missing and murdered indigenous women and girls documented in the report by the Urban Indian Health Institute.