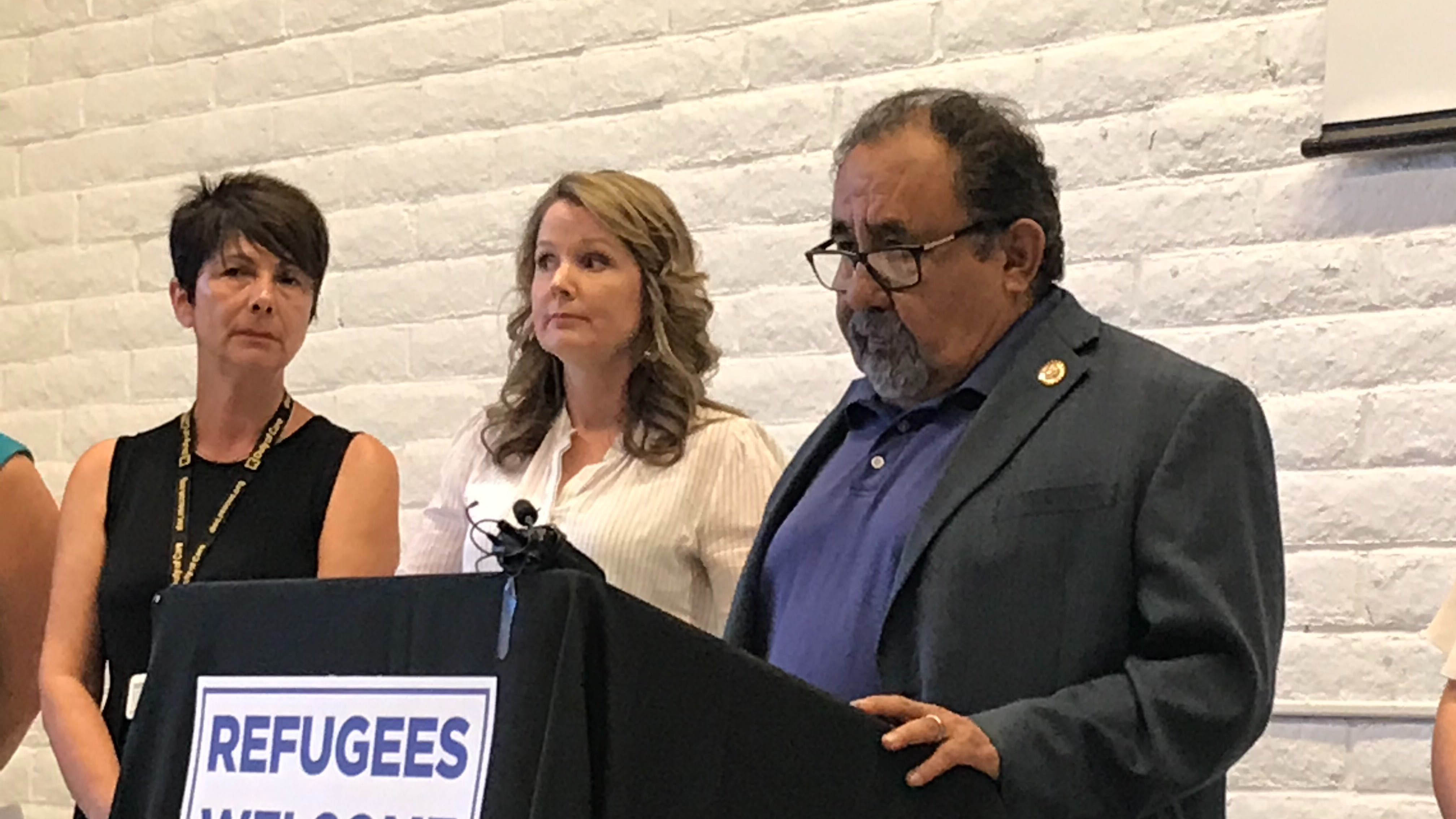 U.S. Rep. Raúl Grijalva stands aside Senada Kadich with the International Rescue Committee in Tucson and Jennifer Tompkins with Tucson Refugee Ministry on Oct. 11, 2019. Grijalva denounced the recent cuts to refugee admittance.
Jake Steinberg/AZPM
Congressman Raúl Grijalva and refugee resettlement organizations on Thursday denounced President Donald Trump's latest action to curtail the influx of asylum seekers.
Last month, the Trump administration cut the number of refugees allowed into the country by almost half. Now, policy states 18,000 refugees will be accepted nationwide over the next 12 months, down from the current cap of 30,000. The administration cited the backlog of immigration cases at the U.S.-Mexico border as a justification for the change.
Humanitarian groups in Tucson say the move condemns people fleeing violence in places like Syria, Kosovo and the Democratic Republic of Congo.
"It has placed the lives of those most vulnerable in danger. This is a group that's mostly vetted and goes through a series of background checks," said Nejra Sumic, a refugee organizer for the We Are All America campaign. "I know this because I'm a former refugee myself and have gone through the process."
The Obama administration permitted 110,000 refugees a year. President Trump has steadily decreased the cap over his time in office. The limit of 18,000 is an all-time low for the refugee resettlement program.
Senada Kadich, executive director of the International Rescue Committee in Tucson, said this fiscal year the organization welcomed 216 refugees, down from 454 in 2016. She said refugees she works with quickly become financially independent.
"Refugees add to the rich diversity that Tucson is known for," she said. "Those refugees become dedicated employees, taxpayers, homeowners, innovating business owners and consumers contributing to the local economy and living the American Dream."
Most of those seeking asylum today include people fleeing violence in the Middle East, Africa and Eastern Europe, according to the Department of Homeland Security. Grijalva likened the administration's policies to America's refusal of Jewish refugees during the Holocaust.
He accused the president of playing politics for positioning the cut as border security. About 3 percent of refugees come from Central America, according to DHS.
"It's not the same as the question we're talking about here on the border, but he's put it all together," he said.
Grijalva has cosponsored a bill called the Grace Act that would raise the refugee cap to 95,000. The bill would also undo the so-called Muslim travel ban, and a recent executive order that requires state and local governments to consent to accepting refugees. Grijalva said the bill would not have a big impact on Central American refugees.
"If we cannot, as a country, sustain, support and embrace humanitarian relief," he said, "then we have lost the fundamental definition of who we are."