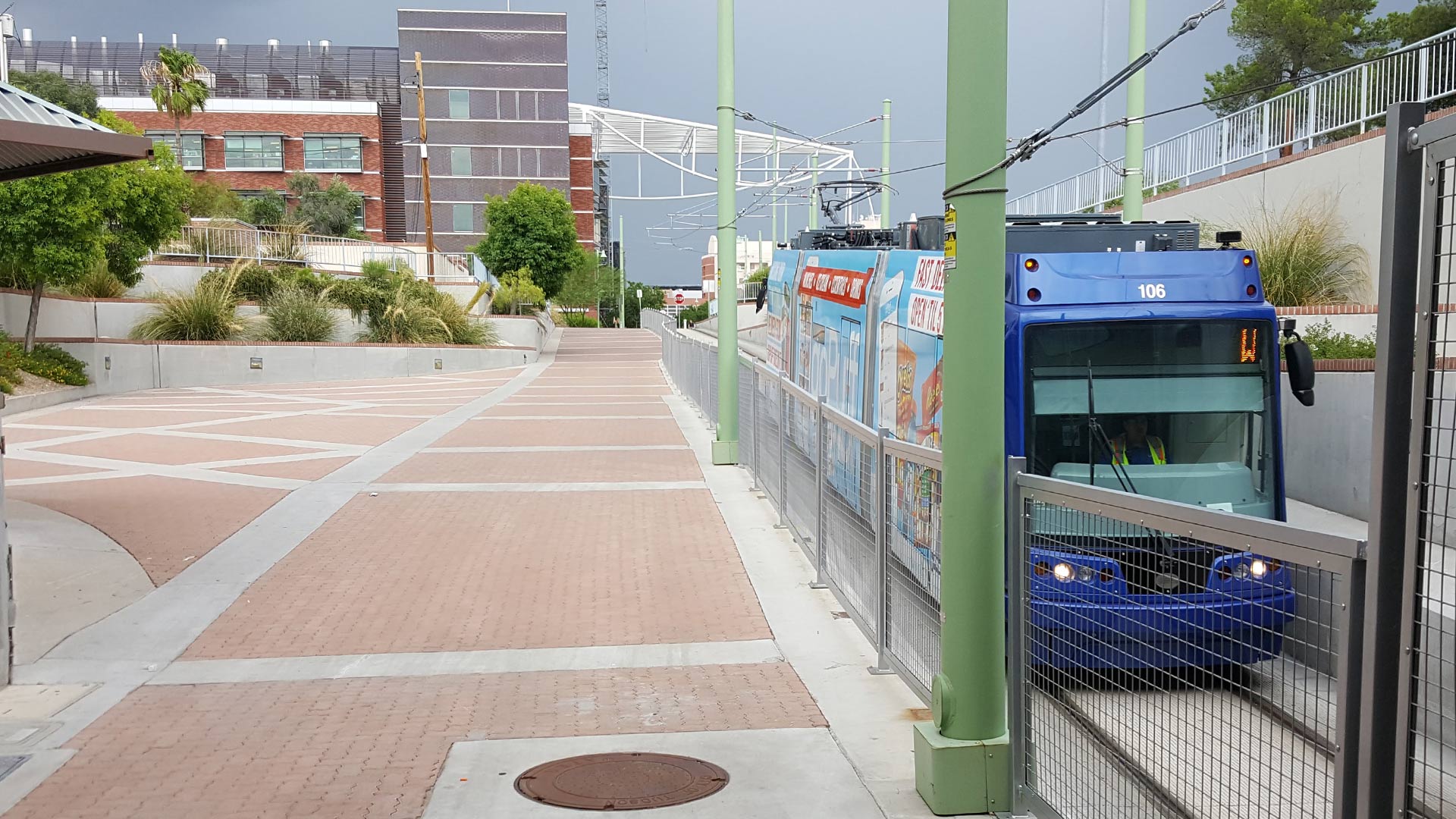 A streetcar passes beneath the Volgy Underpass on Speedway.
AZPM Staff
The Sun Link streetcar is turning four years old this weekend and despite ridership being down, it's projected to hit the 4 million rider mark in a couple of months.
Based on ridership numbers, the 4 millionth rider is expected to board the streetcar in early September, said Cindy Glysson, spokesperson for Sun Link.

Some of the challenges the streetcar has faced over the years include vehicles parked in the way of the streetcar's tracks, and other vehicle accidents along the route, Glysson said.
"Even with blockages Sun Link is able to maintain on-time performance above 90 percent for the past four years and we have never missed a yard departure in four years," she said.
Sun Link reports its ridership has gone down since the 2014 launch, to a little more than 950,000 rides a year.
There is no plans for extending the streetcar, Glysson said. It currently runs from the University of Arizona, through downtown, to the Mercado San Agustin on the west side of Interstate 10.
For all the businesses combined along the streetcar alignment there has been an economic impact of $2.1 billion according to Glysson.
She said it has also spurred new development.
"Currently, and with additional projects we are showing $360 million in projects and another $390 million in proposed projects that surround the streetcar alignment," Glysson said.
To mark the fourth anniversary, all eight streetcars will be running for free Saturday.
"Folks can get on and enjoy entertainment throughout five districts throughout the day," Glysson said.
CORRECTION: An earlier version of this story stated an incorrect number for ridership trends. It has been updated to say the figure has gone down since the 2014 launch to 950,000. This correction also updates the story by removing a reference to plans to expand the streetcar line. At present, there are none.