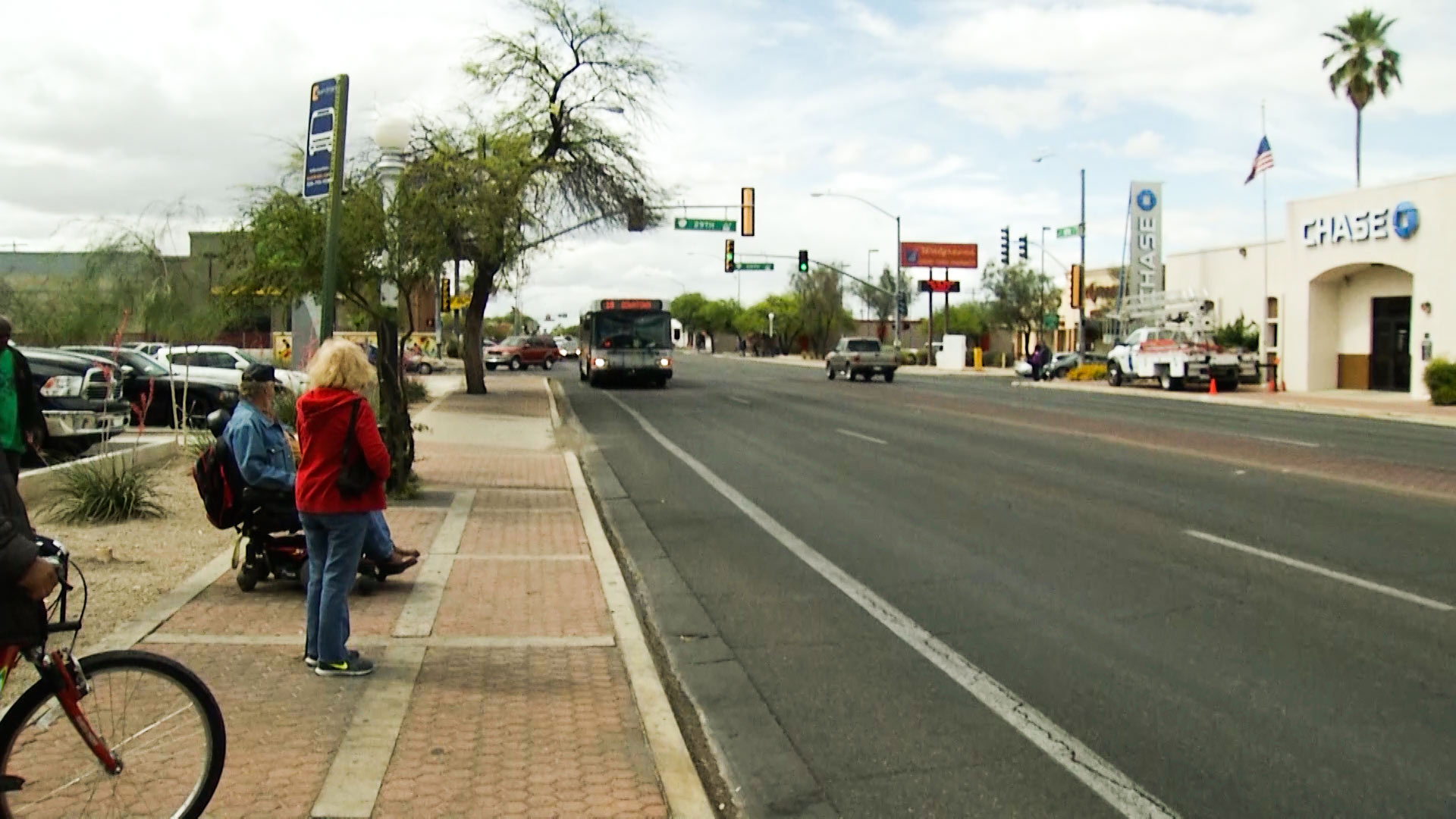 Residents wait for the bus in South Tucson.
AZPM Staff
South Tucson is coping with a budget deficit of about $600,000, or close to 12 percent of its $5.6 million annual budget.
"From a financial standpoint, it's almost like the perfect storm," said City Manager Sixto Molina. "A lot of bills came due."
The city owed a private trash-collection company $140,000 and had to pay a long-standing debt to Pima County for jail costs.
"So we're trying to work through that this financial year. It's going to be tough, no doubt," said Molina.
Options are limited, so Molina said South Tucson is considering closing its fire department and outsourcing it to Tucson. Officials have also asked Tucson to provide police services a few hours a day.
Lifelong resident Arlene Lopez said she doesn't want to see either happen.
"Our officers, our paramedics - their response time is very quick. Because we're such a small community," she said. "My concern is if we do contract with TPD, they have such a vast area to cover. Are they going to be able to respond as quickly as our people do here?"
And Molina said that fast response time is one of the benefits that residents and business owners get being in South Tucson.
"From the fire department perspective, they're about a mile and a half away of responding," he said. "In a critical situation, a life-saving situation, that's very important. It can keep you from dying."
South Tucson's financial problems stem in part from its high poverty level and from lack of a strategic approach to business advancement. Molina said there's no concerted effort at pushing for more or bigger employers.
"Over the last 10 years, there really hasn't been much in the way of economic development."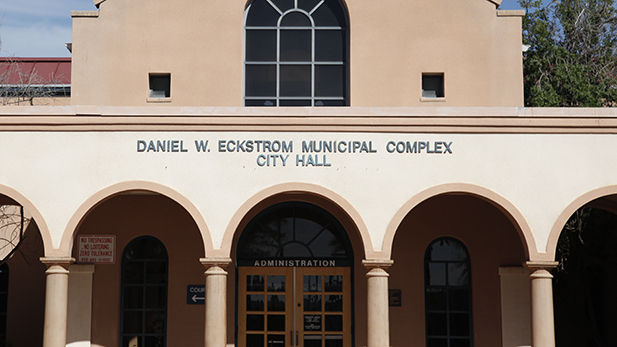 South Tucson City Hall is pictured on April 2, 2015.

Mariana Dale, AZPM
The YWCA of Southern Arizona is trying to change that. Marisol Flores-Aguirre runs the organization's Microbusiness Advancement Center, which is located in the heart of South Tucson. She said the YWCA has a number of programs that support the entrepreneurship that already exists in the area.
"What we're seeing is that folks have businesses in South Tucson. But a lot of them are to subsidize a full-time job."
"People here make tamales, or tortillas, or salsas," she said. "So we're seeing a lot of businesses that have already existed, kind of in these informal economies. What we're hoping that we can help them do is take that business to the next level."
She said local businesses will play a vital role in the economy of South Tucson and elsewhere.
Small business owners Elizabeth Menke and Churchill Brauninger see the city's promise. They opened their bar, Saint Charles Tavern, in September 2015.
Brauninger said he doesn't feel they're riding an early wave of gentrification. Instead, he'd use the word "revitalization."
"Which is what this city needs.
"South Tucson hasn't reached the level of gentrification as most people see it," said Brauninger. "This is just good old-fashioned community investment because we want to be here."
Elizabeth Menke said she thinks the economic upswing happening in downtown Tucson will eventually spread south.
"We're kind of the lead of the change," she said.
And it's the residents of South Tucson who will benefit, Menke said, from that economic development. In the meantime, though, as the city struggles to pay its bills, that change is still ways off and many challenges remain.