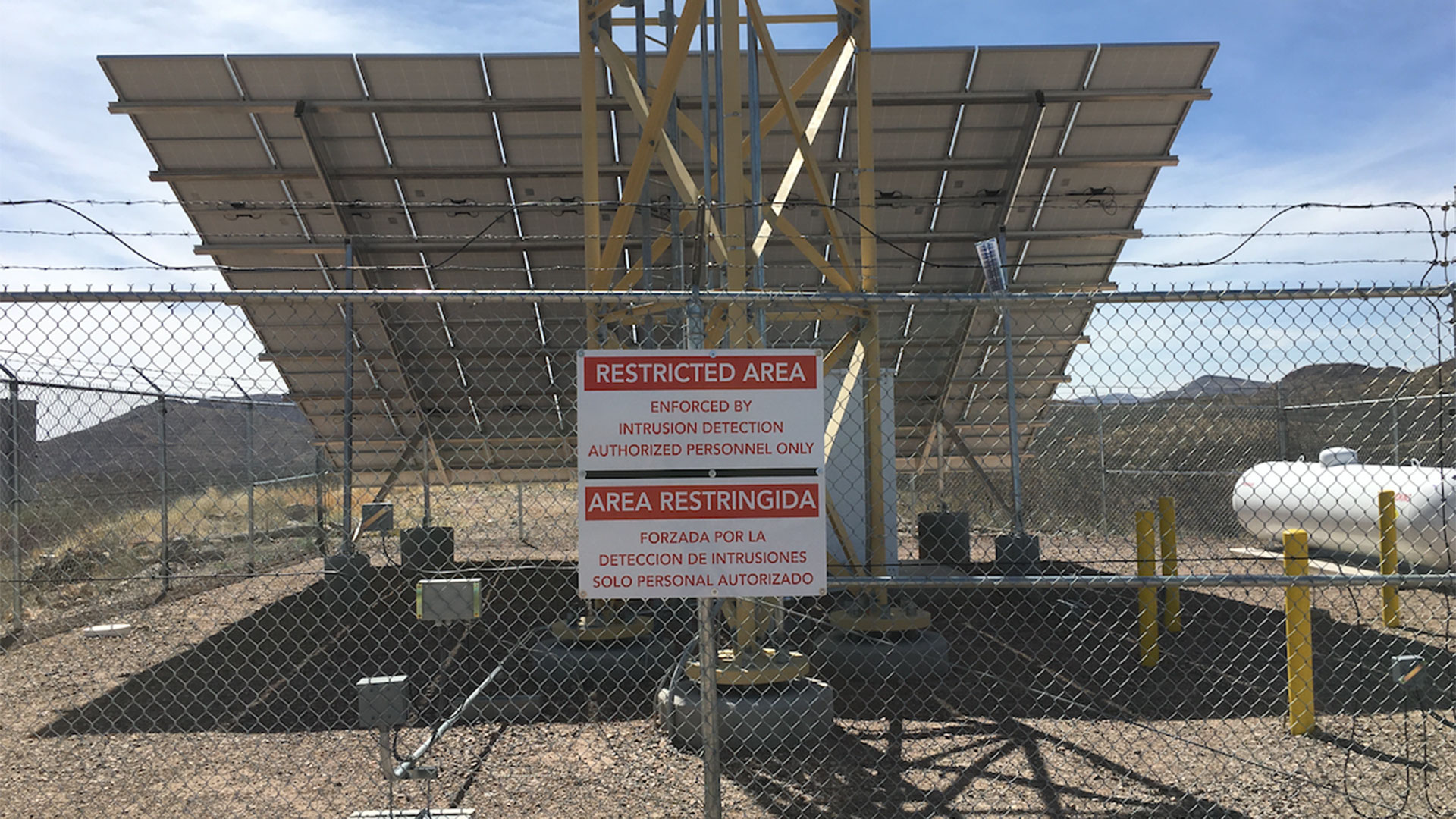 A sign warning people away from one of the Border Patrol's remote surveillance towers in Cochise County.
Michel Marizco, Fronteras Desk
This is Part I in a special four-part Fronteras Desk series about the U.S.-Mexico border and the challenges border residents and U.S. immigration agencies face as President Donald Trump completes his first 100 days in office.
DOUGLAS, Arizona — In a dim, low-ceilinged room, federal agents and private contractors are testing the feed coming off cameras erected along the southeastern Arizona border. It's a subdued project when you consider the magnitude of the goal: eyes and ears watching every movement along the U.S.-Mexico border 24 hours, seven days a week.
"This has definitely been a force multiplier for us in being able to monitor multiple locations from one central location," said Jonathan Romero, a Border Patrol supervisor who oversees the camera operators.
For him, this tower deployment eliminates a staffing issue.
"In here you can have one operator monitoring multiple sites at the same time. So it frees up agents to deploy to the field while these agents are monitoring these sites in here," he said.
The agency uses two types of towers: integrated fixed towers (IFT), which use ground sensor surveillance in rural parts of the Mexican border, and remote video surveillance systems, which are used in urban areas where legal traffic is heavy enough to render ground sensors useless. The agency currently uses eight of the IFTs in southeastern Arizona and 11 of the remote video systems.
The 80-foot-high towers have laser range finders, lights visible only with night vision goggles.
It's called the Arizona Border Surveillance Technology Plan; and it's a network of these towers, cameras mounted on pickup trucks and backpack surveillance systems that can be hiked into the desert and dug into the ground.
Agent Vicente Paco drove up the steep rocky trail leading to one of the towers looming over the border on a green hill. He said the system takes much of the guesswork out of patrolling the border.
"Now with some of this technology, we have an idea of what caused that activation and if it's something where for example, if it's a group of smugglers that are armed, we may ask for resources from BORTAC, our special operations detachment."
BORTAC, for Border Patrol Tactical Unit, is the agency's primary special response unit.
The idea for the towers came out of an abandoned federal border project called the Strategic Border Initiatve (SBINet) from 2007 that cost $1 billion but went nowhere. That program was managed by Boeing before then-Homeland Security Secretary Janet Napolitano finally killed it off in 2011.
This new towers project comes just as the White House presses forward for plans for a massive cement wall.
"We're gonna build the wall. Some of the fake news said, 'I don't think Donald Trump is going to build a wall.' Fake news folks. Fake, fake news. Fake news folks. A lot of fake. No, the wall is going up," President Donald Trump told the roaring crowd last March in Tennessee.
That was a few weeks before new Homeland Security Secretary John Kelly said there likely will not be a wall along the entire border, causing confusion among local governments and border residents about where the wall will go.
In the meantime, the Border Patrol is pushing to expand its towers project. Just days before Trump's inauguration, the agency asked developers to come up with ideas to expand the surveillance towers along the Mexican border and the Canadian, around Detroit and Buffalo.
The agency also called on developers to produce drones with facial recognition and recently awarded a Silicon Valley company with a $118,000 contract for a project attaching sensors to drones.
In its request for facial recognition, the agency described a hypothetical setup for Border Patrol agents of the future. It describes a scenario where an agent could pilot a drone from a control panel built into the forearm of their Border Patrol uniform.
"The panel has a visual display that allows the agent to see the raw data feed from the sUAS (small unmanned aircraft systems) sensors, as well as geospatial information with any targets and areas of interest identified by the sUAS highlighted," the agency managers wrote into the call for innovations.
But the new technology won't replace agents. The Border Patrol has 21,000 agents and is still hiring. Vicente Paco said arrests still have to be made by a border agent.
"Our agents are trained to utilize the tools they're given, just like the tools I carry on my belt. And we try to use them to our advantage," he said.
On a dirt road on the outskirt of Douglas, Arizona, retired schoolteacher Judy Herbert calls her dogs into the house. Her home sits down the hill from one of the new towers. Twelve blocks away is a flowering field with a 15-foot wall of posts inches apart separating the state from Mexico. She said the towers are better than the alternative.
"You have miles and miles and miles of open area if you haven't seen that already. How are they going to fence all that in a reasonable manner? I don't see it happening," Herbert said.
She said she's not bothered by the tower that stands just over her home.
"It is on my property. I'm sure they see me come out in my robe. I have no idea. I have a hot tub," she said.
Meanwhile, the fight over the concrete border wall continues. In April, environmentalists in Tucson filed the first lawsuit in the United States to stop it.
Construction of a new concrete wall is scheduled to start in San Diego and so far, Homeland Security hasn't said whether it's going to add hundreds of miles of concrete wall or make up for gaps in the line with this virtual one.