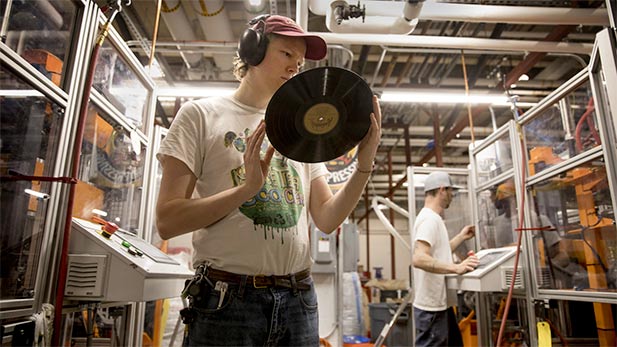 Willem Ytsma inspects a record at Alexandria's Furnace Record Pressing, the country's newest vinyl manufacturing plant. Renewed interest in records has breathed new life into a format long thought dead.

Tyrone Turner / WAMU
Last year, digital music hit a milestone. For the first time ever, it accounted for more than half of global music sales. Music streaming revenues rose more than 40 percent, while sales of physical recordings continued to sink.
Yet a company in Northern Virginia has just started pressing vinyl records.
Tucked away in an industrial park in Alexandria, Furnace Record Pressing is the country's newest record manufacturing facility — and a seemingly batty business idea, if you haven't paid attention to deeper trends in the music industry lately.
Despite the overall downturn in physical recordings like CDs, vinyl sales have been on the rise for a decade now, as younger people have begun to discover the richer sound and collectable nature of old-fashioned records. But as the vinyl frenzy caught on, soaring demand quickly created a problem, says Furnace's owner, Eric Astor. The world's remaining pressing facilities couldn't keep up with the crush of new business.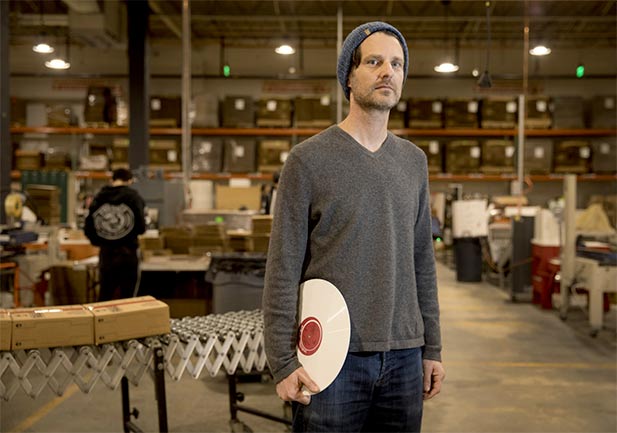 Eric Astor, owner of Furnace Record Pressing in Alexandria, Va. "I was worried people would just give up on vinyl," he says.

Tyrone Turner / WAMU
"The whole industry was scrambling," says Astor, whose company used to just order and assemble records produced at a plant in Germany. "Some plants were at six and eight months lead time. I was worried if that continued, people would just give up on vinyl and then we'd all be out of business."
So Astor decided to open his own pressing plant, not only to capitalize on the new dollars flowing into vinyl, but also to ensure the future of a format he believes has the power to sustain independent musicians for years to come.
'There's No Class For This'
Furnace Record Pressing looks like any manufacturing facility you might find in Michigan or Illinois, except its main product could be somebody's favorite album.
Inside a cavernous room that smells vaguely of plastic, employees sail around on Razor scooters as gloved assembly-line workers carefully slip freshly pressed records into sleeves. They're dropped into crates and shunted onto a conveyor belt, destined for a shrink-wrap machine. On the belt are dozens of copies of "Modern Guilt," the 2008 album by pop experimentalist Beck. On other days, you might see Neil Young records gliding by, followed by a few hundred records by a local band.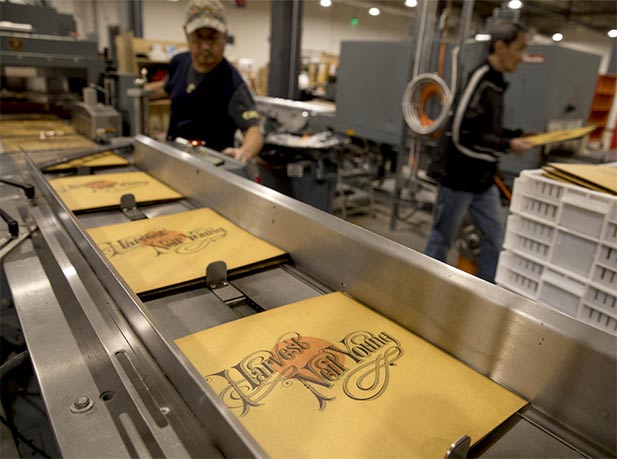 Furnace Record Pressing produces and assembles records by a range of artists, from legends to locals.

Tyrone Turner / WAMU
These aren't the cheaply made 1970s records you might find at a rummage sale. Furnace specializes in high-grade vinyl, often fully packaged with eye-catching jackets, lyrics sheets and even download cards, so buyers can still stream the album when they're away from a turntable. Record labels regularly pay extra for handcrafted colored vinyl, which takes twice as long to produce but commands a premium price.
"People are spending 20, 30-plus dollars on these releases now," says Sales Director Nicholas Tolson, who's showing me around the facility. "We want to make sure that they're getting their money's worth."
As the company ramps up — after a three-year build-out, it began pressing records less than two months ago — it continues to outsource some of its production to Germany. (That's where those Beck records came from.) But the heart of the operation is in its pressing room, where 14 heavy-duty machines will eventually have the capacity to produce up to 9 million records a year.
That is, if the machines don't misbehave, which they often do.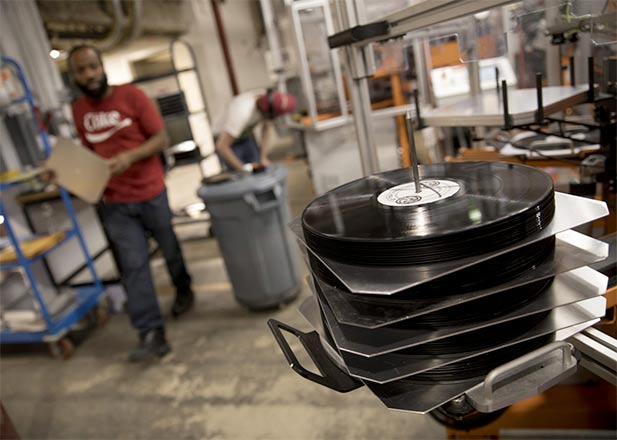 Andre Butler (left) walks past a pair of modernized, automatic record presses. The machines are made by Viryl, a Canadian company that recently entered the market.

Tyrone Turner / WAMU
Each one of the machines is, unfortunately, very idiosyncratic," says Mark Reiter, Furnace's director of manufacturing operations. Standing next to a bright orange press that transforms PVC pellets into playable records, he says these machines are new, fully automatic and computer-controlled, but they still give him grief "every damn day."
"All of a sudden, it'll just start making bad records, and it'll take one and a half to two hours to figure out what went wrong. Or maybe nothing went wrong. It just decided, 'Not today,'" Reiter says. (When records get botched, workers simply regrind the PVC and use it again. Some vinyl enthusiasts say "reground" records sound better.)
"There's no class for this," he adds. "Nobody's going to go to school for it. It's all on-the-job training, or some old dude showing you the way it used to be," Reiter says.
But those old dudes won't be around much longer, says Eric Astor, which is why he's focused on the next big step: ensuring the future of his industry.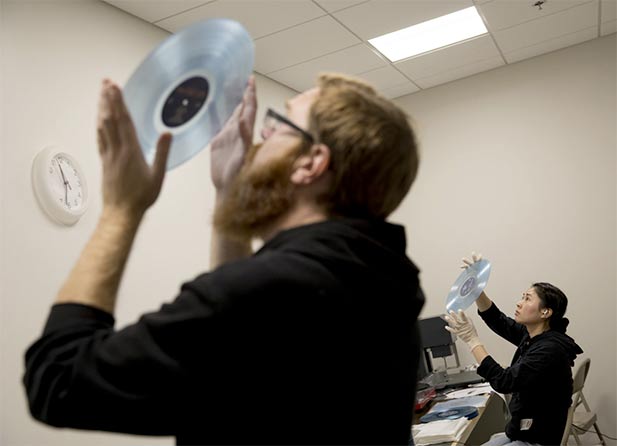 In the plant's quality-control room, Furnace employees inspect every piece of vinyl for flaws. Even tiny imperfections can affect the way a record sounds.

Tyrone Turner / WAMU
Who Will Keep The Presses Running?
Furnace owner Eric Astor has plenty to worry about: maintaining positive cash flow, managing dozens of full-time workers, maximizing his plant's efficiency and pressing the highest-quality vinyl possible. But those aren't the things that keep him awake at night.
"The biggest concern I have is making sure that we can find people that want to carry on [this trade]," Astor says. "A lot of these folks that have been in the industry for a long time are starting to leave the industry, and we need to try to get all of their knowledge into our brains."
Astor says he has one employee who's run presses for 45 years, but many of his technicians are relatively new to the job. He's constantly on the lookout for young people who want to learn how to run the machines.
Furnace Record Pressing's Mark Huggett, left, has been pressing records for nearly 50 years. Here, he's inspecting a record that just came off the press. Willem Ytsma is at right.

Tyrone Turner / WAMU
Those who step up aren't only learning a specialized and exciting trade, he says. They're also helping to keep independent music alive.
"Vinyl is the one thing [independent musicians] can sell and make money," Astor says. "When you go on tour, you sell records and T-shirts. No one buys CDs. You make no money on streaming. But vinyl, for an independent band, you can actually make some money."
Astor says he understands the convenience and low cost of streaming digital music. But he believes vinyl is part of a bigger picture.
"When you buy a record, you keep people like myself and all my employees in business. Mom-and-pops," Astor says. "Nothing's free in the world. I think that we're making something that's really cool that you should buy, because without that, you'll see a very different music industry."
ALLY SCHWITZER is WAMU's business and development reporter. Before assuming that role in February 2018, she reported on arts and culture for WAMU's Bandwidth and the Washington City Paper.