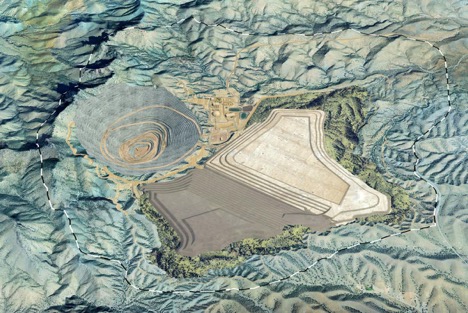 VIEW LARGER A computer rendering envisions the Rosemont Mine's open pit, left, and tailings piles in the Santa Rita Mountains south of Tucson.

Courtesy of Rosemont Copper
Mining companies have been trying to build a huge open-pit copper mine in the Santa Rita Mountains for decades. Local tribes, environmental groups, elected officials and many members of the public have opposed it.
In March, the Army Corps of Engineers granted the final necessary permit for the mine, and opponents filed lawsuits to challenge it. Construction was expected to begin in early August. Then on July 31, U.S. District Judge James Soto issued his decision, blocking the mine.
Soto wrote that the Forest Service reached an "inherently flawed analysis" when it approved Rosemont's plan to dump roughly 2 billion tons of its waste on about 2,400 acres of the Coronado National Forest. He said the company should have had to prove it had the mining right to minerals on those forest acres. Soto ruled that lack of proof made Rosemont's claim to the land invalid.
John Lacy is director of Global Mining Center at the University of Arizona's College of Law.
"The judge spent a lot of time talking about how these mining claims did not have a discovery on them," Lacy said. "Well, in many respects, that's the whole idea."
He said the judge ruled too quickly because mining companies can dump waste rock on public land that doesn't have valuable underground minerals under the "mill site" provision of the 1872 law that governs mining on federal public lands.

"In order to qualify as a mill site, the land has to be identified as non-mineral in character, which makes a difference between your regular mining claim and the mill site," Lacy said.
Justin Pidot is co-director of the environmental law program at the University of Arizona.
"This question about the extent to which a mining company can use public lands for related activities but not actively mining is one that has been a live issue for a long time," he said.
Pidot said the mill site claims under the 1872 mining law are limited to five acres, which would only comprise 2 percent of the public land Rosemont wanted to use in this case. But in practice companies often skip the step of proving whether there are mineable minerals on the public lands where they want to dump waste rock.
"Most of the time mining companies are able to [do it], the federal government sort of looks the other way, sort of lets them move ahead. But there's not a clear legal authorization, at least in the judge's view," Pidot said.
A former Coronado National Forest supervisor recently told the Arizona Daily Star she and her staff were told to stop raising questions a decade ago about whether the mining company could legally dump waste rock and tailings on public land.
Lacy said he's not sure how impactful Soto's ruling will be to the industry but said it's "an illustration of how very difficult it is to permit mining operations in today's environment."
Pidot said the judge's opinion demonstrates how the nearly 150-year-old mining law — which allows people to develop hard rock minerals on public land at almost no cost, without paying royalties — has fallen out of step with modern practice and isn't even serving the industry well anymore.
"It's a good deal for them financially but it's really hard to shoehorn a modern, large-scale mining operation into the four corners of the 1872 mining law, which then opens you up to the kind of litigation we're seeing here. And all of the uncertainty that engenders," Pidot said.
Earlier this year, U.S. Rep. Raúl Grijalva introduced legislation to update the law with more protections for cultural and natural resources, including air, water and wildlife.
Hudbay Minerals, Rosemont's parent company, said in a statement following the judge's ruling that it plans to appeal the decision. Pidot said if Judge Soto's ruling is upheld by the 9th Circuit Court of Appeals, it could affect how other mining plans are scrutinized across most of the West.