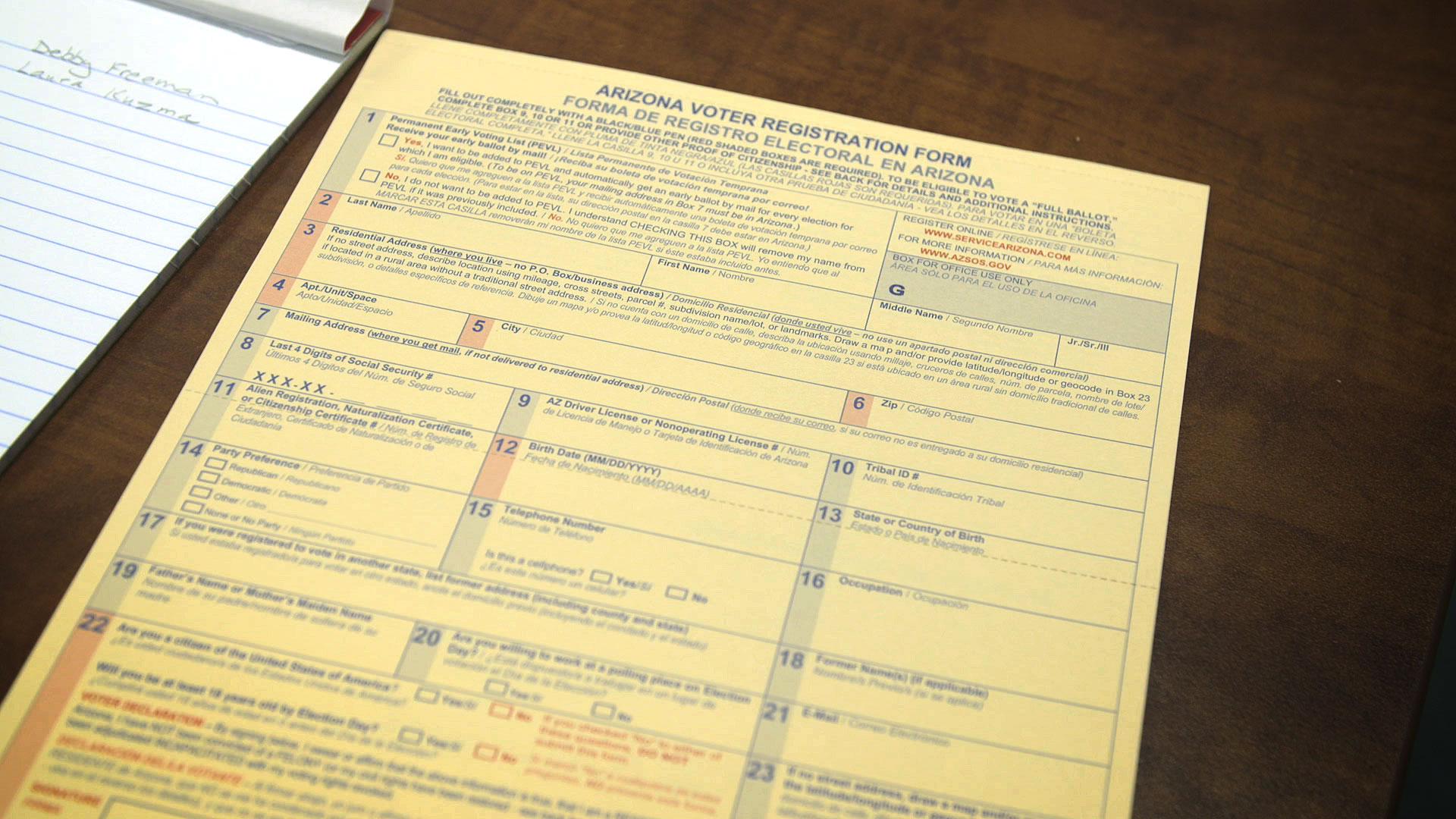 File image of a voter registration form for Arizona.
AZPM Staff
Brandon Martin ran in the Republican primary for Arizona's Second Congressional District in 2018 and lost. He won the primary in 2020 and is now challenging Rep. Ann Kirkpatrick for her seat.
Arizona's second district includes the eastern part of Pima County and all of Cochise County.
Martin served 11 years in the Army Reserves in an intelligence unit. He served one tour in Afghanistan.
"I came back here in 2006 and I started working for the Army and I've worked for the Army ever since in some capacity. So, my whole adult life has been about service. And then almost nine years ago my daughter was born at the TMC in Tucson. And southern Arizona is home for me, and I want to leave our district and our nation better for my kid and all of our children," Martin said.
Martin lives in Sierra Vista. He said his top priority for the district has changed due to the pandemic. Now, he's focused on the economy, jobs, and helping small business.
"The people that are really employing the heart and soul of this community are being affected. The government needs to inform the people on the issues on what's going on, how to safely reopen the economy but we have to get everybody back to work because every job is essential," said Martin.
To accomplish that, Martin said, if elected he will sponsor legislation he calls "The Liberate the Economy and The American Paychecks Act."
"It calls for tax cuts for every bracket down to 10 percent so we can get more money in people's pockets and their bank accounts so they can spend it on things they need which is also going to help fuel the economy. And so, we've taken some looks at that. But also, we've put forward some cuts to some permitting processes and regulations," he said.
The district is a border district where the Trump administration is currently building new sections of wall. Martin said he is not sure that new laws are what is needed to deal with the border.
"We have to enforce the laws that are on the books. What good does it do to create new laws if you're not enforcing the one that you already have?" Martin questioned.
But Martin says he is not against immigration.
"People that want to come here because America is the greatest country in the world, let's do so legally… and then we can work towards helping these folks and continue to push a merit based program that adds to America that puts people in a position to make more and better for themselves that way not only are they improving their lives but we're also improving the nation," said Martin.
Martin has not held political office before but said he is confident he can accomplish things at the Capitol regardless of whether he is in the political majority or minority.
"It's about building relationships; it's about getting to know the people that you're working with and knowing where you can work with someone and where you can't. And when you're working in Congress you have to be able to know what you can do and what you can't do so I would approach people on a common issue for example drug smuggling, human smuggling no one should want those activities going on on our border so that should be an area where we agree, how do we stop that," he said.
The latest voter registration numbers show that there are roughly 20,000 more Democrats than Republicans in the district. If Martin hopes to unseat Rep. Ann Kirkpatrick, he will not only have to keep his Republican base but also woo many of the 128,000 active voters who classify themselves as having no party affiliation.