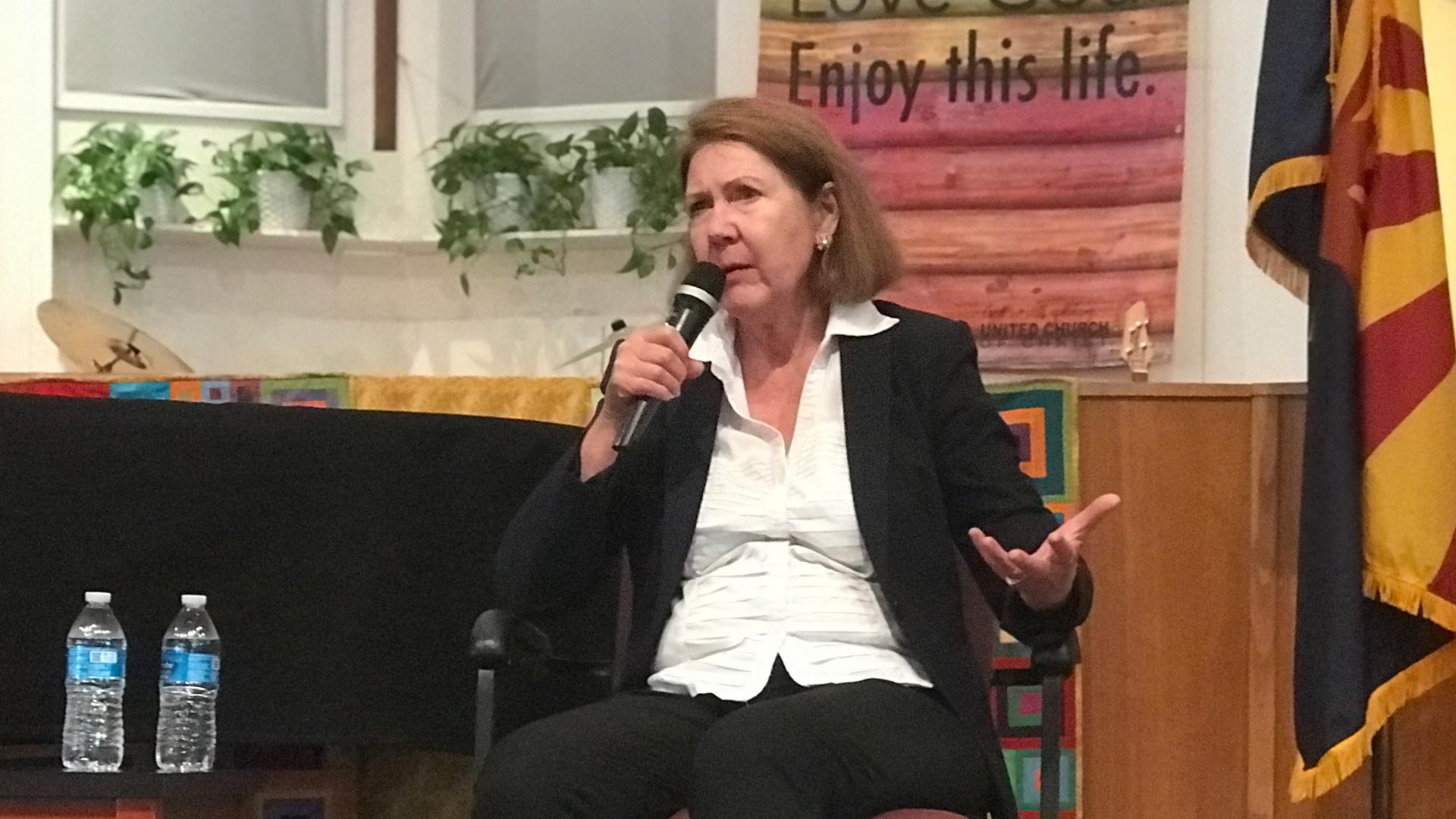 VIEW LARGER Congresswoman Ann Kirkpatrick takes question from her constituents at a town hall. (May 29, 2019)

Nancy Montoya, AZPM
Ann Kirkpatrick wants voters to send her back to Congress for another term. She has represented the First and Second Congressional Districts in Arizona for five previous terms.
The southern Arizona Democrat said the 2020 campaign is like no other in her career.
"It's an interesting time quite honestly. You know my favorite thing is to go door-to-door, talk to voters, meet them on their doorstep and you just can't do that now. So, we've had to switch everything to virtual and that's been tough," said Kirkpatrick.
In January, Kirkpatrick publicly admitted to struggling with alcoholism and took a brief leave of absence to seek treatment. She returned to work at the end of February just as the pandemic was hitting the United States.
Despite the changes, the pandemic has brought to campaigning and the Capitol, Kirkpatrick has plans for what a new Congress will need to tackle come January.
"Immigration reform, comprehensive immigration reform. We've been working on that for a long time. This is a border district and we still need to get that done. And the other thing is a pandemic response, I feel like the health care system is really strained right now," Kirkpatrick said.
Comprehensive immigration reform envisioned by Kirkpatrick would be a departure from the policies of the current administration.
"In Southern Arizona we do not want a border wall and I see that as a distraction. I see that as a campaign promise that the President made that just doesn't make any sense. We also want a path towards citizenship for Dreamers, we have so many Dreamers here in Southern Arizona. I mean I don't think anybody doesn't know a Dreamer and they need a path to citizenship. That is a top priority of mine," explained Kirkpatrick.
In 2019, Kirkpatrick sponsored legislation making it legal for Dreamers to work on Capitol Hill. The bill passed the House but stalled in the Senate.
Kirkpatrick currently sits on the House Agriculture and Appropriations committees. She voted to continue funding for the A-10, the main plane flown at Davis-Monthan Air Force Base in Tucson.
From Southern Arizona, the Capitol may look like a hyper partisan place ruled by gridlock. Kirkpatrick said partisanship does keep things from getting accomplished.
"Right before I left Washington, DC I had introduced some pretty moderate legislation and I went over to my Republican colleagues, there were about six of them standing there, and I said, 'Hey, I would really like you to sign on as cosponsors to this legislation, it's very, very moderate.' And they were like, 'Look Ann, we like you, but if we sign on to this, we'll get a primary by Trump, he'll find somebody to primary us.' And I was shocked quite honestly, these are colleagues I've known for a long time, that have always been approachable, always willing to sign on to our legislation," Kirkpatrick said.
The 116th session of Congress is one that Kirkpatrick and many other House members will remember because, for the first time, they cast votes from their home districts due to the COVID-19 pandemic.
The 117th Congress will be sworn in on Jan. 3, 2021.