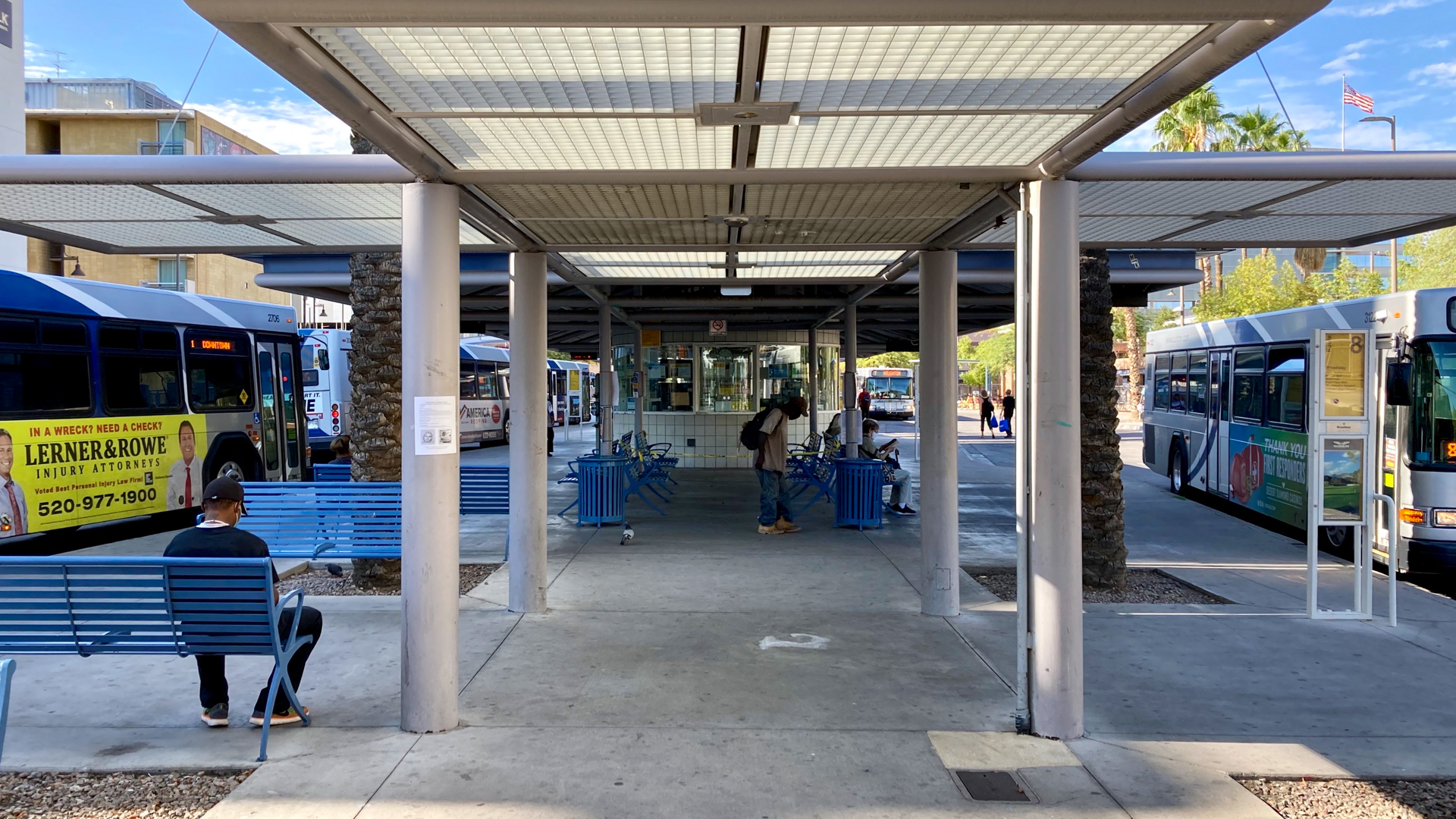 The Ronstadt Transit Center on August 1, 2020.
Jake Steinberg/AZPM
Fewer people were choosing to take the bus before the pandemic arrived. Then, coronavirus fears led to plummeting ridership in March. Though riders are returning to the service, it's unclear what public transit in Tucson will look like next year.
A Sun Tran bus ride is already a massively different experience from just a few months ago. Riders board in the back of the bus and haven't had to pay a fare since March. A plexiglass shield separates the driver from the cab. Riders are required to wear masks.
It's a challenging time for public transportation. Many agencies were just beginning to recover from budget cuts imposed during the last recession. But the Great Recession saw people flock to transit as gas prices rose. This time around, things couldn't be more different.
Sun Tran general manager Steve Spade estimates ridership took a 40% drop when the pandemic first began. It's since rebounded slightly, but is still down by as much as 60% compared to this time last year.
But even with fewer riders and virtually no fare revenue, bus service hasn't changed — with the exception of a couple express routes aimed at suburban commuters — thanks to the nearly $100 million the city received from the CARES Act.
But it won't last. The funds only cover costs through the end of the year. Democrats and Republicans in Congress disagree about what a fourth COVID stimulus package should include. But many transit agencies, including Sun Tran, are advocating for funds specifically for public transportation.
David King, a professor of transportation planning at Arizona State University, said two things have to happen to save transit. One is federal support.
"Because if ridership is down so much, it's going to be very hard for state and local elected officials to justify spending money on transit when there's so many other needs, you know, whether it's affordable housing or food banks or schools. The other thing is, people have to go back to work in offices."
That's big because transit systems in most cities, including Tucson, are set up like a wheel: Downtown is the center where all the bus routes converge like spokes. But someone who works in an office downtown is more likely to have a job where they can work from home. And if they don't come back, King said transit won't be viable in the places where it works best. "And that's gonna have repercussions downstream," he said.
If ridership doesn't come back, service will eventually need to be cut. San Francisco recently had to permanently take half of its buses off the street. Ironically, in difficult economic times King said transit becomes even more important because it's more affordable than owning a car.
It's also important if the city wants to reduce traffic and carbon emissions. King said agencies will have to get creative if they want to prevent a so-called "death spiral," where low ridership leads to cuts in service which further reduces ridership and so on.
In a bid to win riders back, Sun Tran is experimenting. Spade said the agency recently added a feature to its app that shows how full a bus is so riders don't have to cram onto a busy bus.
Sun Tran is also developing an on-demand transit service operated by the Sun Van paratransit division.
"It'll operate in a zone, maybe a two-mile-by-three-mile zone that will pick people up at their door and take them to their closest bus route or to another location within that area," he said.