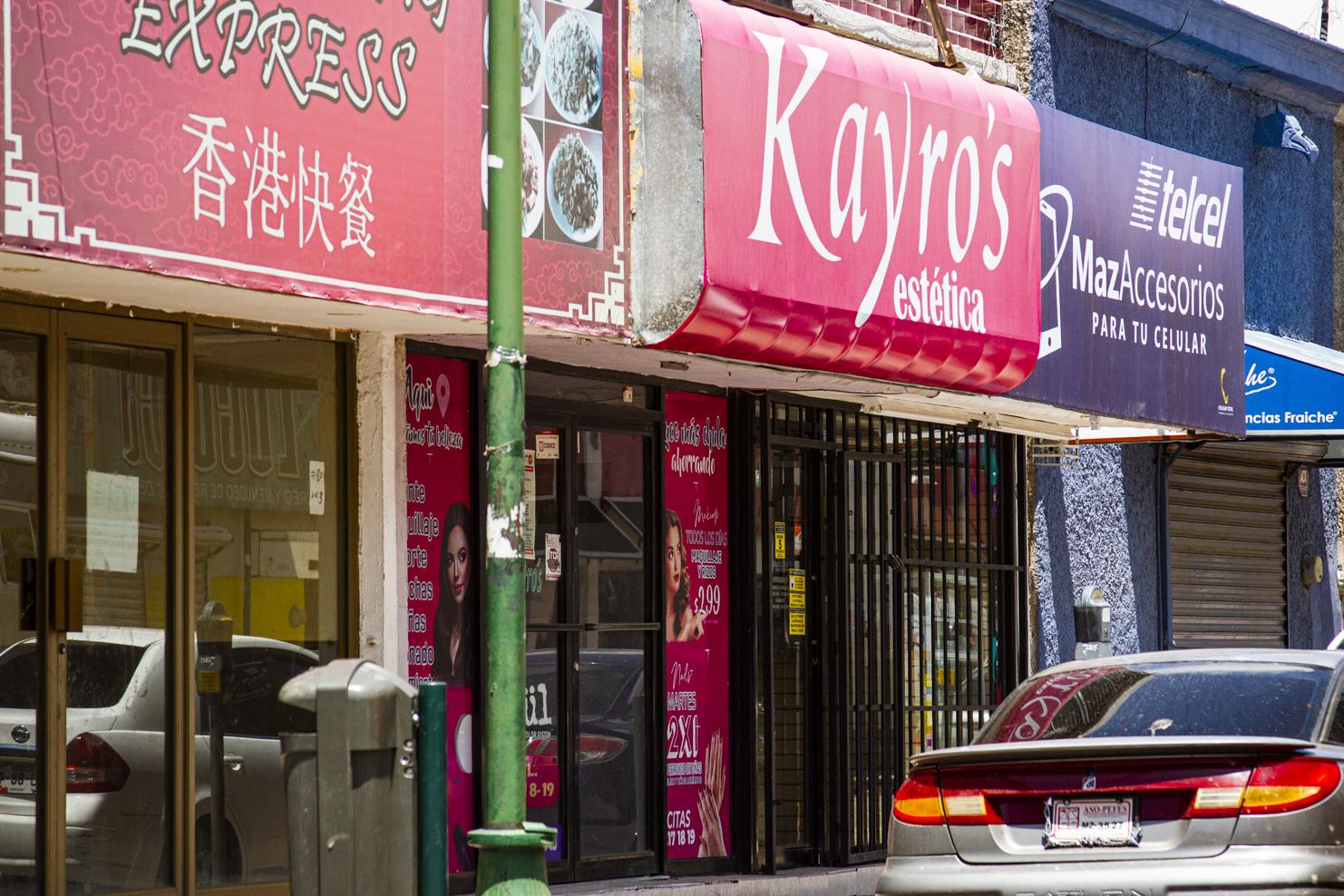 VIEW LARGER The downtown location of Paty López's family beauty business Kayros is one of two that have closed so far. The other four are teetering, she said.

Murphy Woodhouse/Fronteras Desk
HERMOSILLO — For nearly three decades, Paty López and her family built up a salon and beauty supply business in the Sonoran capital. Before the pandemic hit, they had six locations across Hermosillo.
"They're teetering," she said of four of them. "Unfortunately, they're on a tightrope."
After months of mandated pandemic closures, two have already closed, including the one she ran in downtown Hermosillo. It was the first one opened — where the dream started — making its closure all the more painful, Lopez said.

To have some income, she started liquidating her inventory, selling via WhatsApp and doing home deliveries. She's also auctioning off the shop's furniture and equipment. Several of the family's locations are again operating, but with limited capacity and hours, per pandemic regulations.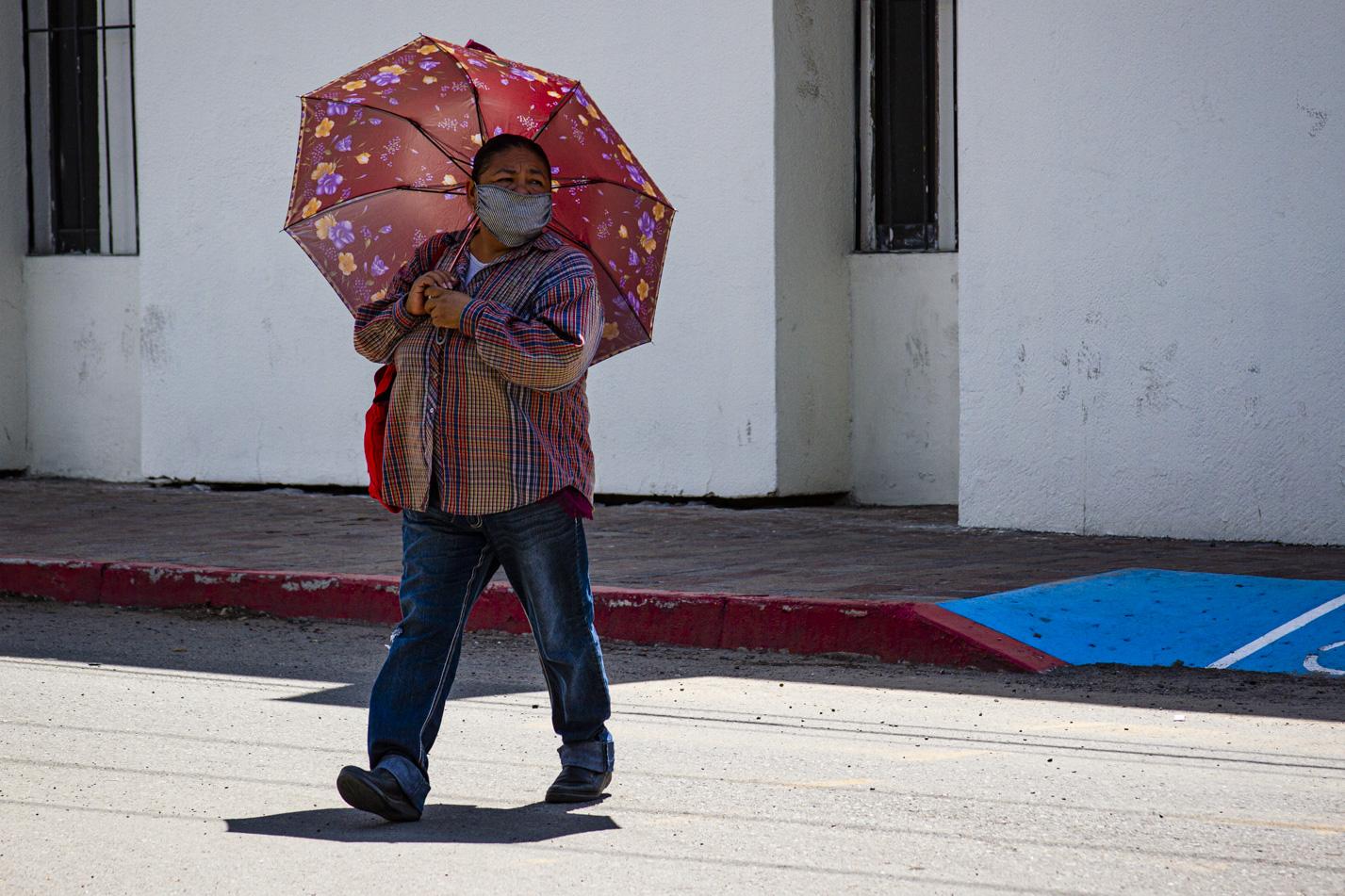 VIEW LARGER A masked woman crosses the street in downtown Hermosillo. Many shops have reopened there in recent weeks, though with reduced capacity and hours.

Murphy Woodhouse/Fronteras Desk
"Maintaining a business with that schedule is complicated," she said, adding that it's especially so for salons, which normally attend to multiple clients at a time.
Nearly all businesses in Sonora have been impacted by the pandemic, and are facing tough choices like López's family.
"It's important to emphasize that 10% have closed permanently," said Colegio de la Frontera Norte researcher Humberto García. "And another 7% are about to close, or are closing, locations."
García was part of a team that surveyed more than 600 Sonoran businesses to gauge how they have been impacted by and are adapting to the pandemic.

"In terms of revenue," he said. "In the short term, 81% of businesses are seeing impacts."

Many are furloughing workers, some with pay, but others without. Federal employment data show that Sonora has lost nearly 40,000 jobs since February. But those figures don't include positions in the informal sector, which accounts for over 40% of the state's economic activity, according to García. That means total job losses are likely significantly higher, he said.

Left With No Options
Critics say government at all levels, especially the federal government, should be doing more to aid businesses and workers during the crisis. Graciela Teruel, an economist and director of the research institute Equide at the Universidad Iberoamericana in Mexico City, is one them.
"None," she answered bluntly when asked if there were any federal programs up to the task of addressing the economic fallout of the pandemic.
And the scale of those that exist — like microcredits for businesses — pale in comparison to the need, according to Teruel.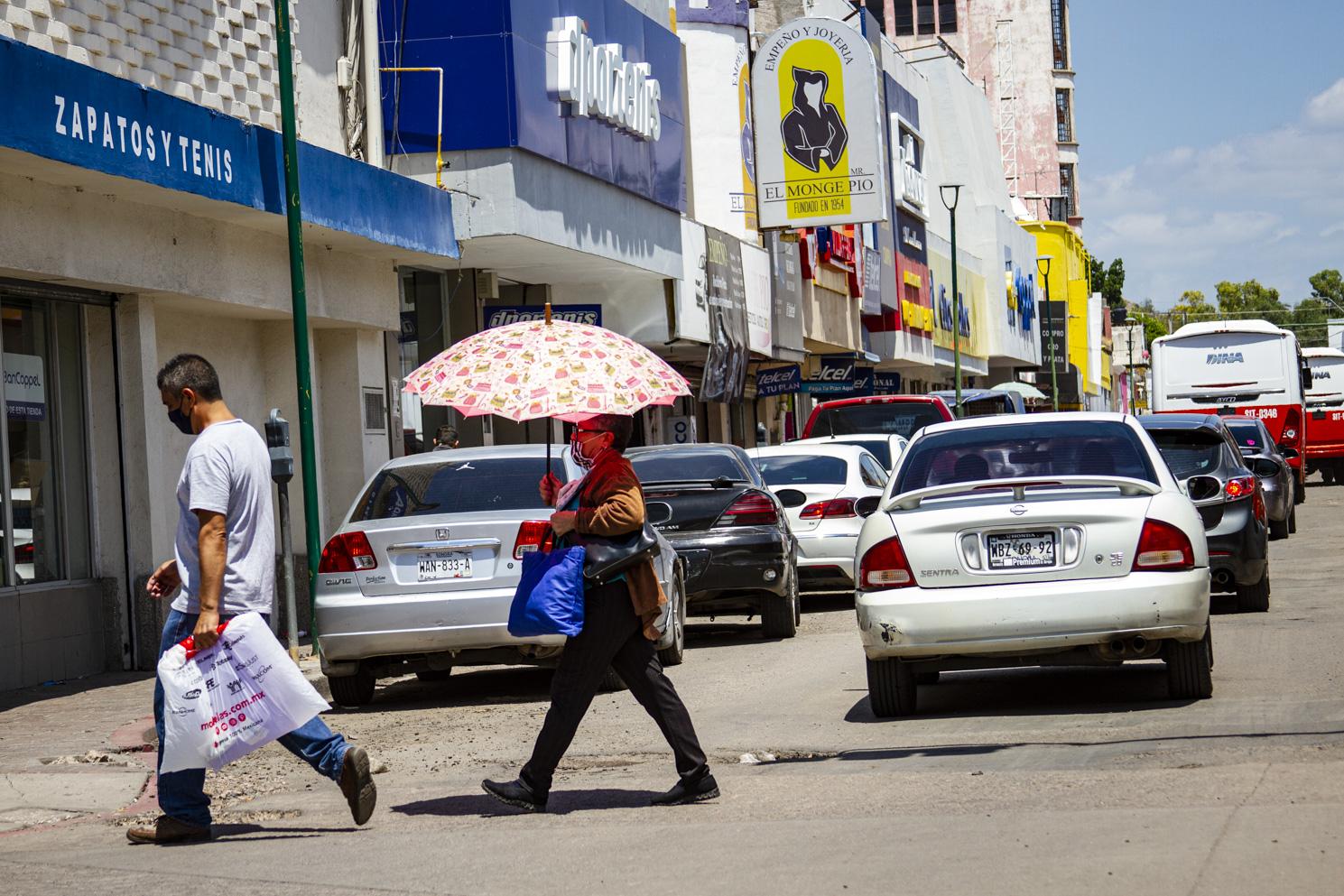 VIEW LARGER Many shops in Hermosillo's downtown have reopened in recent weeks, and most walking around sported face masks.

Murphy Woodhouse/Fronteras Desk
Her institute has been surveying households across Mexico to study the pandemic's economic impact. The vast majority say they have lost income, with a third reporting losing half or more. But 75% have received no government assistance, and instead have turned to friends and family for support. Or debt, and letting bills pile up unpaid.
"We believe that with monthly transfers of 5,000 pesos (roughly $225) per household, those people could stay home and protect their health," she said, adding that delaying some big ticket infrastructure projects — like the Mayan Train and a major refinery — could help cover the costs of such a program.
"What do I think? That the government isn't leaving people with any option but to open," she said. "People have to open their businesses, because if not, the result would be to die and close forever."
But reopening also means more people interacting, and greater risks of contagion, according to Teruel.
Real Support
After the state's first cases were confirmed in March, Sonoran Gov. Claudia Pavlovich announced the creation of a fund for supporting small and medium enterprises. Some taxes and government fees were also reduced or delayed.
Through a state program, López said she got a credit of 25,000 pesos — roughly $1,100.
"That money that they gave me, well I gave it to the property owner for rent," she said. "Downtown, the rents are very high."
It wasn't enough for other expenses, and certainly not enough for her to stay home while the business remained closed.
"I'd love to see sensitivity on the part of (officials)," López said. "I'd love to see real support."
It would come a little late for her shop. But it could help her fellow downtown merchants still hanging on.

Fronteras Desk
is a
KJZZ
project covering important stories in an expanse stretching from Northern Arizona deep into northwestern Mexico.