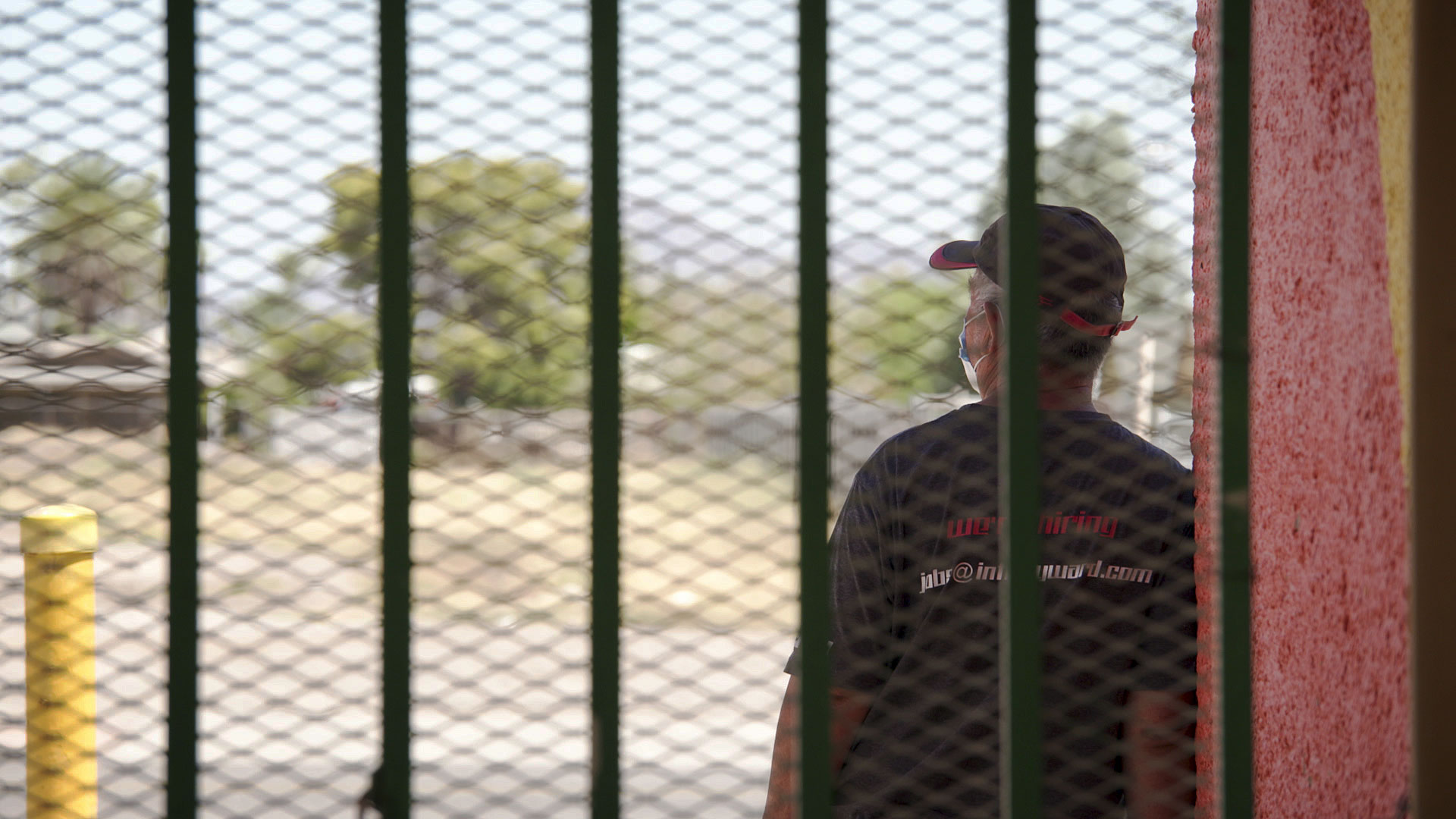 A man wears a face mask while standing outdoors in the town of Guadalupe on July 7, 2020.
AZPM Staff
July 6, 2020, was full of a mix of emotions for Sally Ann Gonzales.
It's the day her nephew Luis, who has diabetes, came home from the hospital after contracting a severe case of COVID-19. It's also the day Luis' mother, Eleanor, died of the disease.
Gonzales grew up in the small Maricopa County town of Guadalupe, which recently had one of the highest case rates of COVID-19 in the county. As the state senator for District 3, she splits her time between Guadalupe and the Pascua Yaqui reservation near Tucson.
"I'm beside myself, and I'm sure lots of families are, when the governor won't step up to the plate and protect the people," Gonzales said. "I know everyone is hurting, the economy is hurting, and it'll take a long time for us to recover, but these are lives that we cannot bring back."
She said two other members of her extended family have also died due to COVID-19 complications. She said she did not want to share her family members' last names for privacy reasons.
When she's in legislative session, Guadalupe is where she lives. She described it as a "close-knit community, where everybody knows each other, and their business, too." Several generations of her family still call the approximately 6,300-person town home.
"I know the people and the families and how they're struggling in Guadalupe, including mine," said Gonzales.
Town Manager Jeff Kulaga said in early May Guadalupe residents tested positive for COVID-19 at 5.6 times the rate health officials were seeing in Maricopa County at that time.
Guadalupe is one of the main Pascua Yaqui tribal communities within Arizona. The founders in the early 1900s were Yaqui and Hispanic. Gonzales said when the case rate was almost six times the county average, she and her sister — Antonia Campoy who sits on the Pascua Yaqui Tribal Council — didn't know what the state of COVID-19 was in their community beyond the stories passed between neighbors, but they were determined to find out.
Gonzales said she started asking state health officials for answers and Campoy asked her tribal contracts.

The Pascua Yaqui government reported 479 people in the Guadalupe area had tested positive for COVID-19 and eight people had died as of July 15.
Town Manager Kulaga said the rate Guadalupe residents tested positive for COVID-19 had dropped by July 14 to 1.9 times the county average.
"Now that's good, we're going down a bit. Part of it, though, it's a little bit of a false positive because rates in Maricopa County are increasing, as are rates generally across the state," Kulaga said.
He said many residents live below the poverty line and food banks have become more essential as people try to limit their outings.

"In Guadalupe, we're very condensed, We have multigeneration families in one home. For instance, my home is myself, my two parents and my son, so the three generations are there, but we're lucky enough to have four bedrooms," said Valerie Molina, the mayor of Guadalupe.
When Molina was exposed to COVID-19, she was able to self-isolate until her test came back negative.
"But some of our families here aren't lucky enough to be able to do that. There might be eight people in a home with two bedrooms," Molina said. "Where do you send the positive case to get quarantined? There's just no way."
She said now people who have tested positive can stay at a hotel through a partnership with Maricopa County.
She said on top of this, many of the residents are town elders with underlying conditions.
The town is taking action to reduce the infection rates with help from the county and other local governments.
That includes handing out thousands of free masks, community testing, and educating the public on how to mitigate risk during the pandemic.
Arizona Sen. Gonzales is calling on Gov. Doug Ducey to require people to wear masks in public across the state. She also said she wants him to call a special legislative session to address unemployment insurance, evictions and schools reopening.

She pointed to the recent COVID-19 death of Vice Chairman Johnson Deal Begay Jr. of the Cocopah Indian Tribe, and she said she hopes further action doesn't have to wait until the pandemic hits other leaders close to home.
"What is it going to take to bring us together?" said Gonzales.
---
Tony Paniagua originally reported parts of this story in Arizona 360.
Update: This article was updated to reflect the most recent COVID-19 rate in Guadalupe.