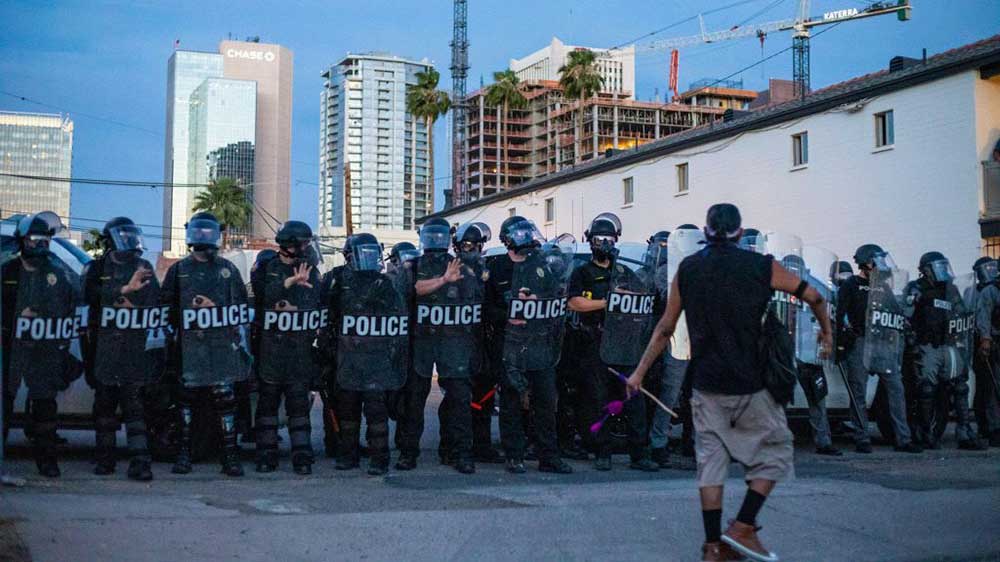 VIEW LARGER A protester approaches a line of police officers in downtown Phoenix on Sunday, May 31, before the imposition of a statewide curfew to rein in protests over police violence.

Blake Benard/Special to Cronkite News
Law enforcement agencies across Arizona have received more than $89 million worth of military surplus in the last 20 years. The inventory of goods ranges from weapons, to vehicles and aircraft, to dustpans and padlocks.
During the recent protests following the death of George Floyd, some said it was hard to tell local police officers from National Guard troops. Some of that is due to what is often referred to as the "militarization" of the police.
"I believe police departments are there to protect and serve, they are not a military organization, so I do see it as a problem, the militarization of police departments across the country," said Regina Romero, Tucson Mayor.
The trend to a more militaristic style began in the 1970s with the rise of the SWAT or Special Weapons and Tactics teams at many police departments.
"It's credited to Daryl Gates' Los Angeles Police Department adopting more military tactics in the wake of the 1972 Munich Olympics and the idea that police need to be prepared for large scale terrorist attacks ," said Michael German, a fellow at the non-partisan Brennan Center for Justice.
During the Olympics in Germany in 1972, a group of Palestinian terrorists took 11 members of the Israeli national team hostage. All of the hostages were killed.
Law enforcement agencies can apply to get items from the Department of Defense at no cost. The Cochise County Sheriff's Office, like nearly every other law enforcement agency, has been a beneficiary of the program.
We received "all kinds of equipment that we would have to go out and buy in budgets that are already restricted, budgets that are already tight," said Mark Dannels, Cochise County Sheriff.
Law enforcement agencies in Cochise County have received about $1.8 million worth of surplus military equipment over the last two decades. The most common item received by Cochise County law enforcement is plastic bags. The most expensive item was a mine resistant vehicle obtained by the Douglas Police Department in 2014. Most of what the Cochise County Sheriff's Department received was first aid equipment, training materials, and a bus.
"We use that for transporting inmates from our county jail to our state prisons throughout the state and when you start taking 20 at a time, you can see what a benefit that is instead of taking two or three vans," explained Dannels.
Surplus weapons are also available from the Department of Defense. In 1998, the Huachuca City Police Department was able to get seven military rifles. Three law enforcement agencies in Pima County, including the Pima Community College Police Department, were able to get rifles in 2000.
Pima County law enforcement received about $1.9 million in military surplus between 2000 and 2020. Agencies in the Tucson metro area received 592 magazines for guns and the Pima County Sheriff's Department was able to get two robots used by bomb squads worth more than $150,000.
"Those become toys rather than items that are really needed and like any kid at Christmas one extra toy is going to be better than one less toy," said German. "So, when the police are acquiring this type of equipment, when they don't have a specific need for it that justifies the expenditure of public money you have to ask yourself whether it is really appropriate for them to have that."
Sheriff Dannels says he has heard all of those arguments before and he doesn't buy them. He also doesn't like the phrase "militarization of police."
"The military goes out and protects our country and they need certain equipment to do that. We go out and protect our communities and we need certain equipment to do that and our number one goal is to protect ourselves so we can protect others, so, using equipment that still has use and applying that at the local level, I have a hard time accepting a negative in that," said Dannels.
Four times a year, the Defense Department releases its list of surplus given to law enforcement agencies across the country.