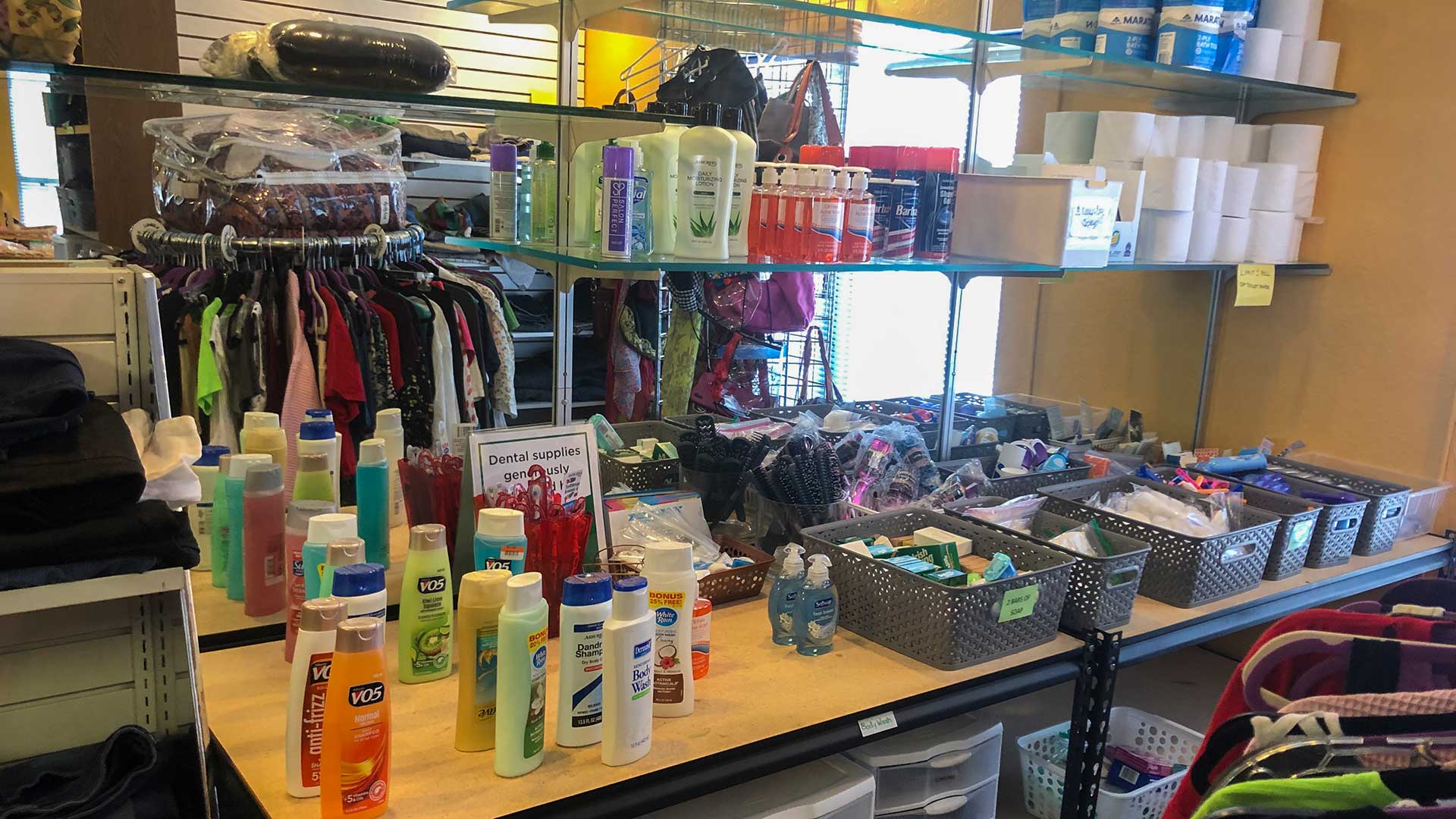 VIEW LARGER Toiletries and clothes at the Youth On Their Own Store in Tucson, June 2019. Homeless students enrolled in the program have free access to these and other resources.

Duncan Moon/AZPM
Heads of social services for those experiencing homelessness or abuse have said isolation, stress and unemployment play significant roles in how these people in these communities navigate the pandemic.
The leaders of Youth on Their Own, Children's Advocacy Center of Southern Arizona and Emerge! Center Against Domestic Abuse all say stable and safe homes aren't a legitimate option for many of their clients, so self-isolating from the pandemic is either improbable or presents its own dangers.
"It's really so much more challenging when you don't have a stable place to stay, or the places you are staying, if you're in a shelter or crowded up in a small apartment with a bunch of other people, those aren't necessarily safe situations either," said Elizabeth Slater, the CEO of Youth on Their Own.
Youth on Their Own is a local nonprofit that helps kids throughout Pima County experiencing homelessness graduate high school, and eventually break the cycle of poverty.
"Staying safe and not getting COVID might not be the top thing they're worried about. They're worried about where they're going to sleep and how they're going to eat food," Slater said. "The need for survival really impacts all the ways they make other decisions," Slater said.
This year, about 2,000 kids are in the program, but she said recently, about 10% of those kids have "sort of dropped off the map."
"To me it's very worrying that we see some decrease in services because I don't think it means the need is less. I know the need is greater," Slater said. "It means that there is an access problem. There's this group of youth that simply isn't able to access services when they need it most."
She said Youth on Their Own relies heavily on the staff at over 100 schools in the county to identify kids who need help and deliver supplies to them. Youth on Their Own connects with the kids at school, because "it's the one stable place" they have, but with schools closed Youth on Their Own now depends on technology to keep in touch.
Arizona saw 1.9 million continued unemployment claims during the week ending with June 27. The state reported 186,000 people filed for first-time unemployment that week, a drop of nearly 30,000 from the week before.
Slater said losing a job means reprioritizing which bills get paid first. She said requests to help pay rent, transportation costs or health expenses rose by 50% over the last several months, and requests for food, clothing and hygiene products increased by 41%.
When kids do come to Youth on Their Own for food and other supplies, Slater said they're also given washable masks and hand sanitizers, so they can safely function in the community.
She said homelessness among youth looks different than it does with adults, as the majority of kids actually sleep on their friends and family members' couches. When these kids have nowhere to go Youth on Their Own refers them to Our Family Services' Reunion House. She said with the pandemic and school being out, those friend networks are breaking down.
"Not only because those social networks are struggling, so they don't have as many people they can ask for housing, but also because the families that maybe were willing to take them in before COVID are a little bit nervous about doing that now for safety," Slater said.
Not being able to ask for help is a common challenge for people with unstable home lives.
Marie Fordney is the executive director of the Children's Advocacy Center of Southern Arizona, which supports investigations into child abuse.
She said schools can serve as a temporary escape for kids, and teachers are some of the best trained mandatory reporters of child abuse. When school went online to reduce the spread of COVID-19, those kids lost easy access to a confidante.
"If they're being abused at home by someone who lives in their home, then they're trapped there essentially," said Fordney.
She said these kids may be experiencing more abuse at this time because they're more antsy or their abuser may also be more stressed during the pandemic.
Fordney said they used to see about 25 or 30 kids a week who may be experiencing criminal child abuse or neglect. They conduct and record the forensic interview of what happened to these kids, give them immediate support, connect them to long-term therapy, and get them a medical checkup that looks for indicators of abuse or neglect.
During the first week of April, which was the first full week of Arizona's stay-at-home order, the center helped six kids.
"We know that that's not because there is less child abuse. We know that that's because it's not being reported," Fordney said. "We're very worried about what might be happening to kids at home."
She said the week of May 17, the first full week after the order lifted, numbers spiked and they saw 30 children. To her this means people were once again seeing the effects of the abuse or the kids got opportunities to tell others what was happening to them.
Fordney said since then the numbers have fluctuated from nine to 22 and now they're no longer "alarmingly low."
"We know that when school comes back in session, we're going to be hit with a wave of reports. It's just going to happen, because children who are isolated and don't have anybody to tell will finally have someone they can tell," Forney said. "They'll be back under the careful, watchful eyes of mandatory reporters."
She emphasized that an individual may be the only person in that child's life who sees evidence of the abuse, and she encourages people to report any worries they have to the center.
Ed Mercurio-Sakwa, the CEO of Emerge! Center Against Domestic Abuse, said it has seen a similar pattern over the course of the pandemic.
"The stay-at-home order, while very appropriate for limiting virus spread, is what increases risk for people whose greatest danger is their abusive partner that is in that home with them," said Mercurio-Sakwa.
Mercurio-Sakwa said Emerge received on average 20 calls a day on their crisis hotline before the stay-at-home order, and 16 calls a day during it.
He said that might not seem like much, but that dip in daily calls adds up over a year to 1,460 calls that may not have been made.
He said it can be harder for people to find opportunities to call for help when their abusers are unemployed, self-isolating or sheltering in place with them.
He said Emerge's shift to solitary living in their emergency shelter program has allowed it to consistently house 50 people each night.
"We're not going to let somebody's status with COVID or exposure to COVID prevent them from getting the help that they need," said Mercurio-Sakwa. "We're going to find a way around that, and we're going to assist them along that path."
As of Tuesday, no one in their care has tested positive for the disease.
He said while people are self-isolating, it's important for friends and family to check in on their loved ones experiencing abuse. For them reaching out to Emerge may not be possible but asking a friend for help is.
Youth on Their Own, the Children's Advocacy Center of Southern Arizona and Emerge are all accepting donations.
"The pandemic is going to drastically change sometimes what, but more so, how we do what we do, but it will not stop what we do, and it will not stop people's ability to get the help that they need," Mercurio-Sakwa said.
Youth on Their Own: 520-293-1136
Children's Advocacy Center of Southern Arizona Warmline: 520-771-2039
Emerge! Center Against Domestic Abuse Crisis Line: 888-428-0101