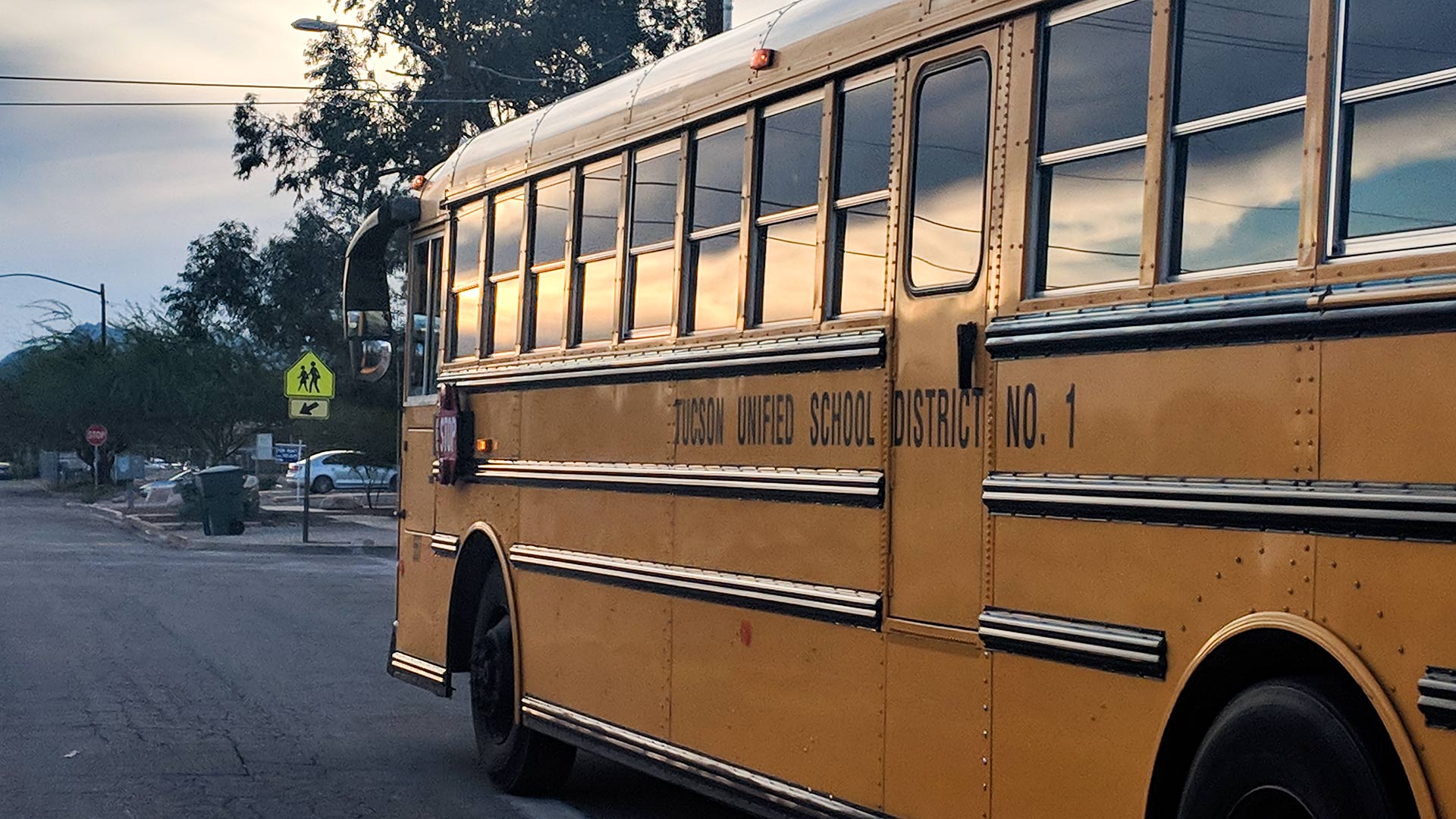 A Tucson Unified School District Bus.
AZPM
UPDATE: Gov. Doug Ducey announced on Monday school openings were delayed until Aug. 17.
---
The rules will be different on the first day of school in the Tucson Unified School District. Halls will be one-way, desks will be distanced, lunches will be staggered and everyone will wear masks.

Originally, the mask rule was going to be applied beginning in fourth grade, but teachers in the younger grades told the district they can get students to wear masks.
"We teach kids how to walk in lines, we teach kids how to pick up their stuff, we teach kids how to work in teams together, we teach kids how to raise their hands, we can certainly teach kids how to wear a mask," is what TUSD Superintendent Gabriel Trujillo said was the message given to him by teachers.
Mask wearing in TUSD will be mandatory. If a parent objects, the student will be placed in an online learning environment.
"At the end of the day we are going to respect parents' rights to say 'no' but then parents will respect our rights to place their child in the educational environment that will be most conducive to the safety and health of our staff and fellow students," Trujillo said.
On Tuesday, the TUSD Governing Board approved a budget for the upcoming school year. It includes $12.7 million in COVID-19 mitigation.
"Almost a million dollars for personal protective equipment — we want to make sure we have plenty of masks and face coverings. We have half a million dollars in purchases towards hand sanitizer and disinfectant soap," Trujillo explained.
The COVID-19 budget also includes money for more custodians and more bus routes because children will sit only one to a seat, and millions of dollars worth of technology to give to students who need help accessing online classes. There is also money set aside to replace that equipment when it breaks.
TUSD will offer parallel learning with teachers in the classroom and teachers online for parents who choose not to send their children back to school right now. The online teachers will not have regular classes and they will receive some additional training.
"We do have some professional development planned. It's going to be largely webinars because right now we're relegated to Zoom and that training will take place the first week back of the new teacher contracts, which will end up being the final week of July," said Trujillo.
Physical distancing will mean new teaching methods in the classroom. Activities like group projects are things of the past for now. That worries educators.
"You're sacrificing everything that we know about how kids learn and how the best teachers teach," said Trujillo.
The head of TUSD admitted with the increasing number of cases he would prefer not to start the school year in person, he would prefer to have a digital launch and then phase in regular classes. A plan to do that would require a change in the law he said, and state lawmakers are not in session right now and don't have any plans to come back to the Capitol before the start of the school year.

Trujillo would also like to push the start of the year until after Labor Day, but he said that causes too many logistical problems, so the bell will ring on Aug. 6.