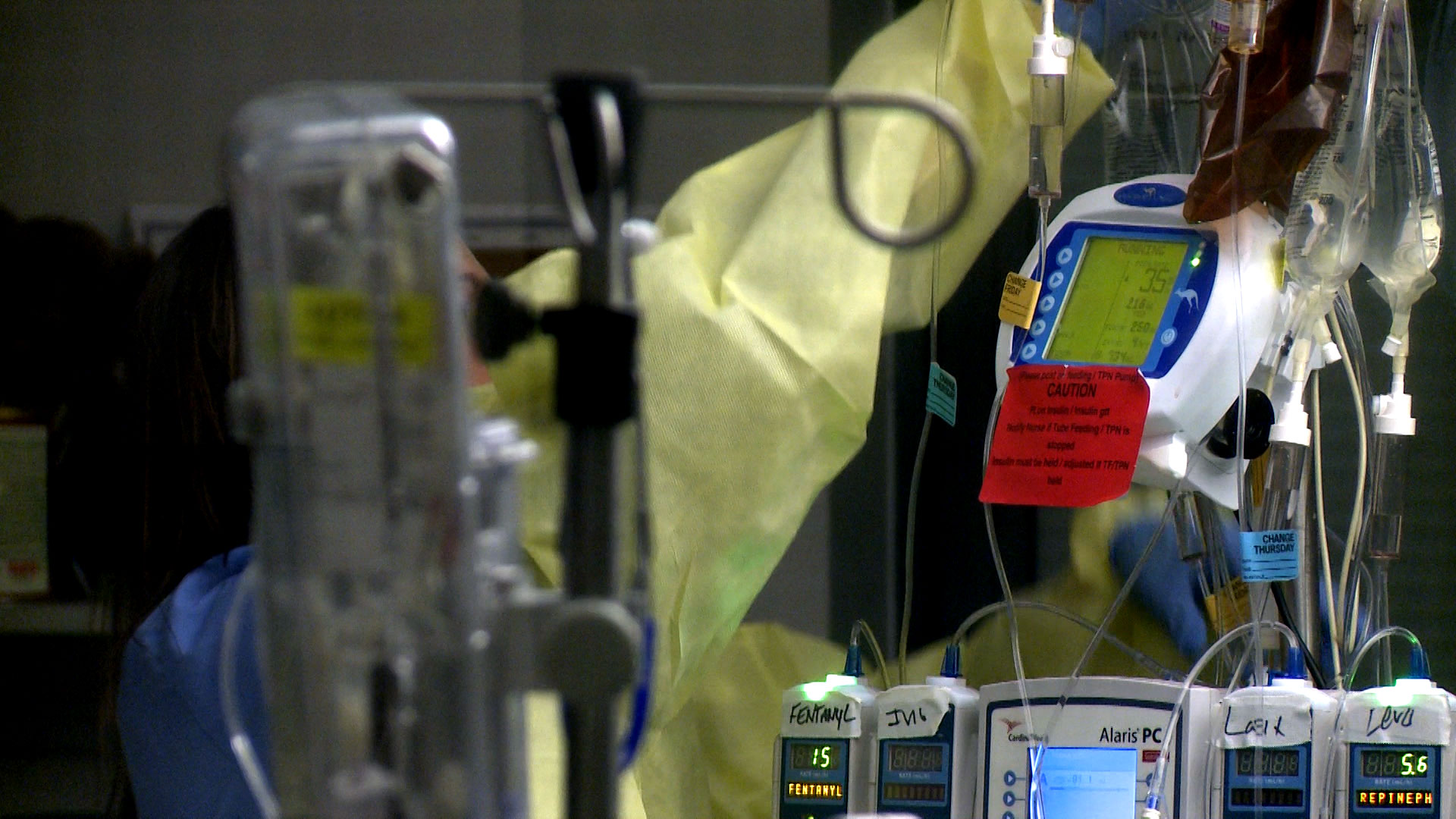 File image of a health care worker adjusting an IV bag.
AZPM Staff
If you need urgent but non-emergency medical care — what doctors call elective surgery — there's some good news: In the midst of a pandemic, there are still some beds available. And there's bad news, too: They might not be available for very long.

Dr. Robert Trenschel, the CEO of Yuma Regional Medical Center, described his situation on a conference call Thursday sponsored by the Arizona Capitol Times. "We have a 42-bed ICU. Right now 24 patients are in the ICU. Twenty-two of those are COVID patients. Twenty-one of them are on ventilators," Trenschel said.
A Banner-UMC spokeswoman says the Tucson hospital is still doing elective procedures. In Green Valley, Kelly Adams, CEO of Santa Cruz Valley Regional Hospital, says the same. "We do have plenty of capacity. We have ICU beds available, we do have [medical-surgery] beds that are available. We have plenty of staff, and we are sufficient on PPE [personal protective equipment]," Adams said.
Gov. Doug Ducey allowed hospitals to resume elective surgeries in May so long as they don't exceed 80% capacity. Lately, some hospitals have approached, and a few have exceeded, that limit. Adams and Trenschel said business is slowly returning to their hospitals, but Trenschel says the ongoing spike in COVID-19 cases is worrying.
"We're trying to ramp it back up, but now that we're getting hit with the surge we're actually peeling back on elective surgery voluntarily," he said.
He says hospital capacity is not a firm number; it's actually fluid. Many hospitals have space that can quickly be turned to inpatient use if needed. Dr. Michael White, chief medical officer with Valleywise in Phoenix, says the scarce resource in a pandemic may actually be the people who care for the patients, rather than beds or ventilators.

"Taking care of a critically ill COVID-19 patient is a special skill set and it a requires a special team to be able to do that, and again, that's a finite resource that we have within our communities," White said.
Adding to the anxiety hospital managers face is the fact that COVID-19 patients stay in the hospital longer than other patients.

"Many of the COVID patients are in the hospital for weeks at a time, and that's what causes the burden of the system. It is the length of time that they are there in the hospital, and then you have additional people coming in behind them to fill additional beds, and you're really not vacating the beds that you would normally vacate in a, say, a pneumonia- and influenza-type patient," Trenschel said.
Then there's the issue of money. Hospitals like elective surgery patients because they're usually covered by insurance. In contrast, care for COVID-19 patients is being paid largely by the government. Many of us have started getting rebates from our auto insurance company, because fewer cars on the road means fewer claims to pay. But Kingman dentist Regina Cobb, who also a Republican state representative, says no such rebates are being paid by health insurers, even though the slowdown in elective surgery means they're paying fewer claims.

"No one should be getting rich off a pandemic. The only industry right now that I could tell you that is probably thriving is the insurance industry, and that's because they're still collecting the premiums but ... there's no utilization," Cobb claimed.
And it's not because hospitals haven't tried to get help from insurers. Dr. Trenschel from Yuma put it this way: "We look for some relief from the insurers, and they're like, you know, 'Hey, feel really bad for you. Let us know what we can do, but we're not going to do that.'"
Friday, Arizona hit a new high when for the first time, more than 3,000 new cases were reported in one day. Some of those COVID-19 patients will soon begin rolling into a hospital near you. So while you might be able to get an elective medical procedure done now, that might not be the case in a month.