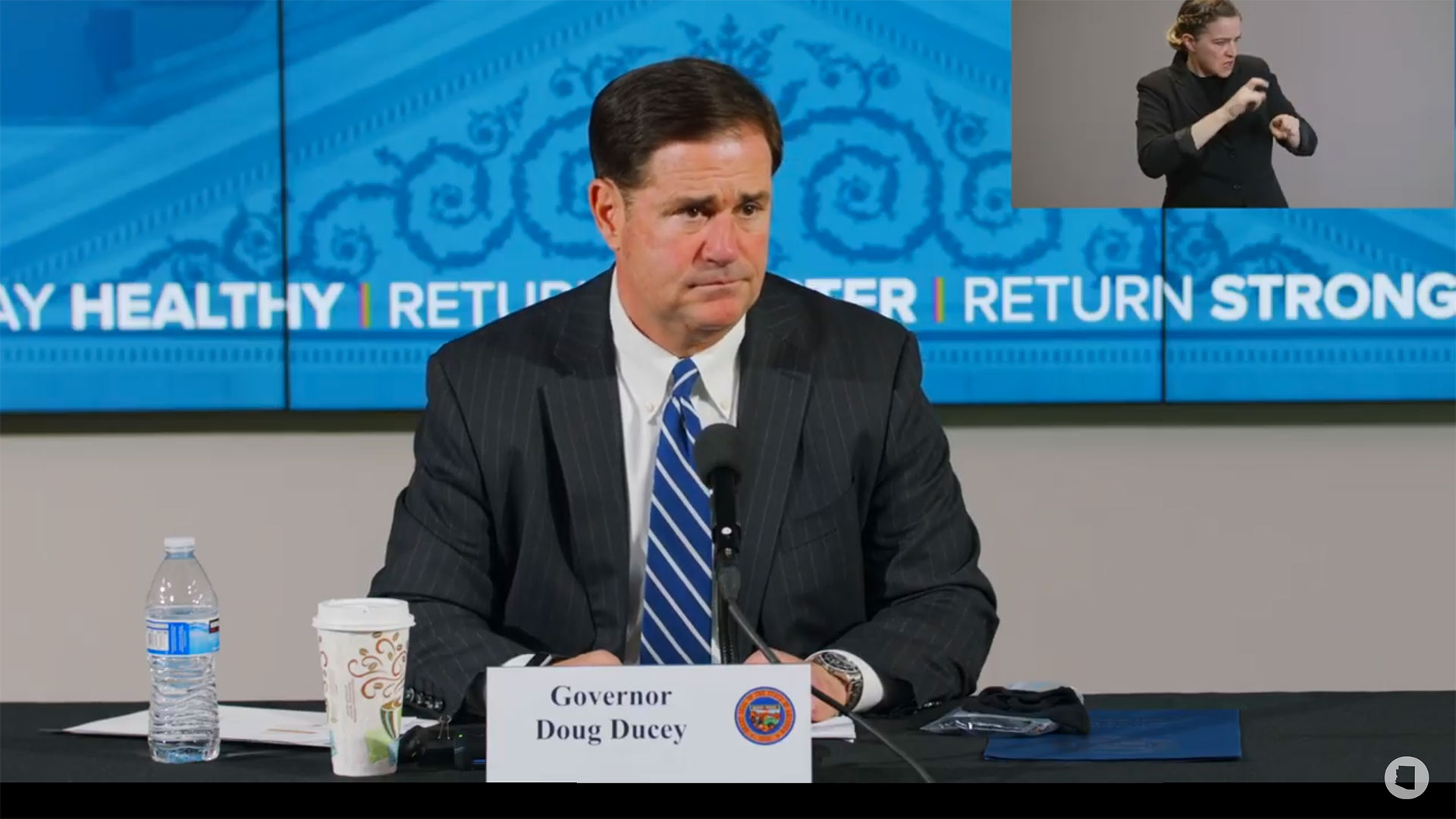 Gov. Doug Ducey at a press conference on June 11, 2020.
Arizona has gained national attention for its rising COVID-19 case counts, which have doubled or tripled daily numbers in the last couple weeks from the averages running through most of May.
In a Thursday press conference, Gov. Ducey acknowledged the "clear increase in cases," but continued to argue that they are largely the result of increased testing. The message from him and state health director Cara Christ leaders was mostly the same as weeks past--cases will continue to rise, hospitals currently have capacity, and everyone should observe social distancing, wear masks and wash their hands.
Ducey says the state knows its hospital capacity "to the bed" through daily reporting, and continues to have surge capacity of regular and ICU beds.
"The facts are, we have an increase in testing, increase in cases and increase in positive tests results. We're going to continue to stay laser-focused on COVID 19," Ducey said.
The governor said if needed, he will consider pausing elective surgeries again and employing hospital surge capacity.
In response to a reporter's question about if he let the stay at home order expire to soon, the governor said, "We put the stay at home order there so we could prepare for what we are going through right now. And we are prepared for it."
Gov. Ducey avoided answering a question about why counties or cities aren't allowed to set their own guidance, and when pressed about whether he will issue a requirement that everyone wear masks, he said he encourages people to do so when they can't social distance.
A week ago, Arizona Department of Health Services Director Cara Christ sent a letter to hospitals Saturday reminding them of the emergency plan outlined in an executive order issued by Gov. Doug Ducey in March.
Hospitals are concerned by rise
The order directed hospitals to be able to expand their capacity by 25% to deal with a surge in COVID-19 cases.
Christ's letter came one day after Banner Health held a news conference to announce they were nearing capacity. Over the weekend, Banner added that they are running out of a specific kind of ventilator.
The letter from the state's top doctor was greeted by a terse statement from Banner in which they said they put their emergency plan in place in March.
Gov. Ducey let his stay-at-home order expire May 15. Since then the state has seen a spike in COVID-19 cases, especially hospitalizations.