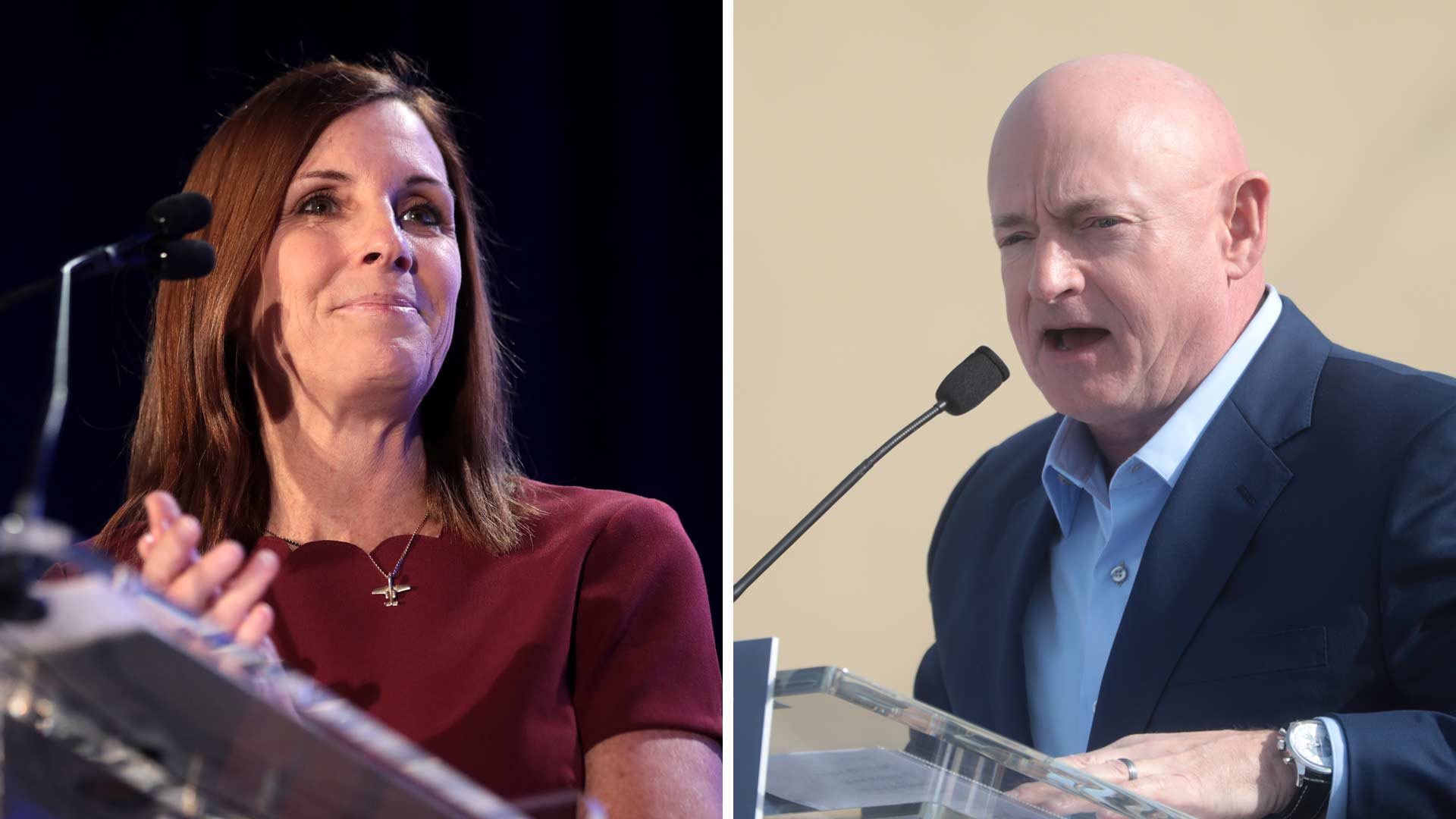 Republican Martha McSally, left, and Democrat Mark Kelly.
Gage Skidmore/Flickr (CC BY-SA 2.0)
The first debate between Republican Martha McSally and Democrat Mark Kelly covered a wide range of topics.
The first was the one on everyone's mind for much of 2020: the COVID-19 pandemic. McSally touted her record in the Senate.
"What I've been doing is to fight for Arizonans, to get relief out there to small businesses, to workers, to hospitals, to fast track the vaccines, and treatments and cures. And I even voted for targeted relief a few weeks ago to help small businesses and schools and others," she said.
Kelly does not have a congressional voting record to point to. But he did point the finger at the White House and the Republican-led Senate as being too slow to react when trying to stop the spread of the novel coronavirus.
"Senator you would understand this, as a pilot, you guys did step one of the emergency procedure and then you didn't do anything else. And that is a colossal failure. When the President thanked China on behalf of the American people in January, Senator McSally stood up and did nothing," Kelly said.
China became a major topic in the first part of the debate. McSally has spent much of the campaign hitting Kelly on the issue.
"While he was active duty, Mr. Kelly went over on this Chinese communist government-funded trip 2003, 2004, 2005 said it was the most meaningful thing in his life other than going to space," said McSally.
"Senator McSally just started making China an issue this election cycle when Mitch McConnell allies physically handed her a memo and says this is issue in your election, you know go for it," Kelly countered.
COVID-19 was not the only health care topic. The repeal of the Affordable Care Act, better known as Obamacare, was also a topic. Kelly brought it up through the issue of denied insurance coverage for preexisting conditions.
"Arizonans already know that they can't trust Senator McSally when it comes to health care, she's voted on four separate occasions to undermine or eliminate those protections," Kelly said.
McSally said Obamacare costs too much money.
"I'm passionate to provide more choices. But this government takeover of health care is dangerous. And make no mistake the public option means government is competing with private health insurance. They're never going to be able to compete. Private health insurance goes away and then you have the full government takeover," McSally said.
Health care was a topic where the candidates performed a balancing act.
"She was walking the fine line of not agreeing with Obamacare but still trying to protect, to show evidence that she protected preexisting conditions and was worried about health care costs rising. Now on the other end Kelly was really trying to show that even though he is a Democrat that he is still worried about cost, that there's economic pieces," said University of Arizona political scientist Lisa Sanchez.
Arizona-specific politics did come into the debate. Kelly accused McSally of not standing up for Sen. John McCain when he was attacked by President Trump. McSally said that was not true.
"I've publicly and privately, repeatedly talked to President Trump and asked him to stop attacking John McCain. Quite frankly it pisses me off when he does it," McSally said.
Throughout the night, McSally accused Kelly of spending the last decade running a radical left political group. When pressed by the moderators, McSally would not name the group. So, Kelly did.
"The organization Sen. McSally is referring to is named after my wife Gabby, Gabby Giffords. It's named Giffords. Gabby was injured, shot in the head in 2011. The issue of gun violence is personal for Gabby and me," Kelly said.
On the topic of border control, the candidates stayed on their talking points with McSally supporting the president's efforts and Kelly opposing them.
The topic of approval of a new member of the Supreme Court also was brought up. The candidates again stayed with their party lines. Kelly said he does not think a new justice should be approved with less than 30 days to go before the election. McSally disagreed.
Sanchez said there was no clear winner of the debate.
"I don't know that there were really any big blows or punches landed," she said.
Voting is underway in Arizona. Early ballots are now in the mail, and in many counties in-person early voting is now open.

Read more coverage of national, Arizona, and local elections at our 2020 elections portal,
Your Vote 2020
.